'Whiplash' Star Jumps on Hollywood's Boxing Movie Bandwagon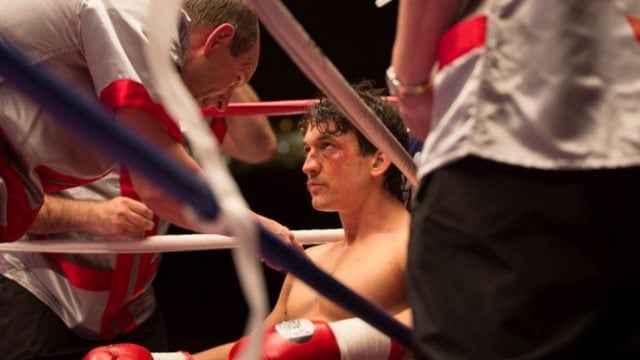 Miles Teller is entering the ring. After garnering a lot of attention at the Cannes Film Festival, the actor's boxing biopic, Bleed For This, has been officially picked up for distribution by Open Road Films, making it the latest in a slew of fighting dramas set to hit theaters over the next year.
Written and directed by Ben Younger (Boiler Room, Prime), Bleed For This stars Teller as real-life world champion boxer Vinny Pazienza, who shot to fame after he beat the then-undefeated champion Gilbert Dele. Shortly after winning the 1991 Jr Middleweight World title, Pazienza suffered a broken neck in a near-fatal car accident and was told he may never walk again, let alone. Despite his doctor's orders against it, Pazienza resumed training and returned to the ring only 13 months after sustaining the serious injury. The movie also co-stars Aaron Eckhart as Kevin Rooney, the infamous trainer that helped get Pazienza back into shape after his accident, and Katey Sagal as the fighter's mom.
According to Deadline, buyers were only shown a 12-minute promo reel for the film, which is currently in post-production. But apparently, the limited footage spoke volumes. The short clip was enough to spark an all-night bidding war between distributors. Open Road eventually came out on top with a $4 million deal to handle the stateside release. Meanwhile, Sony is reportedly handling worldwide distribution (after also closing a $4 million deal).
It shouldn't come as a huge surprise that the film is earning so much early buzz. Teller is undeniably one of the most promising young actors in Hollywood today. The star, who first began nabbing serious critical attention with the indie YA film Spectacular Now, is coming off a well-received leading turn in last year's prestige drama, Whiplash. Though somewhat overshadowed by co-star J.K. Simmons (who justly earned most of the award seasons nods and eventually the Best Supporting Actor Oscar), Teller's individual performance was also highly lauded and many felt the actor deserved more public recognition for it – including Simmons himself.
Regardless, Teller's profile has only continued to rise rapidly since then. He already has two major franchises on his plate: the Divergent series, in which he plays supporting character Peter, and the upcoming Fantastic Four reboot, in which he will portray Reed Richards a.k.a Mr. Fantastic. But Bleed For This – a role that required the actor to bulk up significantly – will give him another chance to potentially get back in the awards season game.
While the film certainly has a capable star in Teller, he's not the only notable talent attached to the project. There's a very prominent name behind the camera as well: Martin Scorsese, who directed the iconic boxing film Raging Bull,  served as executive producer for the biopic.
With such big names attached, the movie certainly seems on path to enter the award season circuit, but it won't be without its competition. Perhaps the Mayweather-Pacquio fight had more of an impact than we thought, because it seems Hollywood is suddenly obsessed with boxing. In addition to Bleed For This, there are currently three other films related to the sport in the works at other studios.
Probably the most high-profile (and the one set to hit theaters first) is The Weinstein Company's Southpaw, which has already been generating award season conversation for star Jake Gyllenhaal for months now and is scheduled to premiere in July. But that's not the only boxing-related film TWC is currently developing. The studio also recently scooped national rights to the biopic, Hands of Stone, which will star Edgar Ramirez as legendary Panamanian boxer Roberto Duran and Robert De Niro as his coach. That film is reportedly expected to open in spring 2016.
Meanwhile, Warner Bros. has its own boxing drama underway as well. Creed, which stars Michael B. Jordan and Sylvester Stallone and aims to rejuvenate the Rocky franchise, is scheduled to hit theaters on November 25.
Where Teller's Bleed For This will fit into all of this remains to be seen, but there's a good chance the film will get an awards-friendly fall or early winter release. In the meantime, the actor has several other films over the course of the next year. Fantastic Four hits theaters on August 7, while the penultimate Divergent film, Allegiant: Part 1, premieres next March. Teller is also currently filming Arms and the Dudes, a comedy co-starring Jonah Hill scheduled for release in 2016.
More from Entertainment Cheat Sheet:
Want more great content like this? Sign up here to receive the best of Cheat Sheet delivered daily. No spam; just tailored content straight to your inbox.