Whitney Houston's Relevance to Brandy's Album, Two Eleven
Brandy's 2012 album, Two Eleven, marked the sixth full-length project from the singer. After taking a hiatus to focus on family life, participating in reality television and even competing on Dancing With the Stars, the singer was ready to give her fans the music they'd been asking for.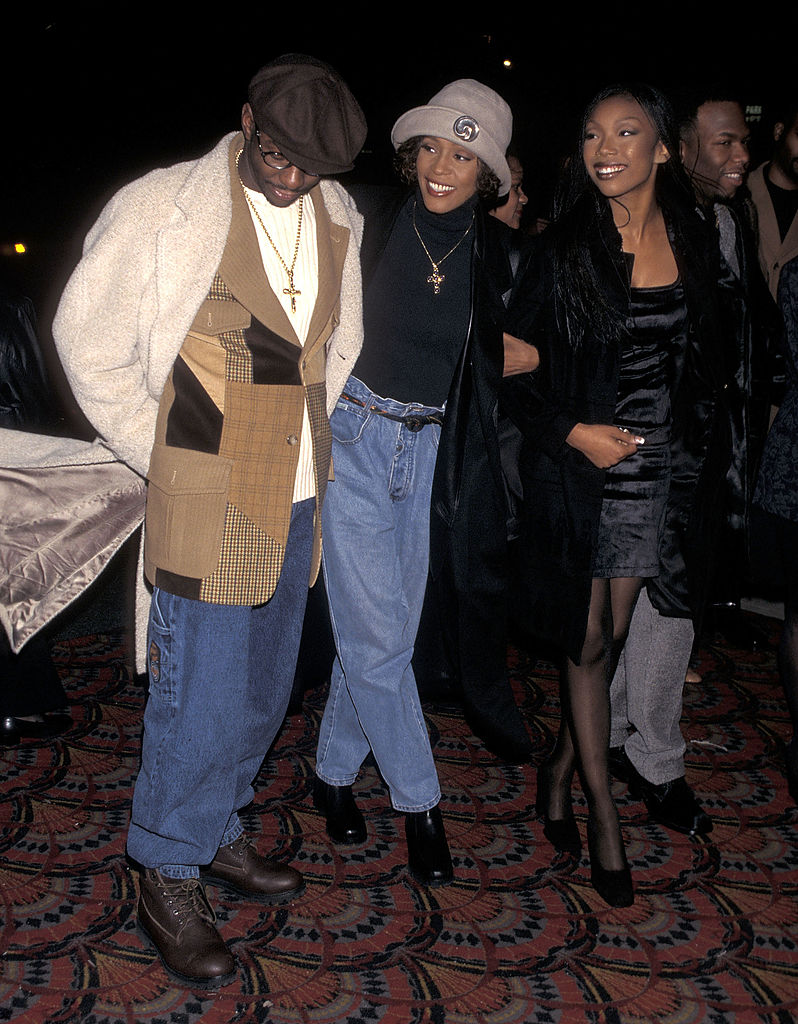 She gave a preview by reuniting with Monica to try and create the same magic that "The Boy Is Mine" had with their follow up duet, "It All Belongs To Me." The single did well but months before her album's release, Brandy suffered an unexpected loss related to her musical icon, Whitney Houston.
2/11 is the day Brandy's mentor and close friend, Whitney Houston, passed
Brandy has always credited Whitney Houston for her love of music. The singer spent much of her youth practicing how to imitate Houston's vocals. She even snuck her way backstage when she was 11 to meet Houston but the singer had already left. She reflected on the moment to NPR, saying:
"I was determined. I promised every usher … that I would remember them when I became famous, and that I would pay all their bills and take care of them if they just let me down to the next section. I talked my way all the way backstage — but by the time I got there, the concert was over and Whitney had left. So my whole world was destroyed."

NPR
Her chance to meet her idol would happen when she was 15 years old. While rehearsing at the Kid's Choice Awards, Brandy finally got the chance to see Houston face to face and through tears, they shared their admiration for one another. Houston would later solidify their relationship further when she handpicked Brandy to play Cinderella in a film adaptation Houston was producing for the small screen. Brandy agreed to star in the film under the condition that Houston play her fairy godmother. The film was a success and made history with Brandy as the first African-American version of the princess.
The two superstars friendship continued until Houston's untimely death in 2012, leaving Brandy devastated. She named her album Two Eleven partly in Houston's honor. Brandy's birthday is also on February 11, giving the title dual meaning for the day the singer was born and the day her icon passed.
Brandy releases 'Two Eleven' to critical acclaim
Two Eleven was released in October 2012, just eight months after Houston's passing. It was Brandy's debut release with Chameleon Entertainment and RCA Records after departing from Epic Records soon after releasing her previous album, Human.
The album produced two singles – "Put It Down," which featured Chris Brown, and the mid-tempo "Wildest Dreams." "Put It Down" peaked in the top-five of the US Hot R&B/Hip-Hop Songs chart, becoming Brandy's 10th top ten single on the chart, and her first in a decade.
The album received critical acclaim with critics complimenting her vocals and overall production and direction of the album. Two Eleven debuted at number three on the US Billboard 200 with first-week sales of 65,000 copies. It would be her last studio album. She's currently promoting her upcoming project, B7, on her Instagram page.