Who Are the Members of the New K-pop Group SuperM?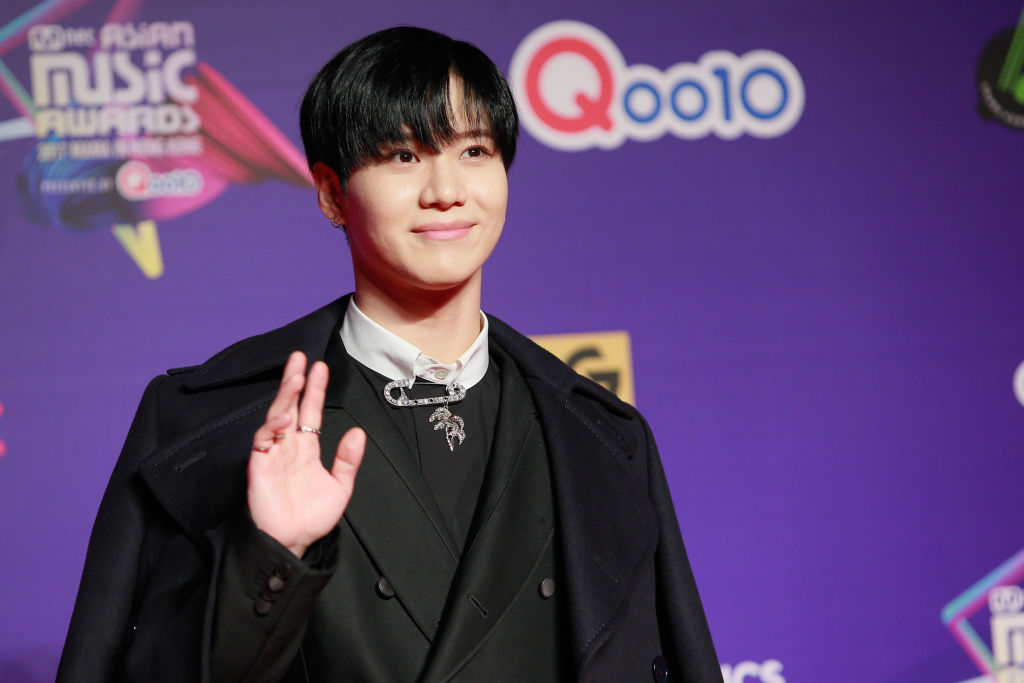 SM Entertainment and Capital Music Group recently partnered to form a new K-pop group that will debut in the United States. The new group, SuperM, officially debuts Oct. 4, 2019. SuperM has seven members who all come from previously established groups under SM Entertainment. So who are the seven members of SuperM?
Taemin is one of SuperM's members
Taemin is part of the K-pop group Shinee. The group debuted in 2008 and has three other members, Onew, Key, and Minho. In December 2018, Onew enlisted in the military. Later in 2019, both Key and Minho enlisted.
As a solo artist, Taemin released three studio albums. He released Press It in 2016, Move in 2017, and Taemin in 2018. Taemin also released five extended plays. Since the rest of the members of Shinee enlisted in the military, Taemin has mainly focused on his solo career.
In addition to music, Taemin has also appeared in several films and TV shows. Taemin is 26 years old. While he is the youngest member of Shinee, he is the second-oldest member of SuperM.
SuperM's Baekhyun and Kai are from EXO
EXO is one of SM Entertainment's most well-known groups. The group debuted in 2012 and currently has nine members. In 2019, EXO was one of the groups nominated for the Best K-pop award at the MTV VMAs. Two of EXO's members, Baekhyun and Kai, were selected to be part of SuperM.
Baekhyun is the oldest member of SuperM and is 27 years old. He debuted as a solo artist in 2019 with his EP, City Lights. Kai is 25 years old. In 2014, he collaborated with fellow SuperM member Taemin on the song "Pretty Boy." Kai has also acted in several TV shows.
Taeyong and Mark are from SM Entertainment's NCT 127
NCT has 21 members and four different sub-units. NCT 127 is one of those sub-units. The group has 10 members, Taeil, Johnny, Mark, Taeyong, Yuta, Doyoung, Jaehyun, Winwin, Haechan, and Jungwoo. Mark and Taeyong were chosen to be in SuperM.
Taeyong debuted as an artist in 2013 and he is 24 years old. In addition to SuperM, NCT 127, and NCT, he has also been associated with NCT U and SM Rookies. He released his first solo song, "Long Flight," in July 2019.
Mark is the youngest member of SuperM and is 20 years old. Like Taeyong, he's been a part of SuperM, NCT, NCT 127, NCT U, and SM Rookies. He was also part of NCT Dream. He graduated from NCT Dream in December 2018.
Lucas and Ten are members of an NCT sub-unit called WayV
WayV is NCT's newest sub-unit and is based in China. It only debuted in January 2019. The group has seven members, Kun, Ten, Lucas, Winwin, Xiaojun, Hendery, and Yangyang. Ten and Lucas were both selected to join SuperM.
Like Taeyong and Mark, Lucas and Ten are both members of NCT. Lucas is the second-youngest member of SuperM and is also 20 years old like Mark. While he was scouted by SM Entertainment in 2015 and appeared in several projects, he did not officially debut until 2018. Before SuperM and WayV, he was part of NCT U and SM Rookies.
Ten is 23 years old. He first debuted in 2016 with NCT U. While he is currently based in China and South Korea, Ten was born in Thailand. His first single "Dream in a Dream" released in 2017. As part of NCT U, Ten and Taeyong released "Baby Don't Stop" in 2018.