Who Did Kate Chastain From 'Below Deck' Connect With the Most at BravoCon?
Kate Chastain from Below Deck made a surprise appearance on the Watch What Happens Live with Andy Cohen After Show. Chastain hung at the bar and joined guests Tanner Sterback and Brian de Saint Pern.
Before Cohen dove into questions for de Saint Pern and Sterback he wanted to know which Bravolebs Chastain connected with the most and the least at BravoCon. While Chastain never revealed if she clashed with anyone, she was happy to chat about who from the network she enjoyed meeting.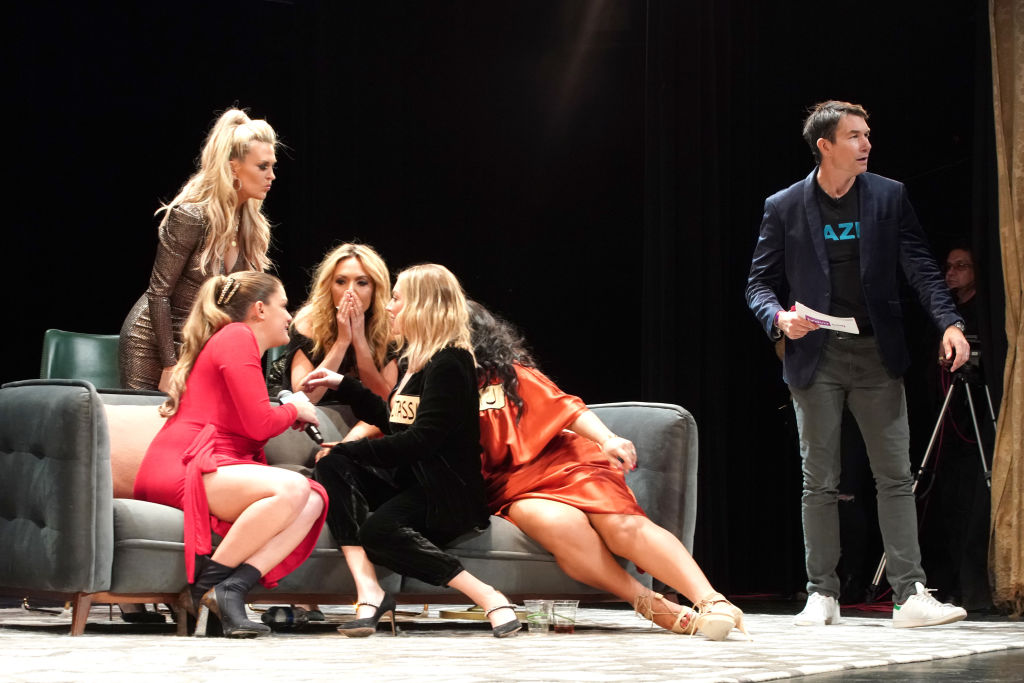 She listed off a slew of cast members from a number of Bravo shows. But there was one particular Bravolebrity that had her giddy with excitement. She commented about a tweet the Bravolebrity posted too that seemed to be her personal highlight.
She was loving these 'Real Housewives'
Chastain shared that she first met Kelly Dodd from The Real Housewives of Orange County. "First thing in the morning while I was getting my makeup done," Chastain recounts. "And she was so cool. She went on a yacht earlier this summer and we exchanged notes about that. I really loved her."
Also, "Ashley Darby [The Real Housewives of Potomac], was so sweet," Chastain continues. "Brandi Redmond [The Real Housewives of Dallas] was so sweet. Braunwyn [Windham-Burke from The Real Housewives of Orange County] was so sweet."
One Real Housewife Chastain also met up with was Teddi Mellencamp from The Real Housewives of Beverly Hills. Chastain didn't mention Mellencamp during her WWHL appearance but the two had to "Squash that Beef" during BravoCon's WWHL. Chastain discussed the general awkwardness of the encounter during her appearance on the Watch What Crappens podcast.
But connecting with this Bravolebrity was especially special
Chastain continued by saying Patricia Altschul from Southern Charm got Chastain and Windham-Burke mixed up. "Patricia Altschul didn't have her glasses on and thought Braunwyn was me," Chastain remarks. "And said 'Hey Kate!' But I love Patricia. She posted on her Instagram that we are BFFs, so it's official!" Cohen added that the response to Chastain at BravoCon was, "Epic. People loved seeing her!"
Altschul indeed confirmed the BFF status on her Instagram. "I love her ❤️❤️❤️my new BFF @kate_chastain," Altschul wrote. Chastain responded, "This is without a doubt my highlight from the entire BravoCon weekend 😍 Next let's a plan a BFF theme party." Altschul also shared the image to Twitter. "With @Kate_Chastain my BFF….. we're making plans."
This friendship has been in the making for a while. In May Chastain tweeted her excitement that Southern Charm was going to return. "I don't know if there's such a thing as watching too much @BravoTV but here I am feeling like Patricia Altschul and Dale Mortimer need to be best friends."
Captain Lee Rosbach and his wife Mary Anne visited with Altschul over the summer. "Hangin with [Altschul's dog] Chauncey, and the incomparable @pataltschul Mary Anne and I had the best afternoon," Rosbach posted to Instagram. The Rosbachs later met up with more of the Southern Charm cast during their visit to Charleston too.