Who Did Kelly Dodd From 'RHOC' Insist Is The 'Real OG?'
Kelly Dodd from The Real Housewives of Orange County insists that Vicki Gunvalson is not the real "OG of the OC."
Instead, Dodd recently bumped into one of the original cast members while enjoying some mother-daughter ski time. Dodd took her daughter Jolie on a ski trip to Aspen. The girls seem to be having the time of their life as Dodd is posting plenty of cute pictures and videos to her Instagram account.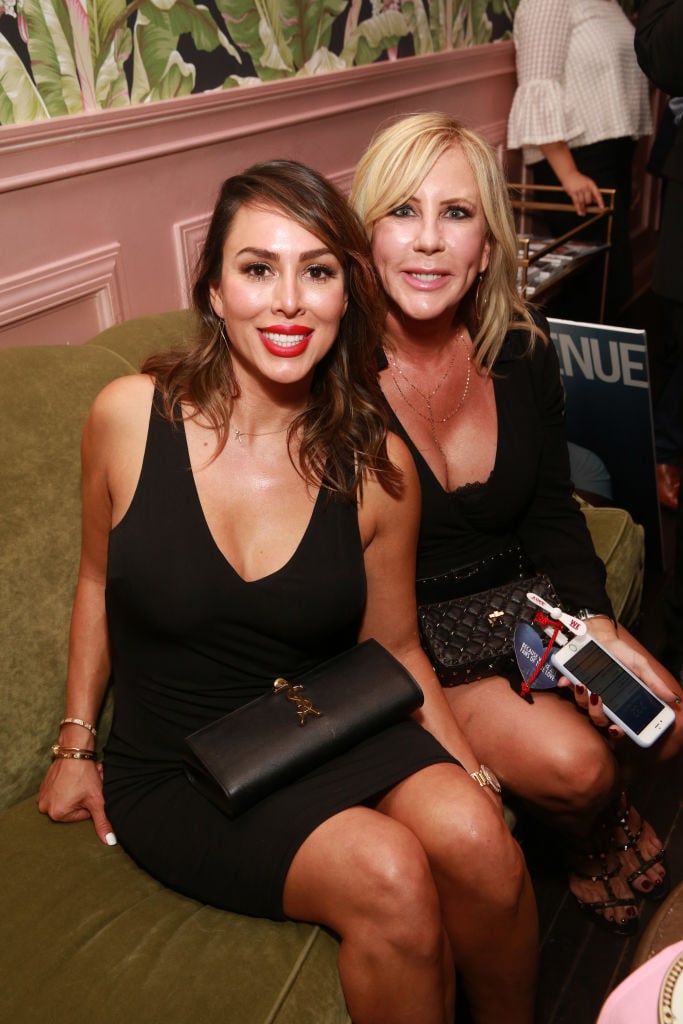 Last night Dodd was having dinner with friends and bumped into "OG," Lauri Peterson. Peterson was part of the original franchise cast and was on the show for four seasons. She eventually appeared as a "friend" and a "guest" before riding off into the sunset with her husband George.
Lauri hasn't changed a bit
Peterson popped into one of Dodd's Instagram stories. She looked as gorgeous and youthful as she did back when the franchise started filming in 2005.
Instead of being on reality television, Peterson focuses on her family. She often posts warm family photos to her Instagram account, usually of her children and husband. Over the holidays the expanded Peterson family shot an amazing picture of the family along with their chickens and three dogs. Not an easy feat to assemble people, fowl, and canines in one picture. "Our best effort for our Christmas greeting! Hope everyone had a wonderful holiday!"
When someone asked about Peterson's chickens, she said the family has had chickens for 13 years. "We love having them around!" she added. Peterson's Instagram is also filled with photos of her adorable granddaughter, Kennady.
Kelly wants to rub Vicki's nose in it
During the interaction, Dodd made sure Peterson knew that indeed, she (not Vicki Gunvalson) was the actual OG of the OC. "I don't know why everyone says that Vicki is the OG," Dodd says. "Lauri Peterson is the original OG of the OC. Not Vicki."
Peterson smiles politely and giggles as Dodd continues to insist Gunvalson is not the OG. Dodd and Gunvalson had a bitter falling out last year. Gunvalson set Dodd's ex-husband up on a date without telling her. When Dodd found out, it wasn't pretty. Then, Gunvalson implied that Dodd had a drug problem during the reunion. So any chance of a reconcilliation was off the table.
Dodd has relished that Gunvalson's role on the show was possibly reduced. When Dodd appeared on Jeff Lewis Live, she let it rip.  "If I were NBCUniversal [Bravo's parent company] or the higher-ups at Bravo, I would cut the bottom line. I wouldn't be paying that b–ch that much money," Dodd said, Radar Online reports. "When it comes down to it, she's not worth that much."
Would Lauri ever return?
When Peterson departed as a full-time cast member, she told the OC Register why it was time to leave. At the time her son Josh Waring was spiraling out of control. She wanted to re-group and focus on his sobriety and getting him on the right path.
"Josh was arrested (for heroin possession and being under the influence) just hours after I finished my first day of filming," she said. "My intentions were good, but I just felt very conflicted. I was traumatized by Josh's arrest. For me, I needed to really pull back, concentrate on my emotional well being and deal with the aftermath of the arrest."
Today Waring sits in a California prison, charged with shooting another man during a heated exchange. The Cheat Sheet spoke with both Waring and Peterson who assert Waring did not do the shooting and the crime is being pinned on him to help a police informant. Waring has asked for his case to be dismissed when he discovered his phone calls were being illegally recorded while in custody. A judge will rule on February 26, according to Radar Online.
Check out The Cheat Sheet on Facebook!