Who Introduced Prince Harry and Meghan Markle?
Prince Harry and Meghan Markle have been married for almost a year now, and everyone knows they were introduced through a mutual friend. The couple hit it off, and the rest is history — now, they're getting ready to welcome their first child together. But who actually introduced the couple?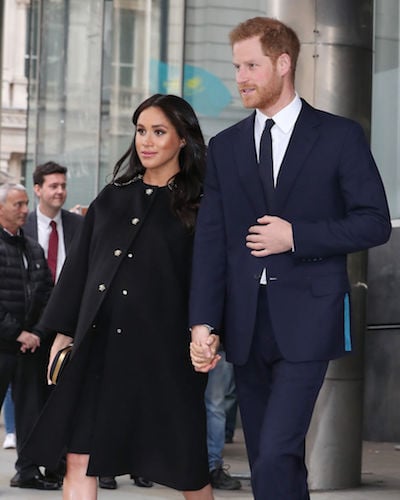 Meghan and Harry had their first date in 2016
Meghan and Harry will no doubt be one of the most talked-about couples of the decade. The two initially were introduced through a mutual friend (a mysterious, unknown mutual friend) and had their first date in 2016. But things went so well for the couple that everything sped up after that. They instantly connected and started a relationship, and about a year and a half later, Harry was ready to get married. He proposed to Meghan over dinner in November 2017, and she said yes. The couple planned a wedding in six months and were married in May 2018. Only two months later, Meghan was pregnant. They announced last October that they'd be expecting their first child in spring 2019.
The couple is a very nontraditional pair
All things considered, nobody could have guessed that Meghan and Harry would end up together. Meghan is an American, and she's been divorced twice. She's also biracial, all three of which are new things for the royal family. The cookie-cutter royal family member is a never-been-married white person from Britain who runs in an affluent crowd and would probably have money with or without being married to a royal (cough, Kate Middleton). Meghan is much more nontraditional, and people loved it. She's broken barriers in the royal family, and it's all due to that first person who introduced them.
There have been several people reportedly linked to the Harry and Meghan introduction
For the better part of the couple's relationship, people have been trying to figure out who actually introduced Harry and Meghan. People initially thought Markus Anderson, a SoHo House consultant, had made the introduction, but Meghan then said that it was a woman who introduced the two. The focus then shifted to Misha Nonoo, a fashion designer and close friend of both Harry and Meghan's. But Nonoo's team never confirmed that she was the one who made the introduction. And after people thought they'd solved the mystery, another woman emerged in the running — and the media are certain she's the one responsible for the introduction.
Violet von Westenholz, a longtime friend of Harry's, reportedly is responsible for the introduction
Violet von Westenholz has been family friends with the royals for a long time. Her father is a baron and good friend of Prince Charles', and she and Harry have always run in the same social circle. Meghan and Volet met through Violet's public relations work, and according to Vanity Fair, she is the one responsible for realizing that Meghan was the perfect woman for Harry. Although Violet also has not been confirmed as the source, those close to the family have said she is the one behind the introduction. But the royals have still kept it a secret; maybe someday they'll reveal if she's the true matchmaker or not.
Check out The Cheat Sheet on Facebook!