Who is Baker Mayfield's Fiancee, Emily Wilkinson?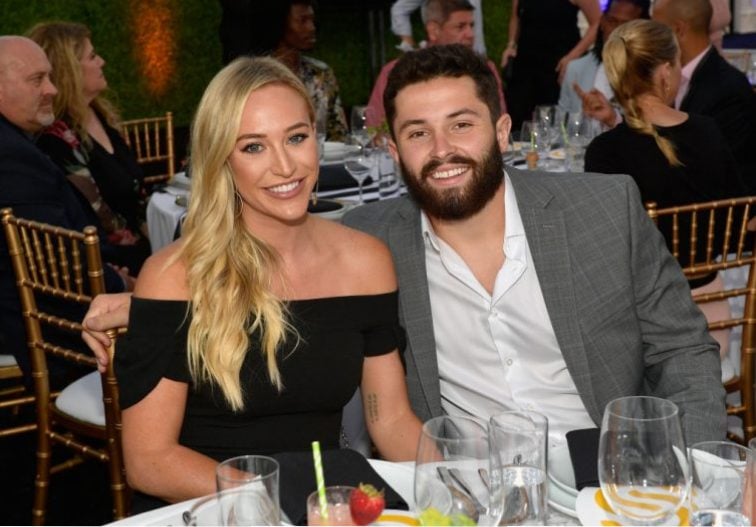 In his NFL debut, Baker Mayfield did something not many Cleveland Browns quarterbacks have accomplished. He completed a comeback and won the game. By giving the team its first victory in 635 days, Mayfield has gained a whole city of adoring fans and as the interest in him spiked so has the interest in his fiancee, Emily Wilkinson.
During a Thursday night home game against the New York Jets on September 20, 2018, Mayfield came off the bench in the second quarter when starter Tyrod Taylor suffered a concussion. At that point, the team was down 14-0 but that didn't last long as the rookie threw for 201 yards and led his team to a 21-17 victory. After the game the Dawg Pound celebrated, Browns fans got free beer, and Wilkinson took to Instagram to let her man know she was "so proud" of him.
No one is sure how the 2017 Heisman Trophy winner's career in the league will turn out but he'll have this lady by his side to go through it all with him. Here's everything we know about the future Mrs. Mayfield.
When they started dating and got engaged
Wilkinson and Mayfield's relationship became public when they were spotted together at a Los Angeles Clippers game in January 2018 after his collegiate career with the Oklahoma Sooners had concluded.
In June, Mayfield proposed to his girlfriend and she happily accepted. The two posted about the happy news on social media.
"I get to be this guy's WIFE! Best day of my life. I love you fiancé!!!!!! ♥️," Wilkinson wrote on Instagram along with a collection of photos from the moment and her huge diamond ring.
Mayfield also posted about the proposal via an Instagram story in which his bride-to-be can be heard saying "You did good," before they both start laughing. "Did you say, 'Yes'?" Mayfield asked jokingly. "I think I did, right?" Wilkinson replied.
What she does for a living
The athlete's fiancée is originally from Nebraska but had been living in Los Angeles when they met where she worked as a patient coordinator at Galanis Plastic Surgery in Beverly Hills.
However, in May, it was reported that she was quitting her job so she could relocate to Cleveland with Mayfield who signed a $33 million contract with the Browns. "I'm excited to say I'm only leaving Galanis Plastic Surgery because I'll be starting a new adventure with this guy in Cleveland," Wilkinson said.
She went on to describe the decision as "bittersweet" since her gig at the plastic surgeon's office was her "favorite job ever."
Wilkinson works as an Instagram model as well. She has more than 145,000 followers and posts pictures from her photo shoots.
Who her brother is
Wilkinson also has a sibling you may have heard of. Her younger brother is Sammy Wilk, who gained fame as an entertainer on Vine.
The internet star had nearly 2 million followers before the app was discontinued. In 2016, he released his debut album titled Ready For War.
Wilkinson has two other siblings as well named Annie and Ben.
Read more: How Did Tom Brady and Gisele Bundchen Meet?
Check out The Cheat Sheet on Facebook!