Who is Ben Roethlisberger's Wife, Ashley Harlan?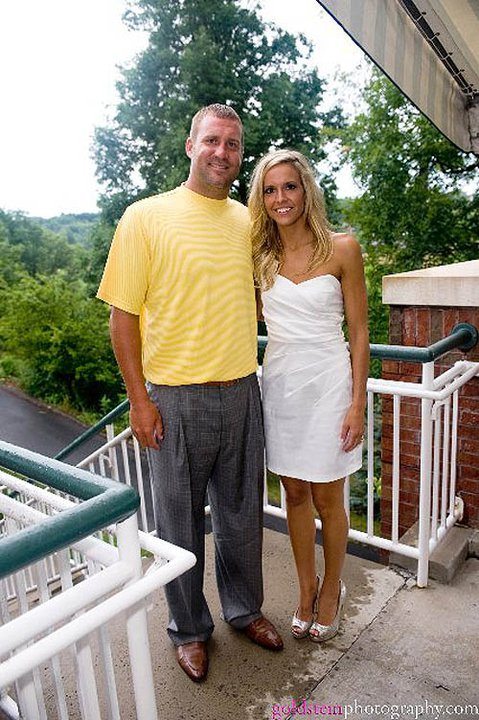 Ben Roethlisberger has been the quarterback of the Pittsburgh Steelers since 2004 and while the two-time Super Bowl Champion's accomplishments on the field are well documented, not many people know much about his life off the field these days.
In the past when he wasn't playing football, the Steelers signal caller was known for his partying ways. Today though, he has settled down and is a family man after one woman, Ashley Harlan, stole his heart and straightened the NFL player out. Here's more on how they met, how many children they have, and what they asked their guests to do on their wedding day.
How and when they met
Big Ben met Harlan in 2005 after her brother, who is a big fan of the Steelers, walked right up to the athlete and introduced himself. Roethlisberger then met his sister and asked her out. The two then began dating on and off for the next several years.
It wasn't all smooth sailing though as the quarterback was accused of sexually assaulting a casino hostess named Andrea McNulty in 2008. He was accused of the same thing in 2010 by a college student in Georgia. Roethlisberger and Harlan's relationship survived and the charges against him were later dropped.
The couple married in 2011
The pair got engaged and were married on July 23, 2011, in Sewickley, Pennsylvania, in front of more than 500 guests.
Among those in attendance was Luke Ravenstahl who was the mayor of Pittsburgh at the time.
"Beautiful ceremony. Very elegant, very straightforward, very to the point. I couldn't be happier for Ben and Ashley and I wish them the best of luck," the politician said.
The bride and groom asked all their wedding guests to make charitable donations to raise money and give funds to the Ronald McDonald House and Children's Hospital of Pittsburgh of UPMC.
"We're just hoping that people who come to the wedding give a dollar or a thousand dollars or whatever it is, and at the end we'll put it all together and write a big check to Ronald McDonald House and Children's Hospital and put everyone's name who donated," Roethlisberger told the Post-Gazette prior to his wedding day.
Harlan was an athlete as well
Roethlisberger isn't the only athletic one in the family. Harlan was also an athlete in college. She attended St. Francis University in Loretto, Pennsylvania, where she played basketball, softball, and volleyball.
Harlan graduated in 2009 with a degree in health science and later obtained a master's of physicians assistant. Soon after that, she began working in the cardiac surgery department of a hospital in Pittsburgh.
They have three children together
Roethlisberger and his wife have three kids together.
They welcomed their first child, a boy named Benjamin Jr., in 2012. Harlan then gave birth to a baby girl, Baylee, in 2014. Two years later, the couple's third child, Bodie, was born.
The 3 little 'bergers took over their dad's website for an early #FathersDay tribute because he's going to be pretty busy at his football @ProCamps tomorrow: https://t.co/4UmF4qlQ7f #HappyFathersDayWeekend #SteelerNation pic.twitter.com/pAWQ38o7sU

— BigBen7.com (@_BigBen7) June 16, 2018
"It puts things into perspective. For me, it's like what's important. You don't really know love until you have a child and it's pretty cool," the quarterback said during an interview with WDVE. "The changes you see every day are just awesome."
Read more: Who is Baker Mayfield's Fiancee, Emily Wilkinson?
Check out The Cheat Sheet on Facebook!