Everything We Know About Dwayne Johnson's Girlfriend, Lauren Hashian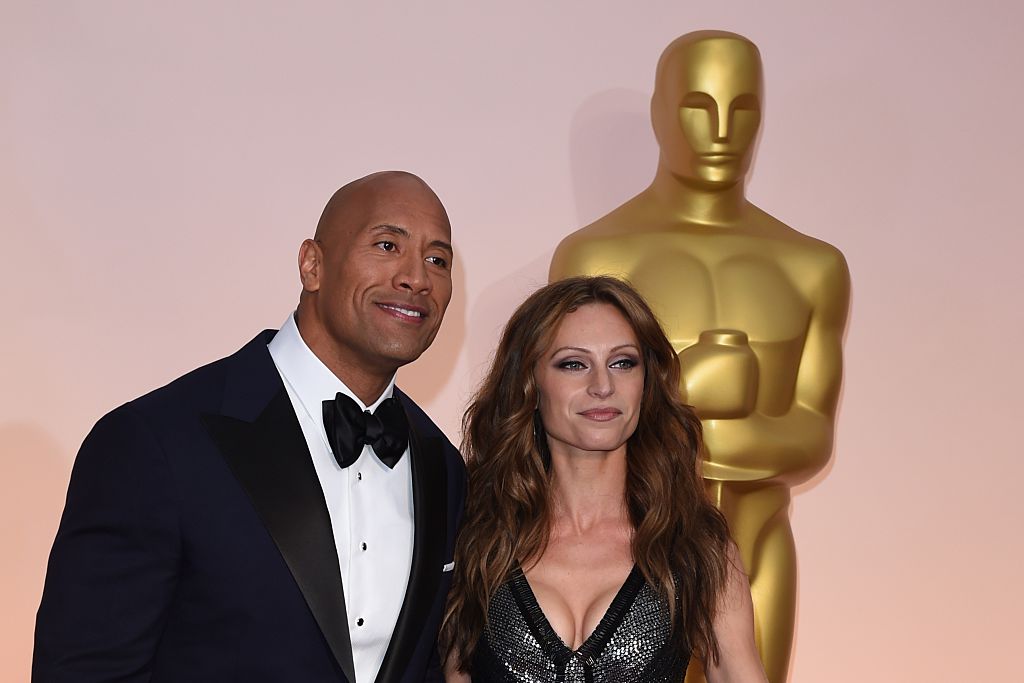 Despite being one of the busiest actors in Hollywood, Dwayne "The Rock" Johnson still manages to remain a devoted father and boyfriend. Johnson is not married, but he has been dating Lauren Hashian since 2007, and he has two children with her. So what, exactly, do we know about Johnson's girlfriend?
Like Johnson himself, Hashian comes from a famous family, as she's the daughter of Sib Hashian, the former drummer for the rock band Boston; he died in 2007, and Hashian says that this was an unexpected shock.
"The fact that in the snap of your fingers your whole life can change forever," she told Vydia. "You then understand the fragility of life, and if you hesitate to fulfill things now you may not get a chance to do them later."
Like her father, Lauren also has a passion for music, and you can see some of her work on YouTube and Soundcloud. She was actually once on the reality/singing-competition series R U That Girl, though she didn't end up winning.
When she released her first official music video in 2017, Hashian credited Johnson with inspiring her. She told Vydia:
"Dwayne has been such a major driving force in my inspiration. He is my motivator and my sounding board every day. Always giving me notes on the work, always motivating me to outdo my last effort. Honestly, if I impress him with a track then I feel accomplished, it's true! He is an example of how anything you can imagine or dream up, you can do because he lives that way. So when you see that every day, it fuels you & lifts you up too. Also, being in love is a very inspiring thing – ALL of our experiences, from the good to the fun to the sexy to even the not so good, provide great inspiration to write from."
Hashian attended Emerson College, and according to her LinkedIn page, she graduated with a B.A. in public relations and communications in 2006. In that interview with Vydia, she explained that she got into music pretty early, turning her dorm room into a recording studio while she was at Emerson. And before that, she was always singing in middle school.
According to The Boston Herald, Johnson met Hashian while he was in Boston shooting his 2007 movie The Game Plan. Wrestling Inc. reports that they were regulars at a local Italian restaurant while Johnson was shooting the movie. At the time, Johnson was still married to Dany Garcia, but they announced in June 2007 that they would be splitting up. Johnson reportedly officially began dating Hashian shortly after that.
They seem to have started living together within a year or so. After all, Johnson said in a 2015 interview, "I've lived with my longtime girlfriend, Lauren Hashian, going on, like, eight, nine years now." So that would mean they moved in together in 2006 or 2007. It wasn't until the 2013 premiere of G.I. Joe: Retaliation that they first appeared on the red carpet together, though.
In December 2015, Johnson and Hashian had their first child together, a daughter named Jasmine.
Hashian told Vydia that the birth of her daughter was hugely inspirational. She explained, "When you have a daughter you realize right away you're their main example as a woman, as a human being, a mother, a friend, a wife, a dreamer, everything… and it inspires you. To be the best version of yourself and to give 110% of yourself, in not just motherhood, but in all areas of your life. As cliche as it sounds after you have a child you understand more than ever what's truly important in life."
Recently, in April 2018, Johnson and Hashian welcomed their second daughter, another girl named Tiana.
"I will say, it was the most amazing experience I've ever seen," Johnson recently said of Tiana's birth. "I look at Lauren, and women and mothers, in a different light than I ever have before. And it was beautiful."
Johnson also has one daughter from his previous marriage, 16-year-old Simone.
In April, Johnson revealed that he and Hashian were actually originally planning to get married this spring, but those plans changed after she got pregnant. "Mama don't wanna take wedding pictures with a big belly – Mama wanna look good," he told Rolling Stone. Now, Johnson says that he and Hashian aren't in a rush to get married, although he still calls her his wife.
In terms of Johnson and Hashian relationship at home, Johnson says that he loves the fact that they're constantly making fun of each other.
"First of all, she teases me about everything. Everything," he told PEOPLE. "Nothing is off limits in our house. And it's the beauty of it. And I tease her with everything."
Johnson also opened up about his love for Hashian in a 2015 interview with Entertainment Tonight, explaining:
"I've got a lot of things happening in my life, and I've been so lucky and fortunate to be blessed with a lot of things. The relationship part to me is my most prized thing. The poeple in my life. I've learned the power that we have to make other people happy and content in a relationship. And I have the love of my life, Lauren, who I've had for eight years now. I wake up every day so grateful and so thankful that I have someone like that, someone that you can walk through this world with."