Who is Ellen Pompeo's Husband, Chris Ivery?
Ellen Pompeo is one of television's highest-paid actresses. Her work on Grey's Anatomy has earned her both fortune and fame. But her personal life — especially her marriage — is about as average as it gets. Except for
Her role as a wife and mother parallels Meredith Grey's on the show in a few ways and differs in many others. But unlike Meredith's marriage (still not over it), Pompeo's relationship is a long-lasting love story that's likely to last many decades more.
Pompeo and her husband have been married for over a decade and have successfully balanced careers in entertainment, their relationship, and their family. Read on to learn more about Ivery's career, how he and Pompeo met, and their super secret wedding.
Chris Ivery career: What does he do for a living?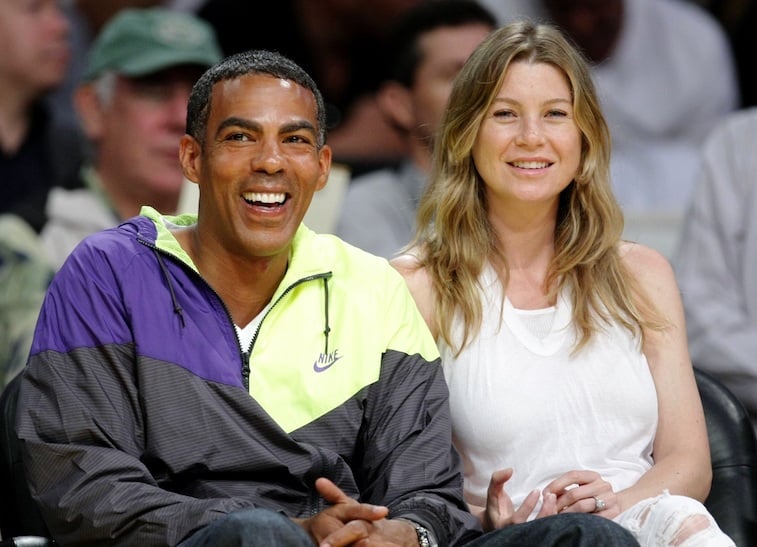 Ellen Pompeo's husband is a music producer based in Los Angeles. He wrote the song "Cheers (Drink To That)," which appeared on the TV show Smash.
Like Pompeo, he grew up just outside of Boston, Massachusetts. They apparently grew up 10 minutes away from each other, but did not officially meet until 2003.
Though she frequently features her husband, children, and personal life on social media, Pompeo doesn't talk much about him in media interviews — unless it's a story about her relationship or family. Over the years, she has shared a few stories about how the two met and wed.
How did Ellen Pompeo and Chris Ivery meet?
Some celebrity couples meet while working, attending premieres or parties, or through mutual famous friends. Pompeo and Ivery's first encounter wasn't quite as glamorous. But maybe that's why their relationship blossomed.
The two met at a grocery store in Los Angeles in 2003. They began dating six months later and had a private wedding in 2007.
Ivery is Pompeo's real-life "person." They were friends before they started dating, and have been together ever since. He discussed his difficult past with her before they married, and they've been able to put it behind them and keep their relationship strong.
Ellen Pompeo's secret wedding
Ivery proposed on Pompeo's birthday, and they didn't tell anyone they were getting married. Within one three-day weekend, they married at New York City Hall and enjoyed some much-needed privacy before returning home.
Why did they keep their wedding a secret? It happened during the fourth season of Grey's, and it was difficult for the show's star to escape the public eye. Pompeo said, "At that point, I was really dying for privacy." She got one weekend of it, at least.
Chris Ivery and Ellen Pompeo: Marriage and family
When asked her secret to a long-lasting marriage, she advised: "Just don't try to change people. They are who they are, and they were fine when you married them, so don't expect them to change."
Pompeo and Ivery have three children: Stella Luna Pompeo Ivery (2009), Sienna May Pompeo Ivery (2014), and Eli Christopher Pompeo Ivery (2016). Sienna May was born via surrogacy and Pompeo kept her birth a secret for several months to protect the woman's privacy.