Who is John Mulaney, Pete Davidson's Friend?
Comedians Pete Davidson and John Mulaney have been spotted together a lot lately. Davidson is best known as a current cast member on Saturday Night Live, though he has been making headlines for the past year due to his short-lived relationship with Ariana Grande. If you're not sure who the guy hanging out with Kate Beckinsale's rumored boyfriend is, here's a quick rundown: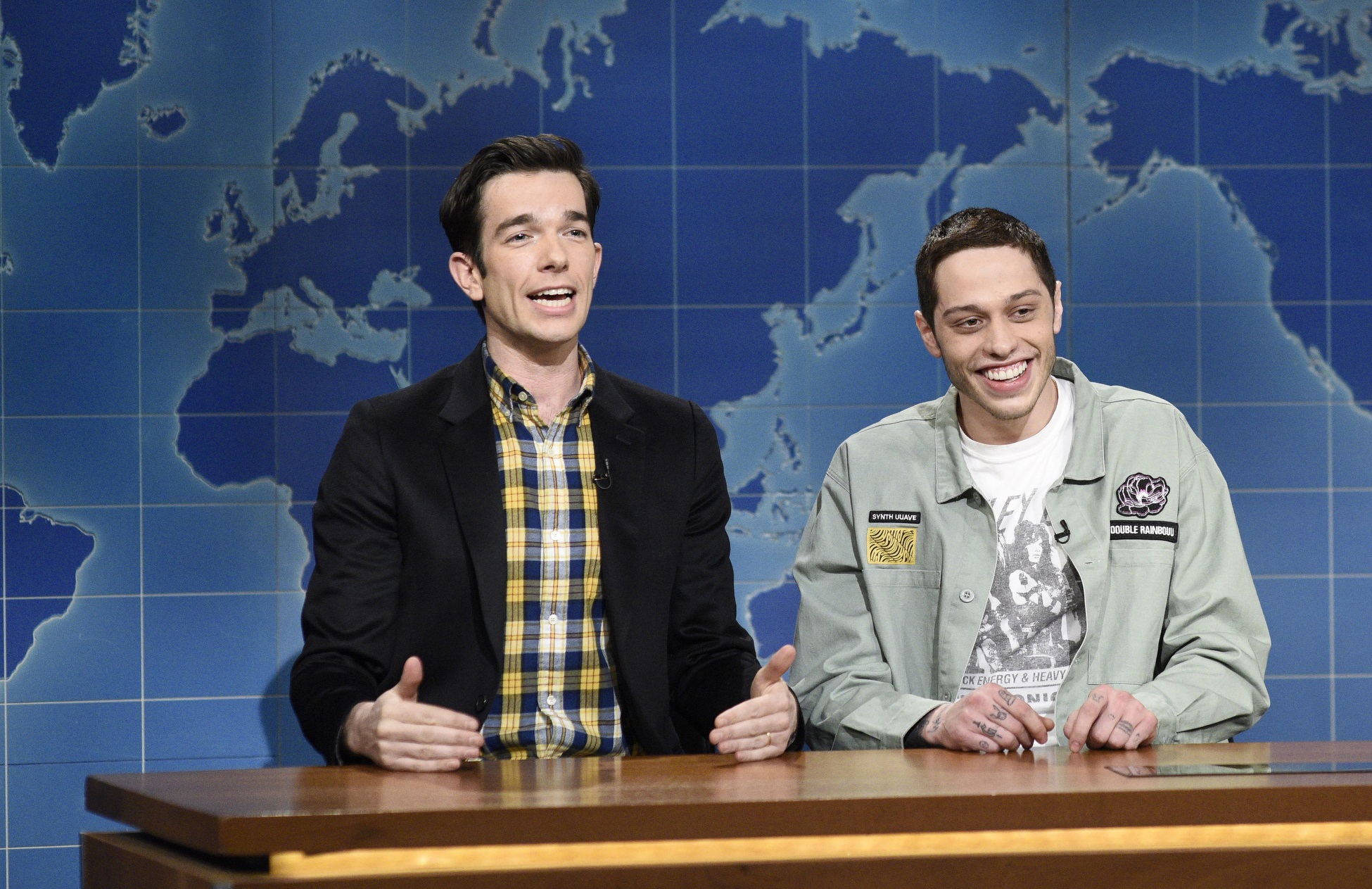 Mulaney also got his start on SNL

The two share a jumping off point in the entertainment industry. Mulaney was a writer and producer on Saturday Night Live from 2008-2013. The comedian returned as a host in April 2018, and is scheduled to host again on March 2, 2019.

Pete Davidson and John Mulaney are touring together

The unlikely pairing has teamed up to perform together for a short time. They have several weekend shows scheduled in Pennsylvania, Connecticut, and New Jersey in March 2019, but it's unknown whether this will continue into a larger tour. Both Mulaney and Davidson are based in New York City, so their chosen performance venues indicate this is a mini-staying-close-to-home kind of thing.

What else has John Mulaney been in?

Mulaney has a lot of television experience. He appeared on The Kroll Show with a friend from his SNL days, Nick Kroll. The two have continued to work together, doing voices for Kroll's animated series Big Mouth, for which Mulaney is also a consulting producer.

Primarily known as a stand-up comedian with many specials under his belt, Mulaney managed a pretty impressive feat when he got his own sitcom on Fox, in which he played a fictionalized version of himself. Mulaney was canceled after one season. The comedian was recently in his first feature film, though you wouldn't have recognized him: He voiced Spider-Ham in Spider-Man: Into the Spider-Verse.

Davidson and Mulaney on Weekend Update together

While gearing up for their tour, Mulaney showed up on Saturday Night Live to review a movie with his friend, Davidson. They talked about the film The Mule, which stars Clint Eastwood. Davidson threw in a joke about the Instagram post that prompted him to close his account, and at the end made fun of how often Grande comes up in his comedy, hugging Mulaney and saying "I didn't mention her once!"

They're very different, but they have one surprising thing in common

As Mulaney mentioned on Weekend Update, he and Davidson have a shared experience. Both have dealt with addiction. Mulaney quit drinking many years ago, while Pete's struggle with drugs and alcohol has been a topic of conversation as long as he's been in the limelight.

But their differences seem to be what make them friends. Davidson and Mulaney swapped clothes for one of their Feb. 2019 shows, later sharing the image of Davidson decked out in a suit and Mulaney in Davidson's strange attire, which consisted of a pink t-shirt, a denim jacket, and black-and-white checkered Spongebob pants.

Mulaney is keeping us updated on Davidson after he quit Instagram
Though some might be worried about Davidson, who rarely appeared in the first Saturday Night Live episodes of 2019, Mulaney is keeping the internet happy by providing frequent images and videos of Davidson. Clearly, this is a friendship that's helping the young comedian work through a difficult time.