Who Is Kelly Ripa Married To, and Do They Work Together?
Kelly Ripa is an actress and talk show hostess best known for her roles in All My Children and Live! With Kelly. The 48-year-old is also well known for keeping a youthful appearance, having not aged much over the past few decades. This supposed "fountain of youth" can be owed highly to the fact that she watches what she eats carefully and exercises regularly, in addition to not smoking and following moderation with alcohol.
Although a lot is known about Ripa, not as much is known about her family. The family is known for staying mostly out of the light, keeping their private affairs, well, private. So who is Kelly Ripa married to, and have they (or will they ever) work together?
Kelly Ripa is married to Mark Consuelos
Kelly Ripa is married to Mark Consuelos, who is best known for his role as the villiounos Hiram Lodge in the hit television series, Riverdale. The actor was born on March 30, 1971 in Zaragoza, Spain to an Italian father and Mexican mother. He is one year younger than his wife, and the couple have three children together.
Ripa and Consuelos truly have a Hollywood fairy tale romance. Shortly after meeting, Consuelos proposed over pizza and champagne. When she said yes, the two ran away to elope together in a very simple, inexpensive Las Vegas wedding.
When asked about his wife, Mark Consuelos had this to say: "My first impression of my wife was – she was obviously extremely beautiful – but she was really funny, really intelligent, really quick. I realized that if I was ever to get into an argument with her, I would lose every single time."
They met while working together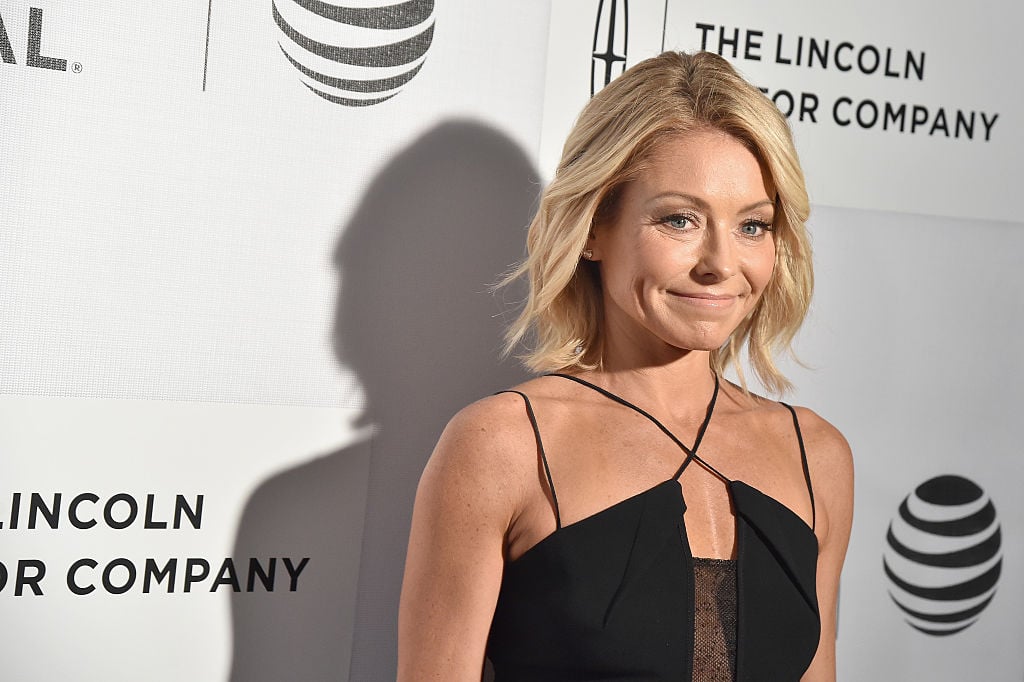 Ripa actually met her husband while they worked on the set of All My Children together in the early 1990s. Kelly Ripa played Hayley Vaughan. Consuelos played Hayley's love interest, Mateo Santos. Eventually the chemistry spread to off-screen, and the two fell in love – leading to the simple yet romantic start to their married life.
Ripa will appear in 'Riverdale'
Although the two haven't acted together in a very long time, they will once again be working together. This time, it is on the set of Riverdale. But they aren't just working together. The part Kelly Ripa will play is just too great. She will be playing the part of her husband's character's mistress, Mrs. Mulwray.
A character description of Ripa's character states that Mrs. Mulwray is "confident and tough… she's a beautiful, icy femme fatale who gets caught up in a conspiracy that's much bigger than she initially realized."
Mark Consuelos character, Hiram, is married to Hermione Lodge (Marisol Nichols). The fictional couple has a daughter, Veronica Lodge (Camilla Mendes). Hiram is the series secondary antagonist in the first season, and the primary antagonist in following seasons. He is also the richest man in Riverdale, and one of the richest men in the whole world.
The couple's son will also make an appearance in the series
Riverdale is becoming a family event. Ripa and Consuelos recently announced that one of their two sons, Michael, will also be making a guest appearance in the show. Michael is set to play a young Hiram in an upcoming flashback episode.
This is his first major acting gig, and his parents congratulated him on Twitter in a funny yet touching post that read "Congrats Michael on being cast as young Hiram Lodge… However… I would like to take this opportunity to remind you and your siblings that as your fiduciaries we are hereby entitled to 10 [percent] of all future earnings hereto wit, or something like that."