Who Is Megan Thee Stallion and What Is Hot Girl Summer?
Have you heard of Megan Thee Stallion yet?
If you don't know the self-proclaimed "H-Town Hottie" by name, maybe you'll recognize one of her many songs that have taken over airwaves, such as "Cash Sh**," which features rising star DaBaby, or the slow-burning rap tune, "Big Ole Freak."
In the words of The Fader, she's one of the "hottest new artists in all of hip-hop." But if you're still (somehow) unfamiliar, this is everything you need to know about the 24-year-old Houston rapper, as well as her viral catchphrase, "Hot Girl Summer."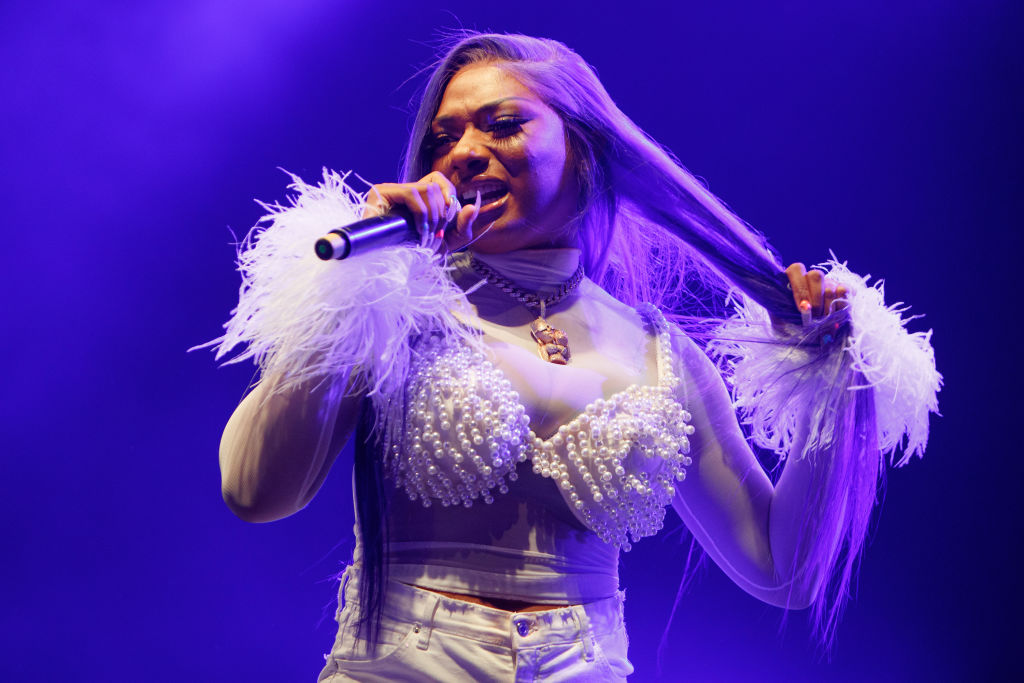 Her life before the fame
Megan Thee Stallion, whose real name is Megan Pete, was born on Feb. 15, 1995. According to The Fader, she "always" knew she wanted to be a rapper." She found inspiration through her mother, a well-known local rapper who went by Holly-Wood, as well as talents like UGK, Three 6 Mafia, and Biggie Smalls.
Friends began calling her "Thee Stallion" in high school due to her height. (She's 5-foot-10.) By the time she got to college in 2013, she'd fully embraced the title and started rapping under her current moniker. (She's still in school, BTW, pursuing a bachelor's degree in health administration at Texas Southern University.)
Her come-up
During college, the rapper began releasing mixtapes, such as Like A Stallion, Rich Ratchet, and Make It Hot. She also started releasing freestyles — and that paid off. She went viral in November 2017, thanks to the video for "Stalli Freestyle," which highlighted her lyrical prowess, contagious charisma, and unwavering sex appeal.
The following year, she released the mixtape Tina Snow, which featured the ever-popular single "Big Ole Freak." It became her first single to hit the Billboard charts, entering the Hot 100 at No. 99 in April 2019. Following the release of Tina Snow, she signed with 300 Entertainment in November 2018.
As her star grew, she dropped Fever in May 2019, which features appearances from Juicy J and DaBaby. The album contains, among other things, sex-positive lyrics, female empowerment anthems, and more — which brings us to our next point…
It's a Hot Girl Summer
At this point, this term has probably taken over your newsfeed, group chats, and text messages. But what does it mean exactly?
The "Realer" rapper inspired the phrase through her music, whether it's on "Cash Sh**," which opens with the line, "Real hot girl sh**," or her latest album art, which refers to the star as "thee HOT GIRL." Once fans heard the feminist rap album Fever, they created "Hot Girl Summer," a movement encouraging women to live their best lives.
"A Hot Girl exudes self-love and self-confidence," Megan Thee Stallion told ELLE.com back in June. "A Hot Girl is somebody who's super confident; somebody that's just unapologetically them. A sassy attitude and doesn't care what nobody has to say about them."
"[It's] about … having fun, being confident, living YOUR truth, being the life of the party etc," she added in a July 17 tweet.
As ELLE.com notes, there's no "singular definition" of the term. A "Hot Girl Summer" could include traveling around the world, partying for the entire summer, cutting off toxic person, finding an internship, binge-watching a show, or playing the field. It's simply about doing what you want to do when you want to do it.
Enjoy!