Who Is Meghan Markle's Mother, and Why Don't We Hear More From Her?
Now that Meghan Markle is a mom herself, she's becoming even closer with her own mother. Raising a family can have that impact on a person; suddenly family relationships become even more important.
With mother's day right around the corner, we've been a little curious about Meghan Markle's mom: Doria Ragland. Since baby Archie has made his appearance, it is clear that Meghan's mom will have a bigger role in her life, and maybe appearing more regularly in the royal scene.
Who is Meghan Markle's mom?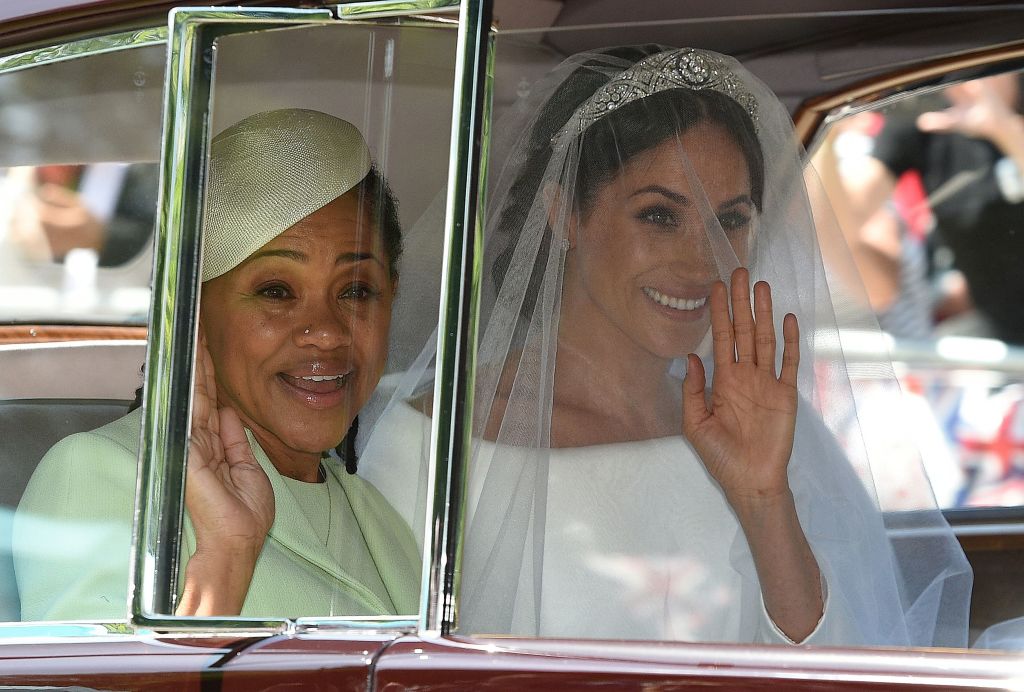 Meghan's parents divorced when she was a young girl, so although her father remained a part of her life, she was raised by her mother, Doria Ragland. Doria has spent a career in social work, teaching Meghan the importance of giving back and being socially aware.
Doria, who has also spent time in her career as a yoga instructor, was the only member of Meghan's family who attended the royal wedding. Since Meghan's marriage to Harry, Doria has been a steadfast supporter of the couple. She's made several trips to the U.K. and sources close to the royal family say they are currently looking for a home for Ragland in the U.K. so she can spend more time close to her new grandchild, Archie.
Why does Doria Ragland stay clear of the press?
While Meghan's father hasn't been shy to talk to the press or attract attention to himself, we don't often hear from Doria because she always has Meghan's best interest at heart. In fact, Doria has been very good about keeping herself out of the limelight and out of the press.
This might be why Doria has been consistently invited to attend royal events, included in holidays, and is currently spending time with the new parents. This past year, the queen even invited Doria to spend Christmas with the royal family, an invitation that is rarely extended to outsiders and has reportedly never been extended to the Middletons.
Meghan's mother has obviously been fully embraced by the royal family, in stark contrast to the way her father has been received. This is clearly because of the way in which her father behaves. (He has had exclusive interviews with the press, even when Meghan has asked him not to).
What are the royal expectations?
Doria has been included in so many royal events now, she's becoming an expert in knowing how the royal family expects her act. We suspect this is why Meghan is much closer to her mom than her father these days. In fact, Doria is currently staying with the new parents, in their home in Windsor, to help care for the new royal baby and the recuperating new momma.
Doria Ragland's relationship with the royals before the baby's arrival
Doria has been in London for some time now, helping Meghan and Harry prepare their home and their lives for the arrival of their first born son. Meghan has been "so happy" to have her mother's help during this time. As a newlywed couple, Meghan and Harry have overcome their share of changes in their lives, but nothing trumps the way a new baby will change the status quo. A new baby can be both exciting and stressful, which is why Meghan has been grateful to have her mother close by her side.
Aside from the overwhelming support received by worldwide fans on the Duke and Dutchess' Instagram account, baby Archie will be surrounded by loved ones in his first few days of life.
Doria Ragland as a grandmother
Doria will be helping Meghan with baby Archie in his first few weeks of life. She has been reported to be over the moon about Archie's arrival, as most new grandmothers are.
We expect to see more of Doria in the future as she makes her place amongst our favorite royal family members.