Who Is Paris Jackson's Boyfriend Gabriel Glenn?
Paris Jackson stepped out on Monday, March 18 with her musician boyfriend Gabriel Glenn amid rumors that she was hospitalized over the weekend following a suicide attempt.
Jackson strongly denied TMZ's report that first responders had been called to her home on Saturday, March 15 because she was threatening to harm herself. A source told People that Jackson had an accident at her home.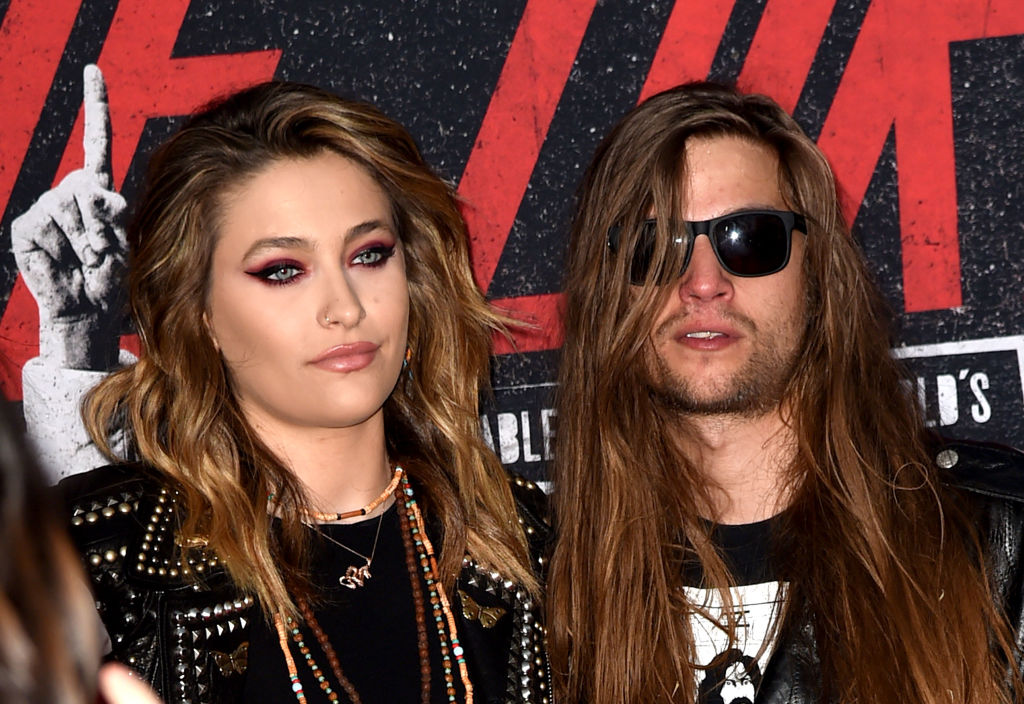 "F*ck you you f*cking liars," Jackson tweeted at TMZ in response to the report. On Monday, the tabloid claimed that the 20-year-old daughter of Michael Jackson was refusing to go to rehab for substance abuse issues. TMZ also reported that Jackson is struggling to cope with the renewed interest in allegations of sexual abuse against her father following HBO's broadcast of Leaving Neverland.
Jackson attended the premiere of Netflix's The Dirt on Monday
Amid the furor over her health, Jackson and Glenn attended the premiere of the new Mötley Crüe biopic The Dirt. The movie, which is based on the infamous hair metal band's autobiography, premieres Friday, March 22, on Netflix. It stars Douglas Booth as Nikki Sixx, Daniel Webber as Vince Neil, Machine Gun Kelly as Tommy Lee, and Iwan Rheon as Mick Mars.
The couple donned matching black leather jackets for the event. Later, Jackson thanked Mötley Crüe drummer Tommy Lee for getting her an invite to the event.
She'd previously tweeted her appreciation for the band back in February, writing that she "head banged so hard that i 'simulated a car crash' and gave myself whiplash … thanks @MotleyCrue."
The same day, she tweeted her frustration over recent events, including another report that she'd fallen asleep at the wheel of her car while out and about with Glenn. "[T]his past week it's been nonstop bullsh*t i'm so sick of it," she wrote.
Glenn and Jackson are in a band together   
Glenn and Jackson are in a duo together called The Soundflowers. Jackson sings and plays the ukulele, and Glenn sings and plays guitar. The band has played several live shows, including one in August 2018 that was attended by Jackson's grandmother Katherine Jackson.
Jackson has also been spotted supporting her boyfriend at his gigs around Los Angeles. It's not clear how long the couple has been dating, though they were spotted getting cozy last summer. There have been reports that the couple plans to marry. On Valentine's Day, she shared a photo of her and Glenn kissing with the caption "thanks for making me feel the way music does."
Glenn also plays guitar in a band called the Trash Dogs. In November, the band played a show at the Viper Room with Jackson's cousin and fellow musician Austin Brown. Brown is the son of Rebbie Jackson and Nathaniel Brown.
How to get help: In the U.S., call the National Suicide Prevention Lifeline at 1-800-273-8255. Or text HOME to 741-741 to connect with a trained crisis counselor at the free Crisis Text Line.
Check out The Cheat Sheet on Facebook!