Who is Phil Mickelson Married to?
Golfer Phil Mickelson is certainly a family man. His wife, Amy, is one of the most-visible wives in the sport. But how much do we really know about the woman who has been by Lefty's side for more than two decades?
Here are some facts about Phil Mickelson's wife including the moment the golfer thought he would lose her after she suffered a major medical complication.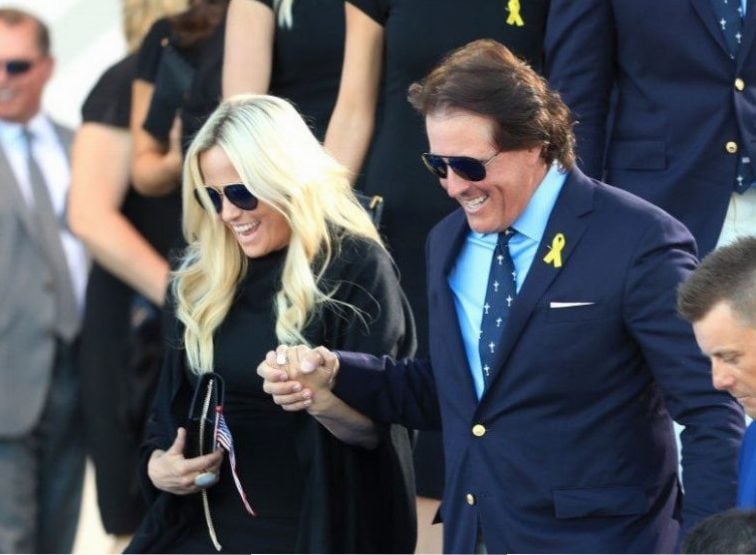 How Amy and Phil Mickelson met
Phil Mickelson met Amy McBride in 1992 while they were each attending Arizona State University. Amy was a cheerleader for the Phoenix Suns and Phil was a college star in his sport but when he told her he was a golfer she didn't really know what he meant.
"When he told me he was a pro golfer, I thought he worked in the shop at a golf course," Amy recalled in her husband's book, One Magical Sunday.
She accepted his invitation to the Celebrity Pro-Am in Palm Springs, California, and eventually became very familiar with golf herself.
The two tied the knot in 1996 and today have three children. Their oldest daughter, Amanda, was born in 1999. They welcomed another daughter, Sophia, in 2001, and finally a son named Evan in 2003. It was while giving birth to Evan that Phil didn't know if his wife and child were going to make it after Amy had a major complication.
She almost died during childbirth
During the delivery, Amy ruptured an artery in her uterus and the baby stopped breathing.
"I didn't really get into it too much, but Amy had a very dangerous delivery with the birth of Evan," Phil previously told ESPN. "He had a very difficult delivery … He didn't breathe for seven minutes and had the emergency nurses not been there with the equipment ready, he might have had some severe brain damage or other circumstances."
Lefty added that they were "two or three minutes away" from losing Amy as well. "They had to stop a six-inch tear in a major artery or I would have been without my wife," he said.
Fortunately, they both pulled through but years later the family would receive more bad news regarding Amy's health.
Amy was diagnosed with breast cancer
In 2009, Amy was diagnosed with breast cancer which led to Phil suspending his participation in the PGA Tour that year.
"We're all just in shock. We know Amy is a strong person, and her attitude is phenomenal, and that's going to help get her through this difficult time," Mickelson's former coach, Rick Smith, told the publication Golf at the time.
Amy underwent surgery and treatment. The next tournament she was able to attend was the Masters in 2010 where she watched her husband win his third Green Jacket.
After 11 months of treatment, Amy beat cancer and today has a clean bill of health.
Read more: Is Tiger Woods Still the World's Highest-Paid Golfer?
Check out The Cheat Sheet on Facebook!