Who Is Portia de Rossi, Ellen Degeneres' Wife, and Do They Work Together?
Together for 15 years so far, Ellen DeGeneres and her wife, Portia de Rossi, are one of Hollywood's most attractive and enduring couples. Each is famous in her own right, but do the two of them ever work together? We wondered, too. Here's everything we found out about Portia and whether or not she ever works with Ellen.
All about de Rossi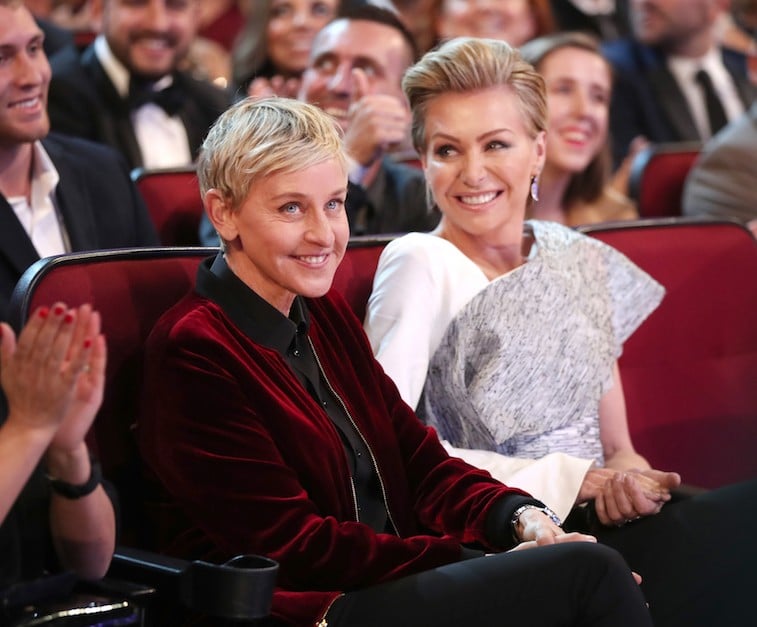 Born Amanda Lee Rogers in Victoria, Australia on January 31, 1973, de Rossi lost her father, Barry Rogers, when she was only nine years old. Even as a kid, her elegant good looks garnered plenty of attention along with numerous modeling jobs. She adopted the name Portia de Rossi when she was 15.
After graduating from Melbourne Girls Grammar School, de Rossi enrolled in law classes at the University of Melbourne while continuing to appear in print ads and television commercials. One of those commercials tickled the fancy of writer/director John Duigan who invited her to audition for a part in his low-budget film romp, Sirens.
Costarring supermodel Elle McPherson, Sam Neill, and oh-shucks actor Hugh Grant, Sirens was not a big box office hit and earned a mere 40 percent audience score at Rotten Tomatoes. The 98-minute Australian movie did, however, put Portia's face on the proverbial map.
California bound
Not long after Sirens, de Rossi ditched law school and moved to the United States. In 1996, the 5'8″ actress married a movie industry sound professional named Mel Metcalf. De Rossi has since described the union as something that was 'obviously not right' for her. The pair divorced in 1999.
Two years after her split with Metcalf, de Rossi embarked on her first public same gender relationship with a singer-songwriter named Francesca Gregorini. In fact, de Rossi was still in a tight relationship with Ringo Starr's stepdaughter when she re-met DeGeneres backstage at the Shrine Auditorium in 2004.
Love at second sight
DeGeneres and de Rossi granted their first post-wedding interview to veteran talk show host, Oprah Winfrey. During the interview, de Rossi described how it was love at first sight when she met Ellen at a party in 2000 but did not dare reveal her true feelings until several years later. Today, the pair are inseparable and obviously very much in love.
Do Ellen and Portia ever work together?
Not really. Sure, de Rossi has appeared on her wife's talk show a few times, but they typically earn their respective livings doing their own things. Unless we're talking about real estate deals. In that case, the women have a well earned reputation for being some of the savviest house-flippers in Hollywood.
In 2012, Ellen and Portia shelled out $17.4 million for a Beverly Hills mansion that they sold less than two years later at a tidy profit. The couple wisely invested $26 million in a Santa Barbara villa in 2013 and listed it for nearly twice that much four years later, explains Apartment Therapy magazine.
What they do for fun
When they're not busy flipping houses or filming their respective shows, Ellen and Portia enjoy riding horses, traveling to exotic locations, and reading to each other. The couple also maintain a menagerie of rescue animals, including cats named George, Charlie, and Chairman as well as three pooches named Mabel, Wolf, and Augie. DeGeneres described the creatures that share her home to Bark & Swagger magazine:
"Mabel looks like she was a show dog and walks like she is a show dog. She's actually more attached to Portia than she is to me. She's very much attached to Portia and Wolf is just a sweet dog, needy for love from anybody. Augie is a sweet dog but he has a lot of issues. And, all the cats are slightly different. They all have their different personalities. Charlie has a dog personality where she has to be wherever people are and follow you from room to room."
DeGeneres and de Rossi made headlines in January, 2019 when they splurged on a sensational Balinese style house that they don't plan to flip any time soon. Located in the celebrity-studded neighborhood of Montecito, California, the 8,188 square foot house boasts five bedrooms, ten bathrooms, and an infinity pool with a view that goes on forever. According to the Daily Mail, the property was a bargain at $27 million.