Who Is Sibi Blazic, Christian Bale's Wife?
Who doesn't know the name Christian Bale? Bale is the man behind the most intense Batman on the big screen, appearing in Batman Begins, The Dark Knight, and The Dark Knight Rises. He embodied Patrick Bateman, the investment banker by day psychopath by night in American Psycho. On December 25th we will get to see Bale with a whole new look in Adam McKay's Vice where he plays former Vice President Dick Cheney. The film has six Golden Globes nominations, one of which is for Bale's impeccable acting.
#ChristianBale attended the world premiere of 'Vice' with wife Sibi Blazic wearing a #Brioni Essential suit in black wool with a blue navy Sea-Island cotton shirt #TailoringLegends pic.twitter.com/3fGdlxEPVX

— Brioni (@Brioni_Official) December 12, 2018
Bale is without a doubt an extremely successful celebrity but as the old saying goes, "Behind every great man is a woman." While the quote may not be politically correct it holds true for Bale! He and his wife, Sibi Blazic, are one of Hollywood's success stories. They've been together for 18 years.
Sibi Blazic's career
#ChristianBale was joined by his stunt driving wife Sibi Blazic at the premiere of #ExodusGodsandKings in London. pic.twitter.com/82onzwlLyK

— ET Canada (@ETCanada) December 4, 2014
Remember when Bale brought Batman to life in The Dark Knight? Blazic was behind the wheel of one of those cop cars in pursuit of Bale as a stunt driver. So Blazic isn't just beautiful, she's a badass too! So much so that she terrifies her husband! While this was her first stunt credit, Blazic killed it winning praise from not only her doting husband but the rest of the cast and crew as well.
"My wife was a stunt driver — she was chasing me through the city in Batman. She was driving one of the cop cars. She can do 180s and stunts and all that," says the British actor. "She terrifies me. My wife terrifies me."
According to IMDB, Blazic also took part in George of the Jungle and Red Corner in 1997, Girl Interrupted in 1999, and Autumn in New York and Lost Souls in 2000. While the nature of her work is unknown, we do know she was an assistant to a particular actress on set. Blazic also received special thanks in The Machinist, possibly for helping her husband during the filming of the movie.
Before her involvement with movies, the 5'11" Serbian beauty was a model and a make-up artist.
How did Christian Bale and Sibi Blazic meet?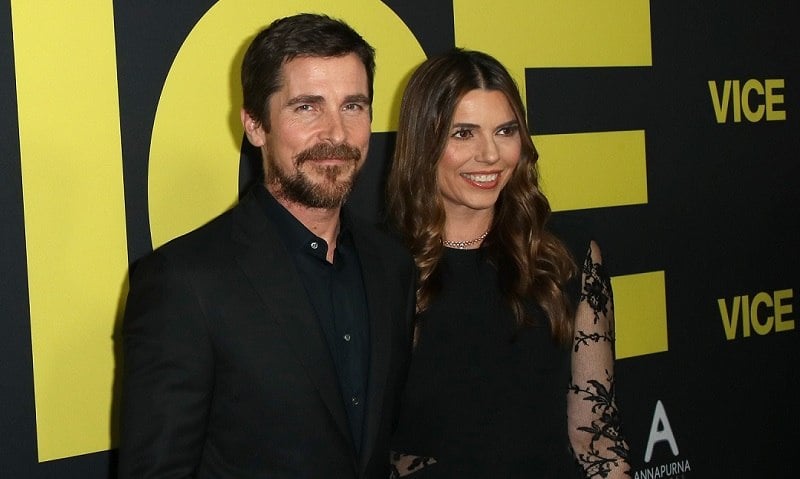 Fun fact! Blazic used to be a personal assistant to one of the Stranger Things cast back in the 90s. If you guessed Winona Ryder, who plays single mom Joyce Byers, you'd be right! It was during her time working for the actress that she met Bale, who just so happened to be a good friend of Ryder's. Fast forward to 2000 and the two were married. They eloped to Las Vegas when Bale was just 26 years old, and she was 30.
Bales had renounced marriage until he met Blazic. Being exposed to one failed marriage after another in his own family tainted his views on the joyous union. Bale told Easy Living Magazine, "I never planned to marry. Everyone was divorced in my family, so I didn't have very healthy ideas about marriage." Considering how much of a fantastic husband and father he's turned out to be we're glad he changed his mind.
Christian Bale and Sibi Blazic's family life
#ChristianBale and his wife Sibi Blazic have welcomed their second child! http://t.co/z0Z015k9Fd pic.twitter.com/DU1wfexWZN

— POPSUGAR (@POPSUGAR) August 19, 2014
In 2005 the dedicated couple welcomed their first child into the world, Emmeline Bale. Ten years later their second child, Joseph Bale, was born. Bale and Blazic do their best to keep their family matters private, so both children have been kept out of the spotlight. Not only the children but everything surrounding their marriage and other personal matters is under wraps. That's quite impressive for one of Hollywood's most popular couples. Honestly, we think that's the trick to long-lasting relationships in Hollywood. After all, the stress of being in the public eye has pulled many iconic Hollywood couples apart.