Who Is Steve Carell's Wife, Nancy Carell, and How Long Have They Been Married?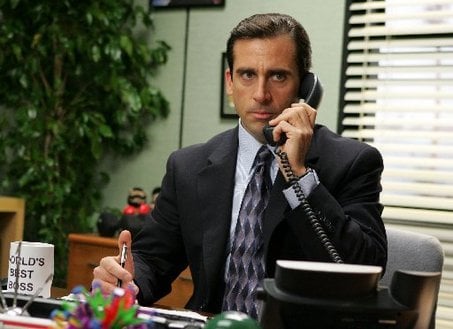 Nancy Carell is best known as the wife of Steve Carell. The actor is well known for his portrayal of Michael Scott in The Office, and his hilarious leading role in The Forty-Year-Old Virgin. While you can probably recognize Steve Carell on sight, not as much is known about his wife, Nancy. Who is she, what does she do for a living, and how did she come to marry her funny man?
Who is Nancy Carell?
Nancy was born Nancy Ellen Wells on July 19, 1966, in Cohasset, Massachusetts. She was one of eight children born to her parents, Robert and Carol Wells. After graduating from Cohasset High School, Carell went on to attend Boston College. Like her husband, Nancy Carell is an actress. She began her love of acting at an early age and performed with an improv group called My Mother's Fleabag while attending Boston College.
Her first big break into comedy was in the mid-1990s on Saturday Night Live. After her stint with the show, Carell became a television anchor for the late night talk show The Daily Show. She does a lot of appearances and projects with her husband. She helped to write and produce The Office, and also made a guest appearance as a health counselor in The Forty-Year-Old-Virgin.
Other on-screen acting credits include parts in Bridesmaids, Anger Management, Seeking a Friend for the End of the World, Angie Tribeca, The Goode Family, and Random Play.
How did Steve and Nancy Carell meet?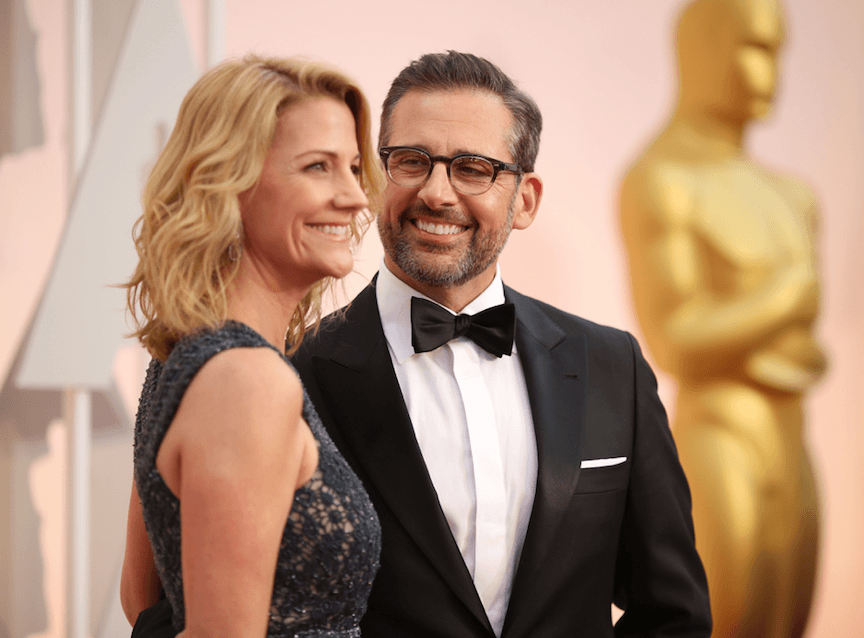 The Carell's love story could almost be a plot in one of their comedies – or, the beginning could, anyways. Steve Carell was Nancy's teacher for an improv class she was taking. According to Steve, he was very hesitant to ask her out at first, and Nancy was hesitant about dating him also. According to Steve, the "asking out" conversation went like this:
Steve: "Well, you know, if I were to ever ask someone out, it would be someone like you."Nancy: "Well, if someone like you were to ever ask me out, I would definitely go out with him. If there were someone like you."
It's a very cute, shy ploy that begins one of the longest-lasting love stories in Hollywood. The rest is history.
How long have they been together?
The couple married in 1995. That means they've been together for an incredible 23 years this year (2018). During their 20-plus year marriage, the couple has had two children. A daughter, Elisabeth Ann, was born in 2001, and a son, John, was born in 2004.
What is their secret to a lasting relationship?
The couple says that sharing a lot of the same personality traits (like their goofy sense of humor) is one of the reasons their marriage has lasted so long. The two are remarkably similar in a lot of ways but differ just enough to keep the conversation going.
Both Steve and Nancy Carell are big on family, too. They spend ample amounts of time together with their children and get plenty of parents-only time. They've even been blessed to work together on multiple projects.
The Carell kids share their parents' sense of humor
According to an interview with Steve and Nancy, the two Carell kids share their parents' sense of humor. To quote Steve on their children: "Their sense of humor is very pure, and they don't even a lot of times know when they're being funny, because it's just so honest. And I think that's what makes them so funny."
In the same interview, the Carell parents shared that they don't discuss work much while at home. They don't believe it interests their children, and they don't want their job to define them as parents in the eyes of their children.