Who Is Tiger Woods' Current Girlfriend and What's Their Age Gap?
Tiger Woods looks like he is primed for a comeback. Even though he's one of the world's most famous golfers, he could use one. Following a very public marital dispute, Woods' infidelity from his former marriage came to light and was splashed across headlines around the world. Since then, his career and his public standing have taken a serious hit. But he could be poised to come out on top after all.
When Woods racked up his fifth Masters championship in April, it was his first major win since 2008. While that news certainly boosted Woods' name in the headlines, he had already made quite an impression in the 2018 PGA Championships. That time, though, the buzz was all about who he was kissing when he left the course.
The world was suddenly much more aware of developments in Woods' love life, and it left quite a few people asking who this woman is. Let's find out.
Tiger Woods is on his third relationship since his divorce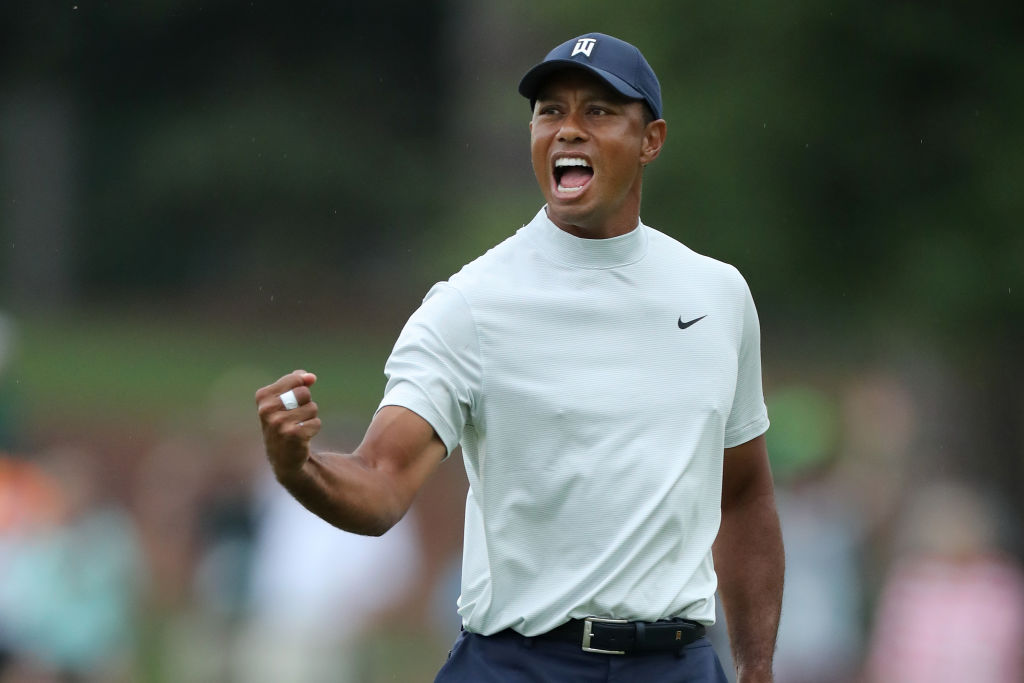 After his divorce in 2010, Woods publicly came forward to apologize for his behavior. He said that his celebrity status and tremendous wealth had given him the false impression that he was entitled to "all of the temptations around" him. He showed contrition and admitted that he was wrong, before complimenting his ex-wife's "grace and poise."
From there, Woods went on to take a break from golf, got treatment for sex addiction, and eventually started new relationships. In 2012, he began dating Olympic skier Lindsey Vonn. They broke up in 2015. Woods began dating Kristin Smith, a stylist and former wife of an NFL player. That relationship ended messily in 2017, with reports that Woods was unfaithful. Woods reportedly threatened to release compromising pictures of Smith if she broke her non-disclosure agreement about their relationship.
His current relationship started sometime after that, but exactly when Woods and the new mystery woman started dating was not immediately clear to the media when they started reporting on the PGA Championship kiss.
Tiger Woods' new girlfriend is Erica Herman
While it does not seem like Woods was eager to flaunt his newest relationship in public, he also wasn't exactly keeping it secret. The woman was revealed to be Erica Herman, and the two had been spotted together on other occasions.
At the 2017 Presidents Cup, Herman was wearing a badge reserved for wives and girlfriends of golfers. Herman later watched the Open Championship in July 2018 with Woods' two children next to her. She was also spotted cheering for her beau at the Hero World Challenge, the Tour Championship, and the Ryder Cup.
In 2017, the same year Woods split from Smith, he met Herman when she was working as the general manager at his Florida restaurant: The Woods. The two began dating shortly after that, and Woods left her position at the restaurant in February of 2018.
Erica Herman has faced some struggles of her own
While Woods' past is certainly less than pristine, Herman has faced some ups and downs of her own. Herman was in business with her former husband, Jesse Newton, and another man, Ricky McIntosh. In 2010, the trio entered into a business arrangement with Florida investor Tom Morris, who provided financial backing to the tune of $200,000. When the plans to open a string of Orlando nightclubs fell apart, Morris sued to recoup his investment, and the courts agreed he was owed.
Reportedly, Herman's wages from her time at Woods' restaurant were being garnished as part of the legal agreement to repay Morris. In addition to those struggles, Herman and her former husband seemed to have struggled to make rent. They were sued by their landlord for not paying up in 2012 and 2013 and were evicted in 2014. Other outlets reported even more legal struggles over Herman's payments on her 2006 BMW.
Herman is quite a bit younger than Woods
While the apparent gap in the financial situation of the two is significant, others have pointed to their age gap as well. Woods, who is 43, is quite a bit older than Herman, who is 33.
While the ten-year age gap is significant, it's certainly not the largest in celebrity relationships. What's more, age is merely a number when it comes to love. And, most importantly, it appears that Herman's steadfast support has been a positive influence on Woods' comeback.