Who's Big at the Oscars for 2014?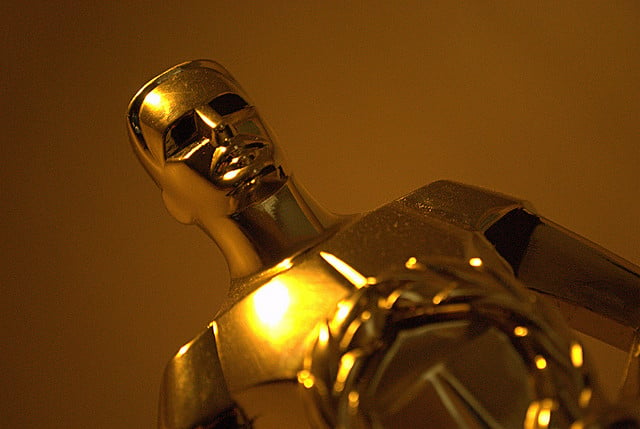 With the Golden Globes all wrapped up, the Oscars are swooping in to fill the hole those awards left behind. Two films in particular were celebrating their nominations. American Hustle pulled in 10 nods: Best Picture, Best Director, four acting nominations, and recognition for costume design, film editing, production design, and writing. Christian Bale, Amy Adams, Bradley Cooper, and Jennifer Lawrence all nabbed nominations for the film.
Gravity also notched 10 nominations — for best picture, cinematography, directing (Alfonso Cuarón), acting (Sandra Bullock), film editing, music, production design, sound editing, sound mixing, and visual effects. And let's be honest, considering Gravity's incredible dependence on special effects, it certainly earned that last nomination.
Nebraska, starring Bruce Dern, and Philomena, starring Judi Dench, were both nominated for Best Picture, with the respective leads nominated for Best Actor and Best Actress. Also nominated for Best Picture were Dallas Buyers Club, 12 Years a Slave, The Wolf of Wall Street, and Her. Leonardo DiCaprio was nominated for for his role in The Wolf of Wall Street, Chiwetel Ejiofor for 12 Years a Slave, and Matthew McConaughey for Dallas Buyers Club. Cate Blanchett received a nomination for Blue Jasmine and Meryl Streep for August: Osage County.
"I don't think it ever stops being an absolute thrill, but I do have an immediate leveler," Sandra Bullock said to The New York Times' Carpetbagger blog. "I still have to get up and make lunch for a little person, and pray — please, dear God — that he eats something I put in his lunchbox today."
The Wolf of Wall Street was a somewhat controversial pick for Best Picture due to the rather gratuitous use of drugs, sex, and language in the film. According to Rolling Stone, the film broke the record for the number of F-bombs dropped in a work that was not a documentary, beating previous records by hitting a total of 506, in case you were curious.
More From Wall St. Cheat Sheet: