Why a New Instagram Video Has Fans Questioning Aaron Carter's Sobriety
Aaron Carter has been in the news quite a lot recently for his posts on Instagram that have people talking. Another one has been uploaded that has fans seriously questioning Carter's sobriety. Read on to learn more about the situation.
Aaron Carter is in the news, again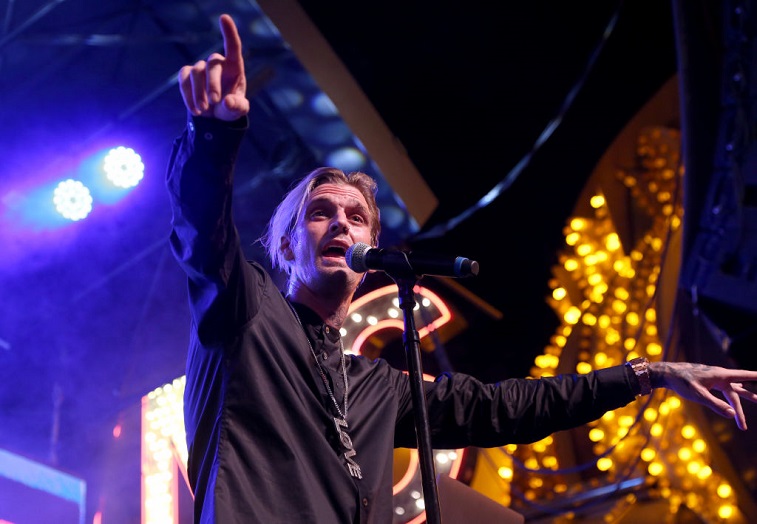 Carter has once again posted something that people find controversial. He posted a video of a pill being thrown out the window, but he went into some detail.
"Alright everybody so the tour went great besides this," Carter voices in the video. "So right there, that would be a fake Xanax pill that someone gave me tonight. Out the mother******* window. Don't even try it. I will not be taking your Fentanyl, thank you though."
Carter captioned the post with: "Tour went great besides this…. you're not getting me to take your fake as fentanyl laced xanax. #sobriety I'm too smart for your own good. #TheBlackWeb."
Fans react and question Carter's sobriety
Fans, who have been quick to call Aaron Carter out on his behavior, especially on Twitter and Instagram, couldn't stop talking about it. People are clearly worried about Carter. "Why isn't anyone questioning why he took it in the first place …. clearly u need the rehab," an Instagram user commented.
People are wondering why he posted such a controversial video, as well as why he chose to throw the pill out the window where someone else could get their hands on it. Fans also want to know why he accepted it in the first place.
"So why would u accept it if u were not doing drugs," someone else questioned.
"why are you even accepting drugs from people ??," an Instagram user asked.
"Good for you man, just maybe next time stomp it out so some kid doesn't come grab it 🤷‍♂️," someone commented.
"Good for u but their are kids and animals out there boy!!!! ❤️," another user warned.
"Lol someone prolly gonna pick it up not knowing its fake and take it, shoulda crushed it and then disposed of it," someone else said about the situation.
Another recent post from Aaron Carter has fans talking
Another upload has fans seriously wanting to know where Aaron was when he posted the strange image. It includes his dog with him. "Taking a nap w daddy before the show tonight in Cleveland Ohio," Carter captioned the image. Carter appears to be laying on a bed slightly different from his own.
Fans let Carter have it and want to know where he was
Fans had a lot of questions about where he was and whose room he was in. "Dudes on tour sleeping in a room built for a 15 year old girl 😭😭," an Instagram user wrote.
"Are you in a girls room?????🤣❤️," someone asked in a comment.
"Looks like you're in a 15 yr old girl's bedroom from 1998😂😂😂," another person wrote.
One thing is certain, fans are staying entertained by checking up on Aaron Carter's social media accounts.