Why a New Instagram Video Has People Calling Aaron Carter a 'Racist'
Well, we knew Aaron Carter would be back in the news again, but we had no idea it'd be so soon. This time he's posted a video to his Instagram that has fans actually calling him a "racist." Read on to learn what's going on with Aaron Carter this week.
Aaron Carter's Instagram video has people talking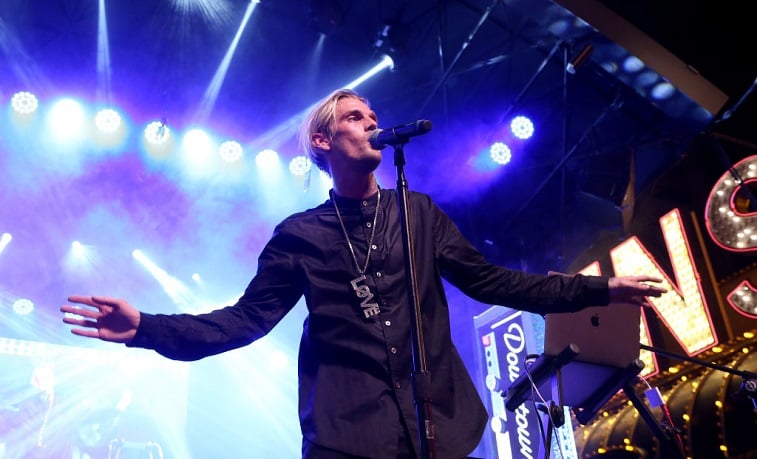 Aaron Carter is being called a racist after posting a strange video to his Instagram. In it, he's sporting a Chinese accent while he orders takeout. He speaks to another man on the phone and as he places his order, but he uses a lousy accent that many are calling racist.
"A plain lo mein, orange chicken, sesame chicken. Large order," Carter said on the video. "Crab rangoon two order. General Tso's chicken, pork fried rice."
Aaron uploaded the video with a caption that reads: "When your friends can't order Chinese food chicken in NYC AND you have to SHOW THEM YOURE cultural status #satire."
People aren't happy with the upload
Fans had an overwhelmingly negative outlook on the new post. "Wtf you doin, brah 🤦🏻‍♀️," an Instagram user commented.
"Aaron Carter you need help. Serious help," someone else suggested.
"Lol ignorance at its finest," another Instagram user said.
A lot of people find the post 'racist'
"That's not even any language you're just mocking his accent you racist fool 😂😂😂," another Instagram user proclaimed.
"U r canceled 🔥omg," another said.
"Your a moron you know that?" someone else wrote. "You get worse and worse day by day…like seriously go somewhere and stay there….please…"
Some even offered some good advice about deleting the post entirely. "It would be in your best interest to delete this," another Instagram user said.
Some people are just clearly done with Carter's behavior at this point. "This is disgusting and racist and horrible," someone else noted. "Wouldn't expect any less from you at this point… as if the bar is low enough. Sad to think because I was once a supportive fan, but it's all too much rn."
"That's severely racist, dude," was yet another comment.
"Wow. How disgustingly racist 👌🏻 way to go 🙄," noted someone else.
"D***.. they're gonna eat this post alive," another user inferred.
This is just the most recent post that has fans talking
Recently Carter posted an image of himself and his dog before a show that has fans asking questions about where he was. "Taking a nap w daddy before the show tonight in Cleveland Ohio," Carter captioned the image. He appears to be laying on a bed in a rather different room than his own.
Fans have a lot of questions about where he was and whose room he was in. "Whose bedroom is that?🤔," an Instagram user wrote.
"Dudes on tour sleeping in a room built for a 15 year old girl 😭😭," an Instagram user commented.
"Are you in a girls room?????🤣❤️," someone asked.
"Looks like you're in a 15yr old girl's bedroom from 1998😂😂😂," someone else added.
Fans had a lot of questions about the room he was in. "Why are you in a child's room 😂," another Instagram user inquired.
This is certainly not the last we've heard of Aaron Carter. Who knows what he'll be getting up to next week?