Why Alex Rodriguez Didn't Eat the Birthday Cake Jennifer Lopez Bought for Him
Jennifer Lopez and Alex Rodriguez really know how to celebrate birthdays, but sometimes we all fall a little flat. When Lopez surprised Rodriguez with a cake for his 44th birthday during his work day, it wasn't exactly something to jump up and down about.
In fact, he didn't even eat the cake. Why would he refuse a slice of delicious cake, especially when it was given to him by his love? Here's what we know.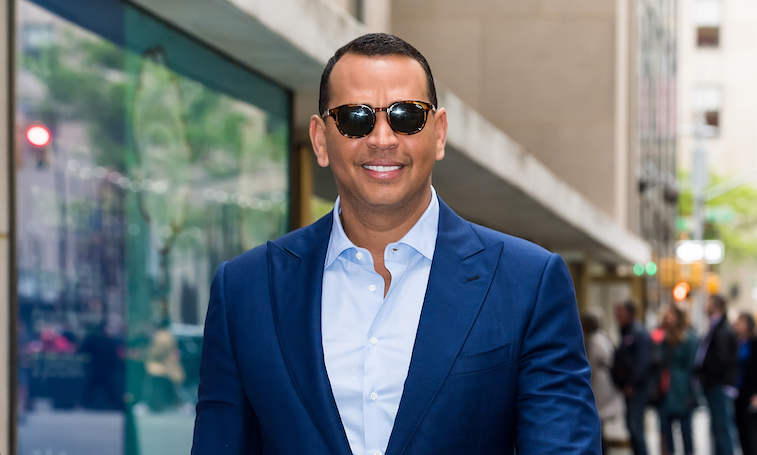 Jennifer Lopez brought Alex Rodriguez a generic birthday cake
While Rodriguez was busy hosting Sunday Night Baseball, Lopez and his daughters brought in a simple grocery-store sheet cake for his 44th birthday.
"This whole summer had been one large cake," Rodriguez said, which may explain why he didn't have a piece. Instead, he left it behind for the ESPN staff to enjoy.
But they didn't seem to mind. The ESPN writers devoured the cake after Rodriguez left, posting updates on the cake-eating status via Twitter.
To be clear, this wasn't the only cake that Rodriguez received for his birthday. When Lopez brought the generic cake, with green frosted letters that spelled "Happy Birthday," it was "for the ESPN family," because they'd already given him a better cake days before.
A better birthday cake for Alex Rodriguez
Posted by the Divine Delicious Cakes Instagram account was a picture of the real birthday cake given to Rodriguez, a four-tired baseball stripped beauty, complete with a fondant bat, and jersey that read, "Rodriguez." The top featured the name Alex in crystals.
Lopez presented the cake to him at a birthday bash designed to celebrate his career with the New York Yankees. She wished him happy birthday, and sang in front of a large crowd, and pull-down screen with fireworks. Rodriguez seemed almost bashful as he accepted the lavish surprise.
We suppose when you're used to getting intricate, personalized multi-tiered cakes, a generic grocery store sheet cake doesn't seem that appealing. Also, he does have to watch his figure, and eating tons of cake isn't the way to do that.
If he indulged in his fancy cake days before, it makes sense that he would leave the less-appealing cake for the staff.
Jennifer Lopez celebrates 50 with a dazzling cake
Lopez and Rodriguez are used to celebrating with cake. Lopez recently had a birthday as well- a big birthday — the big 5-0.
She spent the night of her 50th birthday at the most lavish birthday party you could image. Held at Gloria and Emilio Estefan's home, the glittery fete included a giant dance floor, celebrity guests, and a firework show. And then of course, there was the cake.
A giant, ten-tired gold-and-black, sparkling beauty of a cake that included sparklers and a glittering "Jennifer" on the top. This cake made the boring sheet cake she brought Sunday Night Baseball look like the ugly step-sister of cakes.
Earlier, on the day of Lopez's birthday, she was given a special gift by Rodriguez. He surprised her on their driveway with a 2019 red 911 Carrera GTS Porsche, revealing during a special birthday video he posted to YouTube that Lopez hadn't driven in over 25 years.
He wanted to give her independence back with a vehicle she could drive whenever she wanted.
Lopez was ecstatic with excitement over the gift, and said it was much more than she was expecting. When Rodriguez asked her what she expected, Lopez said, "I thought maybe people were going to be here. I thought maybe you baked a cake or something."
No, not more cakes, Lopez. And especially not a flat grocery-store cake like the one brought to ESPN. A Porsche is so much better than that.