Why Alfie Allen Wants James Bond to Kill Him Next
Alfie Allen, who is best known for playing Theon Greyjoy on Game of Thrones, always seems to plays a character that gets killed in the end. Theon died after his character came full circle back to the side of good. It was a satisfying end for a very complicated character. Most recently, Allen played Isaac Pincher on Harlots, and got a rude awakening in the last episode.
*Spoilers Ahead*
Isaac Pincher is finally killed on 'Harlots'
Allen's character Isaac was in deep mourning for the love of his life, Charlotte Wells (Jessica Brown Findlay). After witnessing his brother push her violently to her death, he was unraveling with the guilt and her loss. He was finally dealt a deadly blow from Nancy (Kate Fleetwood), Margaret's best friend. That pistol shot will have larger implications in the upcoming season.
Isaac's humanity attracted Allen to play him
Mashable SE Asia spoke with Allen about his portrayal of Pincher and what drew him to the character specifically, which is quite similar to Theon from Game of Thrones. The character is tragically flawed and can't come to terms with what is going on around him.
"There's kind of a human side to Isaac in the fact that he's quite an emotional person, or at least he tries to elicit that image of himself," explained Allen. "He has these moments of truth. I guess that's what he's really looking for in that world he places himself in, and that's what leads him to have that relationship with Charlotte Wells. He's searching for some kind of familiarity in that world. He finds it in her, and you never really know who's playing who, or who's using sex as a weapon."
The humanity in the character itself really attracted Allen to play him. "So that was definitely something interesting that attracted me towards the character — the obvious humanity within him but also these terrible things that he does," explained Allen. "I guess that leads into his emotional intensity and honesty, really, because he acts with his heart rather than his head."
Alfie Allen would like James Bond to kill him next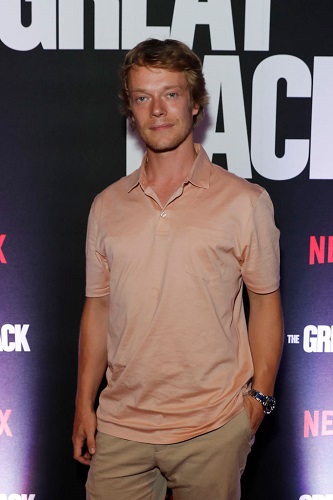 Mashable also asked Allen who he would like to have kill him next, and his answer was surprising. "Which character would I like to murder me next? Oh, I don't know. Maybe James Bond. That would be cool, to be killed by James Bond," said Allen. "I don't really know. I haven't had that thought process. I'd have to think about it a little bit more, in terms of what kind of actor — someone like Gene Hackman. That would be pretty cool."
Isaac Pincher was being honest with Emily Lacey
Allen spoke with IndieWire about how his character was honest about wanting to pay off Emily Lacey (Holli Dempsey) to leave his brother alone. In the end, it was his certain downfall. He'd never see another day after that encounter with Margaret (Samantha Morton), Nancy, and Lacey.
"There's definitely an honesty there. He actually does plan to give Emily Lacey the money, and his intentions are true," said Allen. "He wants her out of the picture so he and Hal can carry on running the business. But obviously it's not to be. I love his ending. I love the fact that it came at the hands of Margaret Wells and her crew." Harlots will definitely feel the loss of Isaac Pincher in upcoming episodes.