Why Apple Music Is in Trouble Before It's Even Arrived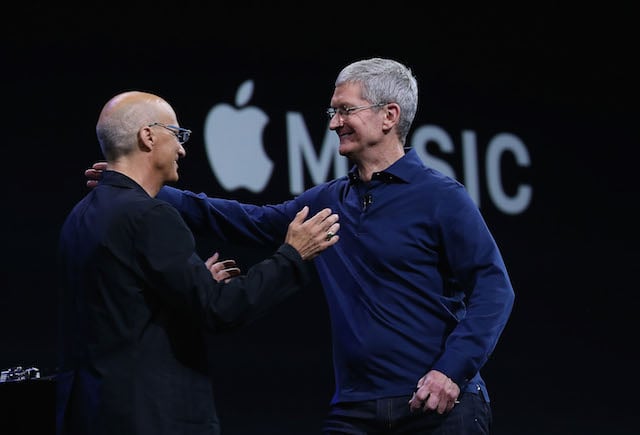 Apple officially debuted its music streaming service, called Apple Music, during the keynote at its Worldwide Developers Conference (WWDC). The demonstrated app has already drawn criticism as being cluttered and complex, including from The New Yorker's John Seabrook, who posits that the bells and whistles in Apple Music's interface "won't trump the radical simplicity of Spotify's design." And as Apple prepared to introduce the service to the audience at the conference and beyond, the attorneys general of New York and Connecticut had already begun investigating Apple's negotiations with music companies, looking for antitrust violations.
Brian X. Chen and Ben Sisario report for The New York Times that the attorneys general wanted to know whether Apple pressured the music labels, or whether labels conspired with Apple and with each other, to withdraw their support from the popular "freemium" tiers of services offered by Spotify and competitors in favor of Apple's paid music subscriptions.
Unlike Spotify, Apple won't offer a free version of its streaming service, though it will offer a three-month free trial period to get users to try the service out, and both artists and music labels will be able to make songs and videos available for free on Connect, a promotional part of the service. The free tiers of services like Spotify's are supported by advertising, and are touted by the companies offering them as an integral part of the process of attracting paying subscribers for more sophisticated, ad-free versions of the services.
The investigation is a continuing effort by New York attorney general Eric T. Schneiderman and Connecticut attorney general George Jepsen. Both attorneys general were involved in an ebooks price-fixing investigation, which culminated in a federal judge finding that Apple violated antitrust law by colluding with book publishers to raise ebook prices above Amazon's standard pricing. The Times reports that the attorneys general appear to be preemptively looking into the terms of Apple Music for any signs of industry collusion before the service becomes available to users at the end of the month.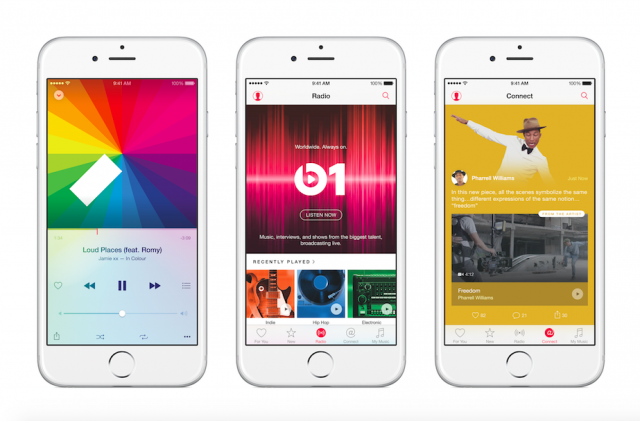 As Apple Music debuted at WWDC, music and streaming executives shared their opinions — anonymously — with Micah Singleton at The Verge. They were largely undaunted by Apple Music's debut, even considering its advantageous family pricing, high-profile exclusives, and the fact that the app will ship to every iPhone. They sounded relieved about what the streaming service will and won't be. And what it won't be, they seem to say, is a music revolution for Apple.
"I think I've never been more confident," an executive at a streaming music company told Singleton. "We were all bracing ourselves, but we feel really good about it right now." Executives said that while they're confident that Apple Music will be a success, they don't think that the app will have the same industry-altering effect as its powerful predecessor, iTunes. When Steve Jobs launched the iTunes Store in 2003, he was credited with saving the music industry. But popular preference shifted away from owning large libraries of music to simply being able to stream what you wanted on demand. As customers chose to stream music instead of download it, Apple fell behind. Apple Music is its latest attempt — and its biggest ever — to try to catch up.
Executives on both side of the industry seem confident that the success they expect for Apple Music won't come at the detriment of competing streaming services. Some anticipate that Apple will draw new users to music streaming, thanks to the massive marketing budget the company will undoubtedly throw behind Apple Music. One music executive noted, "I honestly don't think they're trying to get anybody to switch [from competing services], I just think they're trying to turn on the people who haven't already turned on." Another pointed to the company's unique potential to catalyze growth in the streaming music industry, and characterized Apple as "the one player that can really accelerate [growth]."
Executives are skeptical of Apple's ability to dominate streaming as it dominated downloads with iTunes. One noted, "Are they going to be like 80 percent of the market like they were with downloads? I don't know that you could say that." Another said, "Pandora has 80 million listeners. There's no way Apple upsets that apple cart overnight. Does Apple get to 15 million [paid users, matching Spotify's numbers] in the first year? That would be the interesting bet."
Everyone isn't as skeptical of Apple Music's potential as music executives. Alice Truong at Quartz notes that Forrester analyst James McQuivey is one of them; he thinks that Apple could successfully take on Spotify. "Not because its service is any better," he clarifies, "but because it can build its new music service into the hundreds of millions of devices that its loyal Apple users already love."
Though the same was said to assure the success of iTunes Radio, which launched in 2013 and has largely been dismissed as a failure ever since, Apple now has a product that actually rivals the service offered by popular, if not profitable, companies like Spotify. And since Apple is offering new users a three-month free trial, McQuivey thinks Apple Music will be able catch up to Spotify's base of 15 million paid subscribers in less than a year.
Not everyone is so certain of the outcome for Apple Music. While Apple says its streaming service will have more than 30 million songs, Joshua Topolsky reports for Bloomberg that the company is still negotiating deals, according to a person familiar with the discussions. Roger Fingas reports for Apple Insider that catalog size is typically considered one of the most important metrics for a streaming service. It's not clear yet if Apple Music will reach parity with the iTunes Store, which has more than 37 million tracks. And it's also not clear whether Apple's sizable market advantages will matter more than its level of innovation or design.
More from Tech Cheat Sheet:
Want more great content like this? Sign up here to receive the best of Cheat Sheet delivered daily. No spam; just tailored content straight to your inbox.