Why Are Melania Trump's Christmas Decorations Getting So Much Hate?
It's the most wonderful time of year, which means First Lady Melania Trump has debuted the White House's annual Christmas decorations. In 1961, Jackie Kennedy began a tradition that would continue among first ladies into the present day. She started the tradition of selecting a theme for the official White House Christmas tree. Each first lady after Mrs. Kennedy has put their own spin on holiday decorations.
Now, with her second holiday season in the White House, Melania Trump has debuted her 2018 decor. Unfortunately, her decorations are getting less than stellar reviews for the second year in a row.
Oh sure, the "Hell on Earth Christmas Trees" aren't very subtle Melania pic.twitter.com/E4b2GQtVJZ

— Ugh ObWi (@UghObWi) November 26, 2018
Blood red trees
Melania Trump unveiled the 2018 White House Christmas decorations with a video that she posted on Twitter. This year's theme is crimson, and at the center are 40 towering, berry colored trees. The trees are lining the East Wing hallway toward the East Garden Room. In addition to the trees, Mrs. Trump's blood red theme extends into Cross Hall and Grand Foyer halls.
The red decorations include 14,000 red ornaments on 29 trees. According to the first lady, the red trees and coloring represent the stripes found on the presidential seal signifying valor and bravery.
Elsewhere in the White House, Mrs. Trump's holiday decorations are much more traditional. The official 2018 White House Christmas tree is a green Fraser which has been placed in the Blue Room at the White House and has 500 feet of blue velvet ribbon embroidered in gold with each state and territory. There is also a Gold Star Family tree representing military families, and a 14-foot Noble fir tree in the East Room which is decorated with handmade paper ornaments. Unfortunately, the first lady's red trees are getting all of the attention.
#HeartlessattheHolidays
Regrettably,  Melania Trump's holiday decorations debut came at a pretty inopportune time. Her husband, President Donald Trump just ordered authorities to fire tear gas to separate the migrant caravan and shut down the border crossing between Tijuana, Mexico, and San Diego. The pictures of children and their families fleeing the scene have been horrific and widely shared online.
The president even tweeted that he's willing to close the border permanently saying, "Mexico should move the flag-waving Migrants, many of whom are stone cold criminals, back to their countries. Do it by plane, do it by bus, do it anyway you want, but they are NOT coming into the U.S.A. We will close the Border permanently if need be. Congress, fund the WALL!"
As a result of the attacks on migrants and other Trump policies, many Americans aren't in a festive mood. One Twitter user said, "So it looks like @FLOTUS has chosen "dystopian nightmare" as her Xmas theme for the 2nd year in a row #MerryChristmas." Another Twitter user said, "How festive! Melania's trees are covered in blood this year!" Some people are even comparing the first lady's trees to The Handmaid's Tale.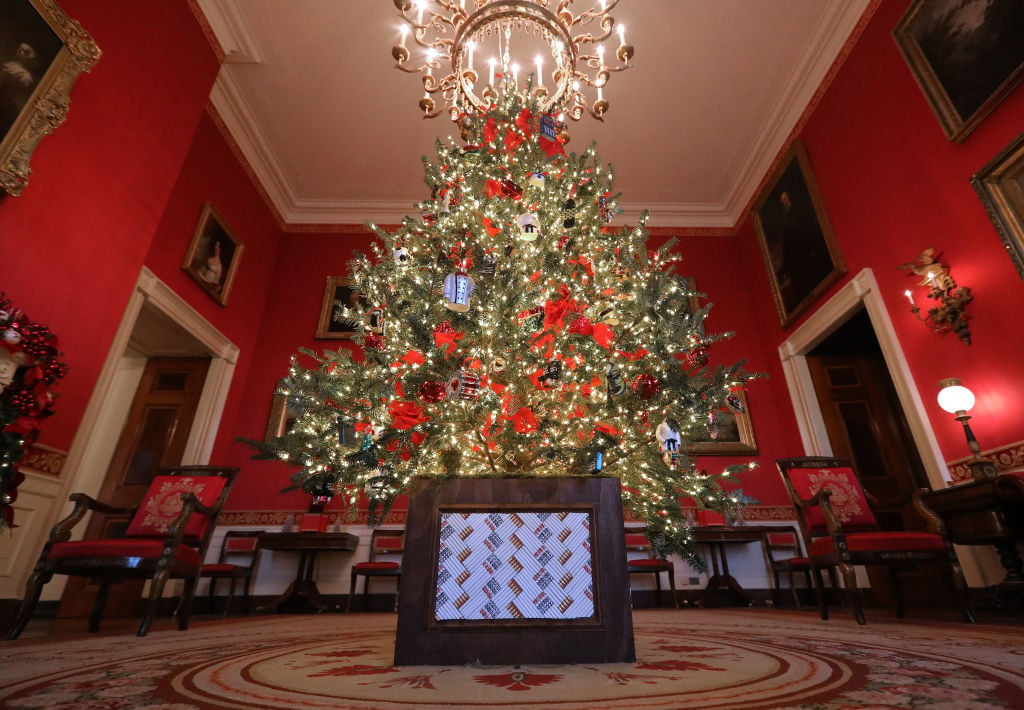 Enjoying the festivities
While many people alarmed by the Trumps' holiday decor, others are praising the first lady for her efforts. One Twitter user said, "Dear @FLOTUS: You did a spectacular job. Thank you for bringing class and grace back to the people's house @WhiteHouse." Another Twitter user said, "Outstanding work by everyone involved – spectacular beauty we all need to lift our spirits – thank you!"
Whether you enjoy Melania Trump's holiday decor or not, it's clear that American's have a slew of other things to worry about this holiday season that have nothing to do with decorations.
Check out The Cheat Sheet on Facebook!