Why Aren't Miley Cyrus and Liam Hemsworth Saying 'Divorce'?
Miley Cyrus always made it very clear that her marriage to Liam Hemsworth was anything but traditional. Now that they've recently separated, Cyrus is continuing her image of their relationship as complex and modern, by staying away from traditional words like "divorce." But why would the couple call it quits so soon after tying the knot? Let's dive into their relationship and see if we can figure out what made it different, and why it fell apart.
Miley Cyrus and Liam Hemsworth's unconventional marriage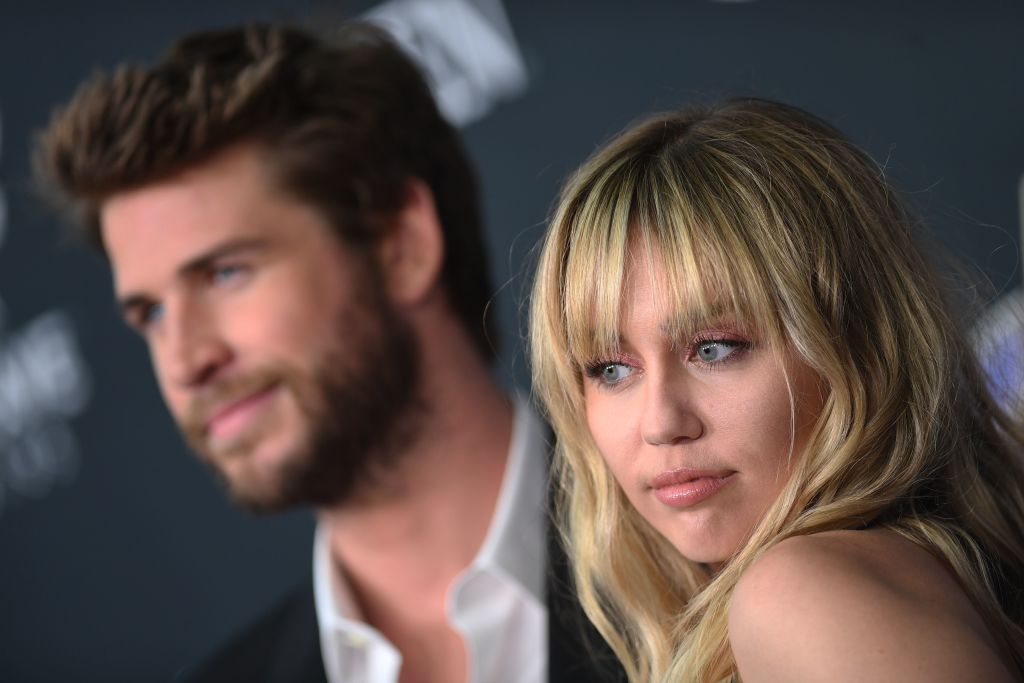 After several years of ups and downs between Cyrus and Hemsworth, they finally decided to make it official, with a small, private ceremony at Cyrus' Tennessee home. But even after they'd tied the knot, according to Cyrus, their relationship was anything but conventional.
"I think it's very confusing to people that I'm married," Cyrus told Elle magazine. "But my relationship is unique. And I don't know that I would ever publicly allow people in there because it's so complex, and modern, and new that I don't think we're in a place where people would get it. I mean, do people really think that I'm at home in a f**king apron cooking dinner?"
In addition to her distaste for cooking, Cyrus seemed to have a problem with the entire institution of marriage. Still, she was convinced that she and Hemsworth would be able to forge their own path and redefine what it means to be married. Just don't call her a wife, she hates that word. 
"I definitely don't fit into a stereotypical wife role. I don't even like that word," Cyrus said. "'Husband and wife' sounds like a cigarette commercial from the '50s to me," Instead, she preferred to use the word 'partners' to define the relationship she had with Hemsworth. "I made a partner decision. This is the person I feel has my back the most."
While fans had a hard time understanding exactly what it was about her relationship with Hemsworth that was so different from other marriages, Cyrus got it, and she was okay with leaving everyone else confused. Instead, she insisted this is what works for her relationship.
But there was one aspect Cyrus wanted everyone to be clear on, just because she was married to a man, that didn't make her straight. "I'm in a hetero relationship, but I still am very sexually attracted to women," she said. "People become vegetarian for health reasons, but bacon is still f**king good, and I know that."
Why did Miley Cyrus and Liam Hemsworth split?
After less than a year of marriage, this star couple suddenly called it quits. But before the news could make its way to most fans, Cyrus was seen kissing Kaitlynn Carter. The two women had set off on a vacation together to Lake Como, Italy after they both split from their husbands. Carter had just recently ended her marriage to the ex-Kardashian step-brother, Brody Jenner.
While Cyrus and Carter continued to post Instagram shots of their Yacht parties, the media tried to make sense of her split from Hemsworth. The Mirror suggested that the couple had been drifting apart for months, as evidenced by photos taken during their last public appearance, the 2019 Met Gala. Cyrus can be seen playing it up for the cameras and putting on a very animated display, which included licking Hemsworth's face. Meanwhile, Hemsworth is straight-faced and doesn't seem amused.
Once inside at the Met Gala, reports are that Cyrus' attention-seeking behavior only increased, with her grinding on the dance floor and grabbing her crotch. Actions that seem very similar to the way she behaved during her last split with Hemsworth in 2013. 
The Mirror reported that a source told Ok! Magazine, Hemsworth is "turned off" by this kind of behavior from Cyrus, and that he "doesn't like this side of her." If the couple was having problems at this point, it would make sense that Cyrus may rebel or try to anger him by returning to her wild behavior. According to the source: "Liam knows that Miley is a free spirit, but sometimes she goes too far."
Why aren't Miley Cyrus and Liam Hemsworth saying 'divorce'?
In the official statement put out by a representative of Cyrus, there is absolutely no mention of the word divorce.
The statement in People read: "Liam and Miley have decided to separate at this time Ever-evolving, changing as partners and individuals, they have decided this is what's best while they both focus on themselves and their careers. They still remain dedicated parents to all of their animals they share while lovingly taking this time apart. Please respect their process and privacy." 
The language used in their statement is similar to the language used by Cyrus when she described their "complex" relationship earlier this year to Elle. Because Cyrus saw their marriage as different from traditional marriages, it makes sense that she would also see the way they handle the separation as different from traditional divorces. 
Cyrus has been using words like "change" and evolution" on her Instagram, making it clear that in her opinion they just naturally grew apart, and now she's on the next adventure. However, Hemsworth is reportedly heartbroken and taking the split hard.