Why Awesome Kong Chose All Elite Wrestling
Awesome Kong is the current wrestling character of Kia Stevens. She has competed as Kharma in Total Nonstop Action Wrestling, and became Awesome Kong while wrestling in Japan. Stevens also plays Tamme' Dawson, AKA The Welfare Queen, on the Netflix series GLOW. Awesome Kong returned to America on All Elite Wrestling's roster, and she will be in the rotation when All Elite Wrestling comes to TNT on October 2.
Awesome Kong was part of All Elite Wrestling's panel for the Television Critics Association. With her decades of professional wrestling experience, she was an authority on what AEW has to offer both the athletes and the fans.
All Elite Wrestling provides medical coverage
John Oliver did a huge expose on WWE's mistreatment of its performers. WWE wrestlers are considered independent contractors and are responsible for their own health coverage. That can get pricey in a sport as physically taxing as wrestling. AEW provides its athletes with medical care.
"I feel like if something were to happen to me, they're going to take care of it," Awesome Kong said. "I won't be left with a bag in my hand. So I feel I have a safety net with AEW."
All Elite Wrestling listens to its wrestlers
WWE owns most of the characters under their banner. Even Hulk Hogan had to change his name to Hollywood when he left. WWE wrestlers basically have to do whatever Vince McMahon says. Awesome Kong said AEW listens to her.
"I feel heard that my ideas are going to puncture through and make a difference," Awesome Kong said. "We have some ideas, like basically the patients are running the asylum right now, so it's fun."
Those ideas even extend to the promos for upcoming matches.
"I worked in every promotion out there," Awesome Kong said. "I've always said, 'Gosh this promotion would be great if just this. And this one if we just had this.' And it seems like with AEW, I've gotten to pick and choose all of the great parts of all the great promotions I've worked with."
All Elite Wrestling is just a whole new world
Having paid her dues on the grind of arena tours and startup leagues, Awesome Kong can appreciate how smoothly everything runs at All Elite Wrestling.
"It's kind of like The Wizard of Oz," Awesome Kong said. "I the beginning it's like everything's in black and white. Then the house spins and then she lands and everything's in color. People are all dancing with lollipops and everything's in Technicolor. That's kind of what AEW is."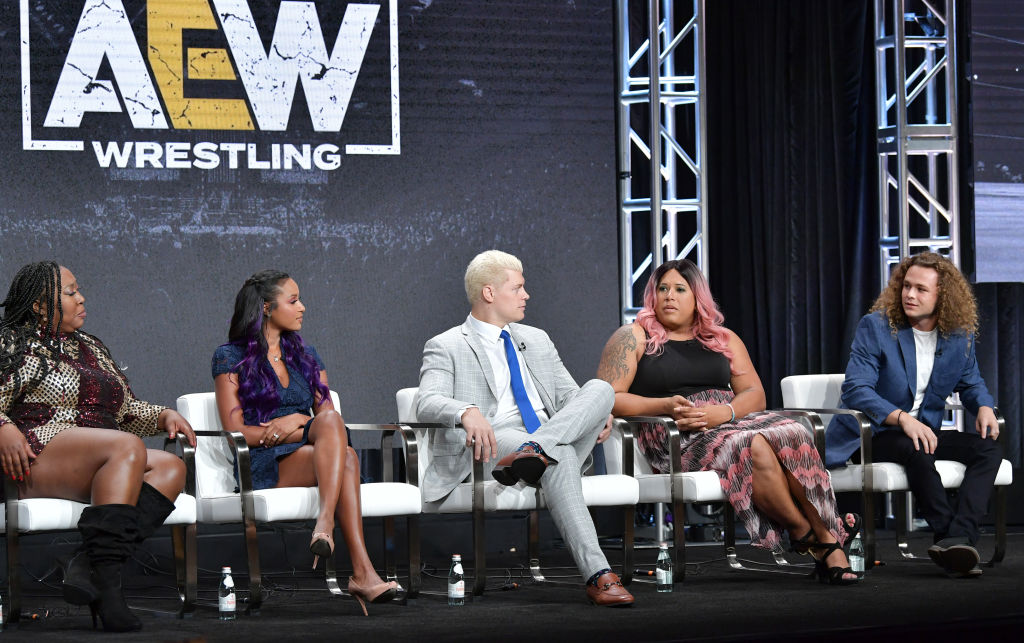 Awesome Kong sees everyone at All Elite Wrestling united for a common goal.
"I feel like it's a collaborative effort like it's a team and that we put the product and the fans first," she said. "I haven't witnessed anyone put their ego first and that feels like a blessing to me that we can all focus on the collaborative effort to put out a great product. So, that's been like the difference."
Awesome Kong still gets her awesome costumes
Awesome Kong wrestles in a battle armor skirt. The wardrobe department of All Elite Wrestling can keep her outfits flexible in the ring.
"We have a seamstress who has been a professional and specializing in wrestling gear for over like 20, 30 years," Awesome Kong said. "So she would know with the concept that you come up with how to put that together to make it safe for everyone involved that would interact with that costume.
All Elite Wrestling won't change Awesome Kong.
One thing is for sure. All Elite Wrestling lets Awesome Kong be Awesome Kong.
"I've been wrestling coming up on 20 years now and so my character, she's had a journey and she is who she is," Awesome Kong said. "I am what I am what I am what I am what I am, and that's all that I am."