Why Black Widow Didn't Get A Tribute In 'Avengers: Endgame' Like Captain America And Iron Man
Avengers: Endgame featured the deaths of more than one of our favorite superheroes, but the movie seemed to forget Black Widow's (Scarlett Johansson) sacrifice once Thanos was defeated. At the end of the movie, Tony Stark (Robert Downey Jr.), got a funeral and just about everyone showed up to pay their respects, but nobody seemed to mourn Natasha Romanoff. So why didn't Black Widow get a tribute in Endgame?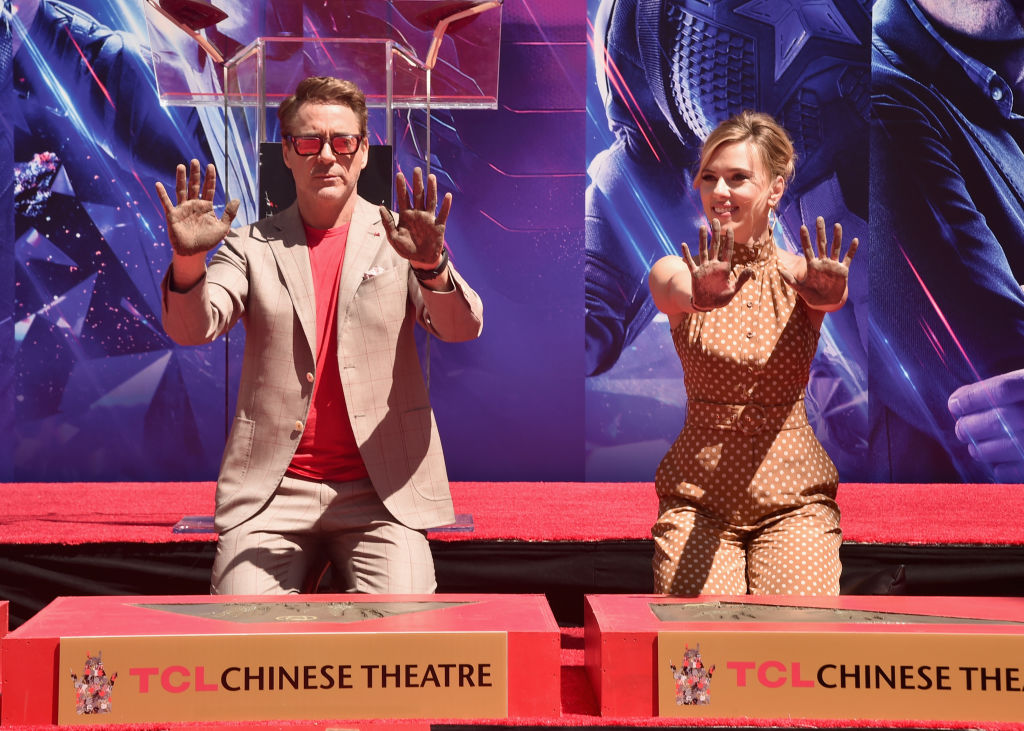 Black Widow saves the day
There is a good argument to be made that Iron Man would not have been able to defeat Thanos if Natasha had not sacrificed her life to get the Soul Stone on Vormir. Although they all played a part in saving the world and wiping Thanos off the map, Natasha's selfless act was just as important as anything Iron Man did. But after the threat was overcome and the Avengers saved the day, Natasha did not get a memorial in her honor — at least not on screen.
Instead, we got a funeral for Tony that featured everyone who survived the battle. During the ceremony, Hawkeye (Jeremy Renner) and Scarlet Witch (Elizabeth Olsen) are shown grieving on their own, while nobody else seems to care about Black Widow — or Vision for that matter.
Although this would have been a great time to honor everyone who gave up their life in the fight against Thanos, only Tony was honored for his display of heroism. Fans have naturally wondered why Natasha got snubbed, and director Joe Russo recently revealed why she did not get a ceremony of her own.
Why didn't Black Widow get a tribute?
Russo addressed the concerns about Black Widow in the commentary feature on the DVD release of Endgame. According to The Wrap, the director explained how the upcoming Black Widow movie is the only reason why Natasha did not get the same amount of love as Tony following her death.
Endgame was the final appearance of Iron Man, so the Russo brothers felt like he deserved a little more screen time in his final act.
"People have asked why Natasha didn't get the same amount of screen time post-death as Tony did," Russo shared. "Well, Tony does not have another movie. Tony is done. And Natasha has another film."
Russo added that future movies within the Marvel Cinematic Universe do not have to be linear. We already saw this at work in Captain Marvel, which was set in the '90s, and the events in Black Widow will also take place in the past. Russo did not say anything about Vision, which opens the door for an appearance from the character in a future project.
With Scarlet Witch getting her own television show, it is possible that we get to see more of Vision on the small screens moving forward.
As far as Black Widow is concerned, the upcoming solo flick is believed to be her last outing.
Natasha is not the only Black Widow
While fans eagerly wait for more news on Phase 4 of the MCU, Rachel Weisz just revealed that there will be more than one Black Widow in the upcoming film. Weisz, who plays the part of Melina in Black Widow, teased that there will be multiple versions of the character, all of whom went through the same training as Natasha. Weisz confirmed that her character is Black Widow, as is the character played by Florence Pugh. Beyond that, it is anyone's guess how many Russian spies will appear in the movie.
Black Widow is the first film in Phase 4 of the MCU and will feature the villain Taskmaster. We still do not know who is playing the part of Taskmaster, though some fans are theorizing that Weisz's character is actually the villain. Weisz, unfortunately, did not comment on those rumors.
The film also stars David Harbour of Stranger Things. Harbour will be playing the part of the Red Guardian, which is basically Russia's version of Captain America. So not only will there be multiple Black Widows, but Natasha will be teaming up with new superheroes as well.
Black Widow may not have received a tribute in Endgame, but it sounds like her solo film will definitely be worth the price.
Black Widow is scheduled to open in theaters on May 1, 2020.