Why Blake Shelton Will Probably Never Propose to Gwen Stefani on 'The Voice'
Blake Shelton and Gwen Stefani are one of the hottest couples around, totally devoted to each other and never anything less than adorable together. Fans have been anticipating engagement or wedding news from Shelton and Stefani for quite some time, but there haven't been any big announcements as of yet.
Still, with Shelton and Stefani dating for around four years now, and with Stefani just celebrating a milestone birthday, the time could be ripe for Shelton to pop the question. When he does, it probably won't be anything very public and Shelton is not likely to propose to Stefani on The Voice.
When did Blake Shelton and Gwen Stefani start dating?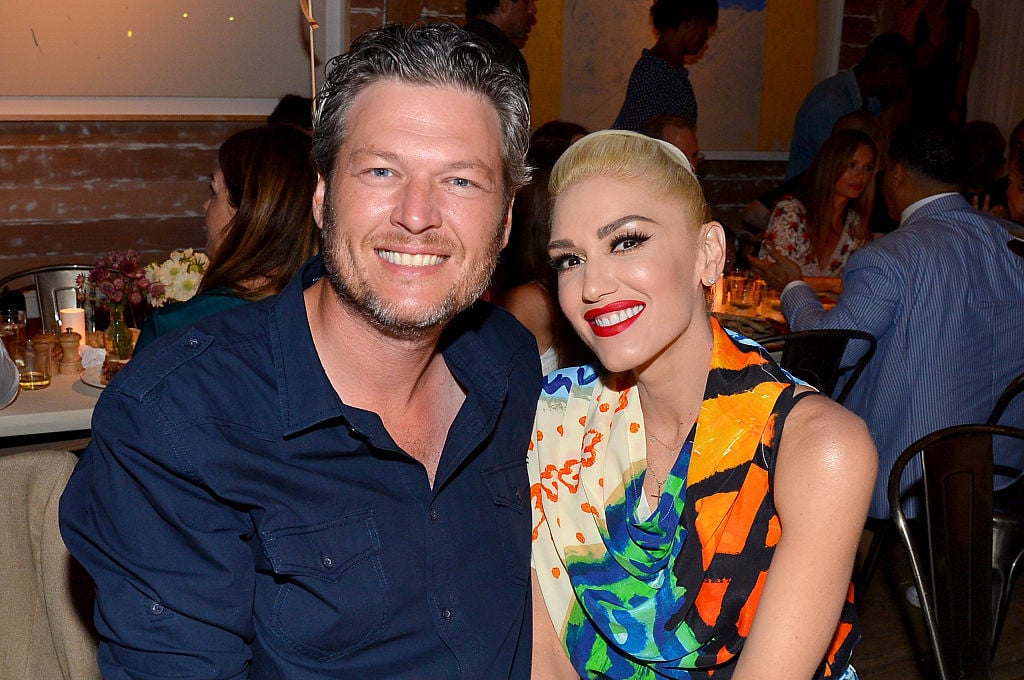 When Shelton first met Stefani, they were both married to other people. Shelton was married to fellow country singer Miranda Lambert, while Stefani had been with rocker husband Gavin Rossdale for thirteen years.
Shelton and Stefani were filming their reality competition show The Voice when they started bonding over the breakdown of their marriages. Soon, their friendship turned into something more and, by late 2015, rumors started circulating that they were an item.
By early 2016, Stefani and Shelton were attending red carpets together, and fans couldn't get enough of their unlikely love story. In the years since, the powerhouse couple have been spotted everywhere from Shelton's Oklahoma ranch to church with the family.
Both of them have raved about each other to news outlets, and Stefani has often called Shelton her "best friend." The California rocker girl and the cowboy country singer are clearly made for each other, and their experiences with bad relationships in the past have only led them to the great place where they are now.
Blake Shelton and Gwen Stefani keep their romance fairly private
Although Shelton and Stefani don't hesitate to fan out over each other when asked in interviews, their day to day life stays relatively under the radar. They don't share many intimate photos of their everyday activities, clearly trying to keep their family life private.
In a recent interview, Stefani shared a few sweet details about her home life with Shelton, revealing the way they live is "really simple." She stated that they plant vegetables and have chickens and that Shelton often surprises her with candy.
Will Blake Shelton propose to Gwen Stefani on 'The Voice'?
Some fans have speculated that Shelton could propose to Stefani on The Voice. While it would be fitting in a way, considering they first met on the set of the show, it also seems a bit unlikely.
At one point on the show, fellow coach Alicia Keys asked the two of them about getting engaged on the show. Shelton asked Stefani if it would be "weird," but Stefani laughingly said that it would be her "dream come true."
Stefani was probably just joking, and while it would be a fun stunt to get engaged on the show, it seems a little too public for the two of them. Also, with as private as Stefani and Shelton both are, it would be a bit out of character for them to get engaged on a big TV show — even if the show does hold extreme sentimental value for the both of them.
A more appropriate proposal would likely be at Shelton's home in Oklahoma or at a family day with Stefani's three boys. It's certain that fans would love being a small part of their engagement, so seeing Shelton propose to Stefani on The Voice would be an unforgettable moment for sure.