Why Brie Larson Almost Said No to 'Captain Marvel'
With all the needless criticisms Brie Larson faced in playing Captain Marvel earlier this year, nobody knows the real story about how it almost didn't happen from the get-go. One personality trait many fans might not know about her is that she's an admitted introvert.
If this sounds strange to be this way and still pursue acting, acting frequently opens a different reality toward a more extroverted side. This is the case with many actors who look very extroverted on the big screen, yet act quiet/reserved during interviews.
According to Larson recently, she wasn't sure working for the MCU would help her cope well with the expected intense publicity. Has it really helped her, or is the MCU a black hole for independent actors?
Brie Larson answers questions while playing with puppies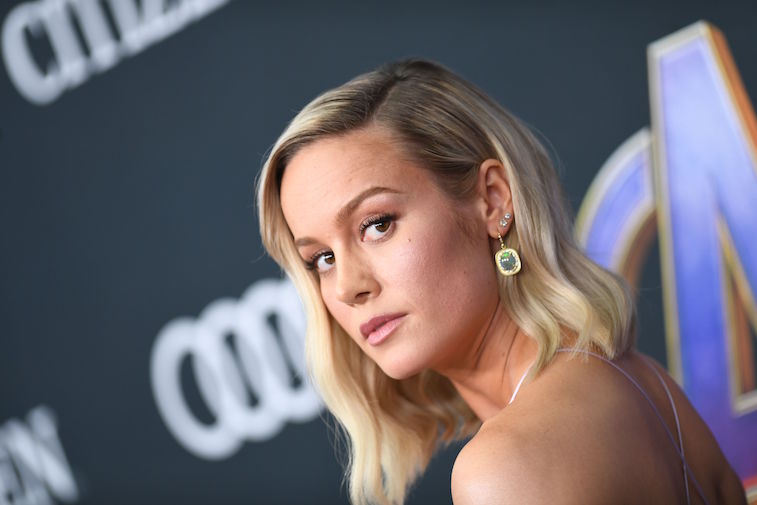 Some of you may catch BuzzFeed's recurring YouTube videos where celebrities sit and play with puppies while answering questions about their careers. Brie Larson did one of these last March where she dug deep into how she really felt about playing Captain Marvel this year.
When someone asked her if she had any hesitation in taking on the Captain Marvel role, Larson wasn't afraid to say she feared what the marketing would be. Since she admitted to being an introvert, the prospect of seeing her face plastered everywhere on billboards and digital media sort of haunted her.
As for the role itself, she had no qualms. She noted how excited she was to play the role and what it represented. Becoming a superstar in the process, though, was an alien process for her.
Not that Larson wasn't already a superstar thanks to winning an Oscar for her role in Room. Then again, a film like this had a far less marketing budget compared to Marvel. Seeing one's self on buses in every major city for a film could be unsettling for anyone not used to seeing their face plastered everywhere they look.
Larson learned to accept it all anyway
If you stick around for the rest of her answer, Larson says she was glad she took the role Captain Marvel, despite the overwhelming marketing machine. One can arguably become used to seeing their face plastered everywhere, especially if it's for something they truly believe in.
We have to think it was a lot harder for Larson to see the criticisms from comic book nerds who came after her for thinking it was sacrilege for Marvel to make Captain Marvel a woman. She hopefully thought this was a victory anyway since making real diversity change often means ruffling a few feathers.
With other rumors of Captain Marvel possibly being a lesbian, it seems Larson doesn't mind joining the MCU now thanks to the company adhering to her own values she espouses on social media.
The bigger question is whether Larson secretly wishes she could still be an independent film actor, something she might not see again for a while as she resides in Marvel's orbit.
The Marvel recruitment method to lure the best actors
Just take a look at the top actors Marvel has already taken away from their previous independent film lifestyles. All these actors accepted, of course, because who can deny not taking a larger payday after years of working for scale?
Larson likely considered this as well (as in a $5 million offer) after probably working for a far too low rate when doing films like Room and sideline TV roles. Based on her fear of joining the superstar ranks like her Marvel co-stars, we hope she can still escape from time to time to the indie fare we know her from.
It appears she will at times with an upcoming biographical legal drama called Just Mercy. Afterward, though, will be extreme anticipation of the sequel to Captain Marvel, which will likely ride on Larson's shoulders.
Should she ever win major awards for playing Captain Marvel/Carol Danvers, she'll make the next woman actor playing a major Marvel superhero not have to worry about being sent into a wormhole of uncertainty.