Why BTS Deserve to Be Nominated for a 2020 Grammy Award
Grammy Award nominations come out on Nov. 20, 2019. All eyes are on BTS to see if the group can secure a Grammy nomination after a monumental 2019. Since their debut, BTS have become a powerhouse in music, and their year has been filled with broken records and new achievements. Objectively, there is no doubt BTS deserve a 2020 Grammy nomination for their artistry, sales records, and cultural impact worldwide.
The group received a 2019 nomination for Best Recording Package. This year, BTS's song "Boy With Luv" could be nominated for a 2020 Grammy for Best Pop Duo/Group Performance, Song/Record of the Year, and Best Music Video. Their EP Map of the Soul: Persona was submitted for consideration for Album of the Year and Best Pop Vocal Album. The group's mobile game soundtrack, BTS World: Original Soundtrack, could be nominated for a Grammy for Best Compilation Soundtrack for Visual Media.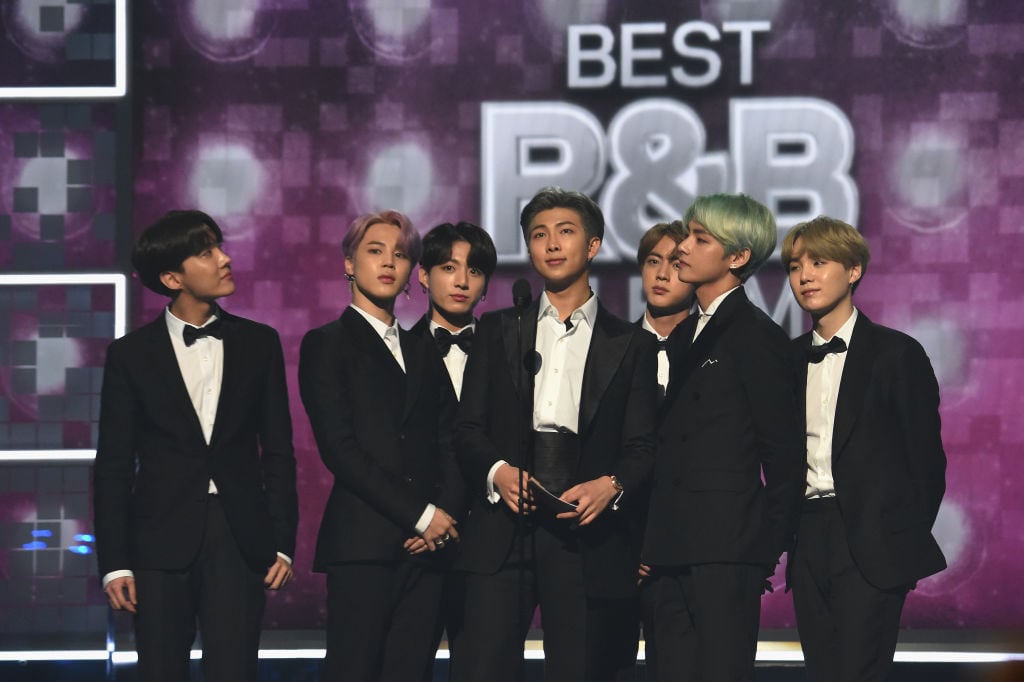 'Map of the Soul: Persona' sold over 4 million albums worldwide
BTS released their EP Map of the Soul: Persona on April 12, 2019. The EP is certified Gold by the Recording Industry Association of America and received positive reviews from critics.
"Map Of The Soul: Persona impressively and cohesively flies from genre to genre, but sounds more confident than ever," wrote Rhian Daly in NME.
The EP debuted at No.1 on the U.S. Billboard 200 chart. This made BTS the first group since The Beatles to have three No.1 albums in less than a year. BTS also became the first Korean act to achieve a No.1 album in the U.K., Scotland, New Zealand, and Australia with Map of the Soul: Persona.
In September 2019, Map of the Soul: Persona sold over 4 million copies worldwide. BTS became the first artist in 2019 to achieve this feat. The group also accomplished this without packaging Map of the Soul: Persona as a bundle meaning the 4 million sales are completely organic.
'Boy With Luv' is certified platinum by the RIAA
The lead single from BTS's Map of the Soul: Persona is "Boy With Luv." The song is certified platinum by the RIAA. It is BTS's second song to earn the platinum certification. BTS is the only South Korean music act to have more than one song certified platinum by the RIAA.
"Boy With Luv" is a collaboration with Halsey. The music video for "Boy With Luv" broke the record for the most viewed online music video in 24 hours. The song was praised for its ability to reach a broad audience without caving to western music standards.
"It's light, funk-laced pop. But members RM, Jin, Suga, J-Hope, Jimin, V, and Jungkook subvert what a foreign boy band trying to get on American airwaves would be expected to do," wrote Natalie Morin for Refinery29. "Halsey doesn't have a standalone English verse and is instead folded into the chorus, singing a fluid blend of English and Korean."
BTS incorporates important concepts in their music
The members of BTS write and produce a majority of their music. Even when they collaborate with other artists, the group still plays a large role in the music they release. For Map of the Soul: Persona, RM said he wrote 80 or 90 percent of the lyrics on the album.
Map of the Soul: Persona incorporates Swiss psychiatrist Carl Jung's psychoanalytical theory about personality archetypes. The theories are condensed in Dr. Murray Stein's book, Jung's Map of the Soul: An Introduction. The book served as a platform for BTS's album. According to Dr. Stein's analysis, the lyrics of the EP cover the themes of love, self-worth, identity, hope, despair, and longing.
"It's a very important topic because young people who find their personas inadequate, or feel like they're not fitting in, are very vulnerable to mobbing (bullying) or to suicidal acts – so I think BTS addressing that is very timely and important for their audience," said Dr. Stein.
BTS deserve to be recognized for their growth and impact
On July 14, 2014, BTS performed a free concert in Los Angeles for 200 fans. This year, BTS had the No. 1 top-grossing tour of May 2019 and sold out six nights of stadium shows in the U.S. The group also sold out two nights at Wembley Stadium in June 2019.
Since their humble beginning, BTS have charted 17 No.1 hits on the World Digital Song Sales chart. In 2019 alone, they had seven No.1 songs on the chart with two songs from Map of the Soul: Persona and four from BTS World: Original Soundtrack. With this growth, BTS have shown they are not a fad, but one of the greats who deserves the chance to compete in the big leagues.
"It was their sincerity, consistency and ability to embody the spirit of the times," Bang Si-hyuk, the Co-CEO of Big Hit Entertainment, said of BTS's success. "They don't shy away from speaking about the pain felt by today's generation. They respect diversity and justice, the rights of youths and marginalized people."
BTS achieved their success through hard work, perseverance, talent, their artistry, and their ability to genuinely connect with audiences around the world. In their rise to the top, they created a cultural movement unlike any other artists in the industry. A Grammy nomination is hard to come by, but BTS deserve to be recognized for their accomplishments and impact.