Why BTS Is Taking an Extended Break: Will They Break Up Like One Direction?
BTS is taking a break — but don't worry, they'll be back after a much-needed vacation. The K-pop group's parent company, Big Hit Entertainment, shared the announcement on Twitter and the news is giving some fans a flashback to when One Direction announced they were taking a hiatus.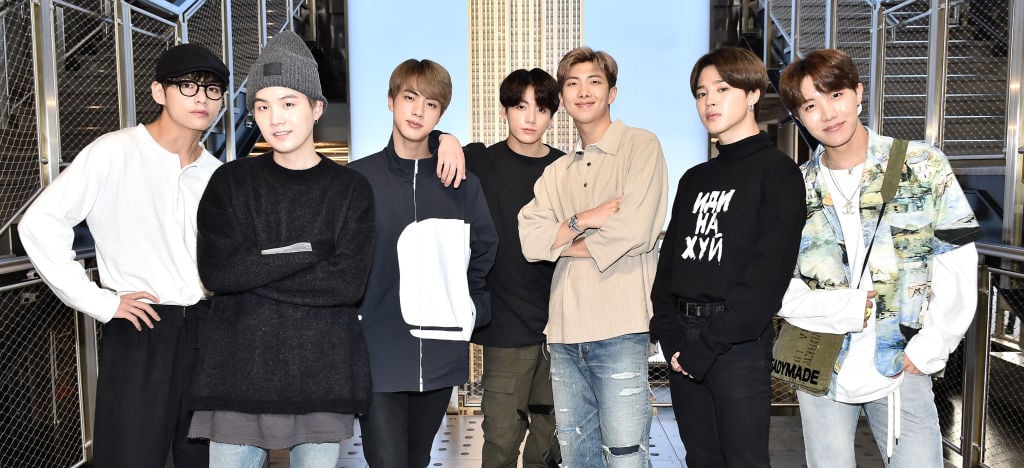 BTS needs a vacation
The guys of BTS are taking a rather long vacation, but given that they've been grinding for a while, a bit of rest and relaxation is definitely in order.
Big Hit took to Twitter today to let their fanbase, the BTS Army, know all the details and assure them that the band will be back in action soon.
The company explained: "We would like to announce that for the first time since their debut, BTS will be going on an official and extended period of rest and relaxation."
The statement noted that their scheduled appearance at the Lotte Free Family Concert would be their last event before their vacation.
Further, the company explained: "This period of rest will be an opportunity for the members of BTS, who have relentlessly driven themselves towards their goal since their debut, to recharge and prepare to present themselves anew as musicians and creators. This will also provide them with a chance to enjoy the ordinary lives of young people in their 20s, albeit briefly."
Big Hit Entertainment didn't give too many details about what vacation time the members had planned, but said they will "rest and recharge in their own personal ways." They added: "Should you have a chance encounter with a member of BTS while they are on vacation we as that you show consideration for their need to rest and enjoy their private time off."
They concluded the statement by noting: "BTS will return refreshed and recharged to return all the love you have and continue to show them."
Their ARMY supports them
The BTS fans, for the most part, were understanding of the band's need to take a break, responding with tweets of support, with some using the hashtag #RestWellBTS.
One fan tweeted: "it really hit so hard, doesn't it? for once in bts' life.. they're gonna feel normal people and can do whatever or anything they want out there after six years. well deserved."
Others tweeted reminders to give them the time off they need, as one fan noted: "Please everyone respect their privacy, don't run at them if you meet them by chance, don't take photos or make them uncomfortable Let them breathe in peace FOR FIRST TIME PLEASE."
Will BTS break up like One Direction?
While no one can dispute that BTS needs some time off, it did feel eerily similar to when One Direction announced their hiatus, assured fans they would be back, and then broke up.
One Twitter user pondered the idea, noting: "Imagine if bts pulls a one direction and goes on an 'indefinite hiatus' for the next few years lmao."
Another fan joked: "'BTS will be going on an official and extended period of rest and relaxation.' Thank god they didn't use 'hiatus' or my One Direction PTSD would be triggered."
Fans don't believe the comparison to One Direction is the same, with one Twitter user noting: "can y'all stop compare bts and 1d we all knew 1d were gonna break up when zayn left it was honestly common sense."
When one fan tweeted, "do you think bts is coming back after their vacation? or do you think they'll break up…," others pointed out that they signed a contract for seven years so they will definitely be back.
For those wondering how long BTS' break will be, it's likely to be no more than two months because they have concerts scheduled for October.