7 Reasons Why Chandler and Monica Are the Best 'Friends' Couple
Over the course of ten seasons, Friends saw many relationships come to fruition. And although much of the series keeps its focus on the roller coaster that is Ross and Rachel, the strongest love story belongs to Chandler and Monica. While fans of the show have a soft spot for Monica's brother and best friend — after all, they are each other's lobsters — many argue that Chandler and Monica are the best Friends couple.
From their origin story to how they went from best friends to soul mates, we share all the reasons why Chandler and Monica are the best Friends couple, below.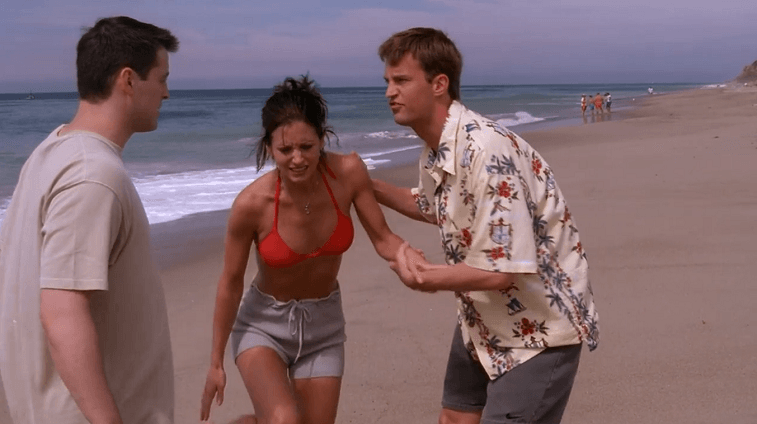 1. They were friends first
No one saw Chandler and Monica's relationship coming. After all, we were too caught up on Ross and Emily's disastrous wedding. However, the timing could not have been more perfect. That said, their rendezvous didn't happen until the end of season 4, meaning they were friends for almost four entire seasons (and even long before that). Their friendship gave their relationship a solid foundation.
2. They accept each other's flaws and differences
One of the biggest reasons why Chandler and Monica are the best Friends couple? They're accepting of each other's flaws and differences. Chandler knows Monica is obsessive about cleaning and also, at times, competitive and he is okay with that. Monica knows Chandler is afraid of commitment and she not only accepts it, but she also helps him overcome it.
3. They call each other out
Because of their friendship, Monica and Chandler spent years calling each other out. That didn't change once they started dating. The two constantly call each other out and are always honest, even when it's hard to be.
4. Monica helped Chandler overcome his fear of commitment
It's no secret that Chandler is the worst at commitment. But, while he struggled with it, Monica helped him see the light in their relationship — and other changes — to get over the hump. Throughout their relationship, he overcomes a lot of his commitment fears, including marriage.
5. Their long-distance relationship worked
When Chandler took a job in Tulsa, Oklahoma, the two knew it would be a hard transition for them. That said, they made it work, and ultimately Chandler quit his job so he could be there for his better half.
6. They proposed to each other
Chandler and Monica's proposal was a tear-jerker. Chandler had originally planned to propose to Monica but failed miserably after he used his fear of marriage as a cover-up. Around the same time, Monica's ex-boyfriend, Richard confessed his love to her, which ruined Chandler's plan and confused Monica even more. Ultimately, Monica knew who she wanted to spend her life with and got down on one knee. After she struggled to get the words out, Chandler got down on one knee with her and proposed.
7. They are the ultimate teammates
At the end of the day, their teamwork is the real reason why Chandler and Monica are the best Friends couple. No matter what life throws at them, they always find a way to work through it together and come out on top.
Check out The Cheat Sheet on Facebook!