Why Christopher Meloni Could Return to 'Law & Order: SVU'
Fans of Law & Order: SVU hope that one day Det. Elliot Stabler, played by Christopher Meloni, will return to his iconic role. His absence is still missed to this day on the show, and there is always a possibility that Stabler could make a return in some form in the future. Showrunner Warren Leight has now given fans everywhere even more hope for the epic return.
Could Elliot Stabler return to 'SVU?'
Leight spoke with TVLine about Meloni's eventual appearance on the show before the ending to the series. As such an iconic part of the show, he would naturally need to make a reemergence into his role before the conclusion to the story that is SVU.
"Look: I assume that if some year, some decade, couple decades from now, we get to the last SVU, [Meloni] would have to come back before we do the last episode or before the show signs off," Leight explained. "However, I don't think we're at that point in the show's run," he added.
Christopher Meloni responds to a fan's question about a return
It looks like it's a possibility that Meloni will one day return to his role as Det. Stabler, but not very likely at the moment. A fan asked Meloni via Twitter in December 2018 whether he had plans to return for the 20th season. "I have zero plans for that," Meloni replied.
Mariska Hargitay is totally down
Mariska Hargitay, who plays Lt. Olivia Benson and was Stabler's long-time partner, loves the idea of Stabler coming back, at least one last time. She spoke with TV Insider about the possibility last year.
"I don't know anything, but I think SVU is going to go on for a while. He's on a show right now and he's super 'happy' — literally — he's happy, I'm happy. I'll speak for myself: I think it would be fun to have 'one last hurrah,'" said Hargitay.
Meloni would be interested in doing the last few episodes of the series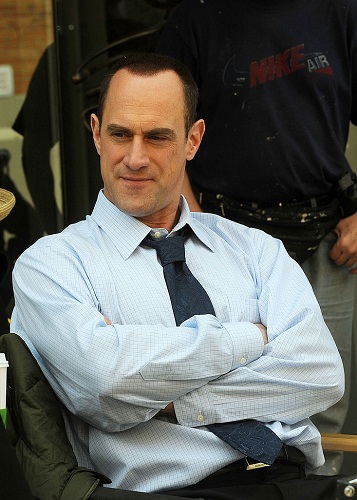 Meloni spoke with Entertainment Weekly three years ago about returning to SVU and that he would be honestly open to it, at least for the last few episodes at the end of the series. And how could he not? The ending of SVU wouldn't be the same without Elliot Stabler.
"I just recently was talking about that. [Pause] I always presented that I'd be open to doing the last few episodes, so that's really all I have to say about that. It's not up to me, I'll just say that. I've said my peace on it," said Meloni.
When will 'Law & Order: SVU' return?
The highly anticipated 21st season of SVU will return on September 26, at 10 p.m. E.S.T. Cast members are already busy sharing on their social media accounts teases for the new season. Hargitay posted a new image of herself with New York City in the background. "21 years and still making history," the image reads at the top.
Kelli Giddish, who plays Det. Amanda Rollins, has also been busy sharing behind the scenes images. The newest one features Ice-T. "On location with @icet #season21 @nbcsvu," Giddish captioned the image.
Fans don't have much longer to wait to see the SVU detectives take down the bad guys. Hopefully, Meloni will be involved in a future season of the series.