Why Did Anderson Cooper Giggle When Andy Cohen Said They Were 'Eskimo Brothers?'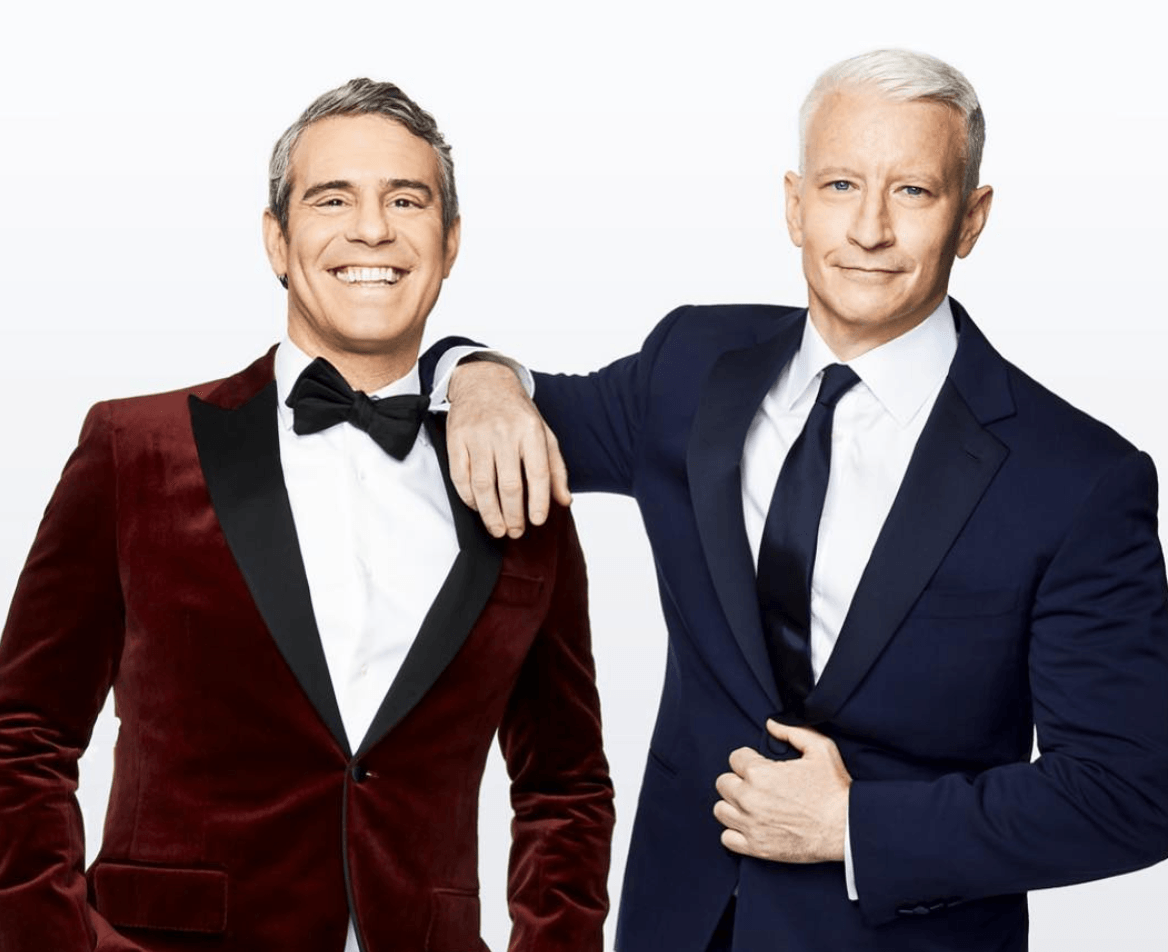 If there's one thing Bravo's Andy Cohen can do is made CNN anchor and best bud Anderson Cooper giggle with a hysterical comment. Cooper's trademark giggle came out in full force during Watch What Happens Live when he and Cynthia Bailey from The Real Housewives of Atlanta were guests on the show.
And while most of the discussion focused on RHOA, Cohen decided to play a fun game called "One, Two, AC!,"  with Cooper. Bailey was instructed to read a question about Cohen and Cooper's friendship. The buddies had a few seconds to answer the question and shout answers at the same time after Bailey said, "AC!"
How much do Cooper and Cohen know about each other?
Cohen introduced the game by reminding the audience he and Cooper were again hosting the ball drop on New Year's Eve. "But when it comes to knowing fun facts about each other, will we drop the ball tonight," Cohen said. "Here's what, its time for the Clubhouse classic game, 'One, Two, AC!' round three."
The first question out of the gate got Cooper laughing. "What is Anderson's favorite food while stoned," Bailey asked. "Anderson's?" Cohen quired. Bailey corrected the question and asked which was Cohen's favorite food. While Cooper asserted it was Doritos, Cohen just said, "anything." To which Cooper described that Cohen likes to lick the cheese off the chips before he consumes them. Nice.
But the next question really cracked Cooper up
Bailey next asks what was the one thing people didn't know about Cohen and Cooper. While Cooper says something inaudible, Cohen confidently asserts, "That we're Eskimo brothers!" Cooper shakes his head, "What?!"
And cue the trademark giggle. As Cooper is melting down with laughter, Bailey says, "What does that mean?" Cohen pauses and says, "Um, you gotta look it up in the Urban Dictionary," he says. "I can't say it on the show."
While still laughing, Cooper says, "I don't even know if that's true." To which, Cohen asserts, "It's true. It's true. We just had this out a few weeks ago." And as Cooper continues to giggle, Cohen makes an awkward face.
So…what does Eskimo brothers mean?
While the Urban Dictionary has several entries, one description may be fitting. "When two males acknowledge having been intimate with the same female and remain on good terms, the men are now bonded by having shared the same igloo at one time or another," according to one definition. "This can lead to perks by making the information known to other males who you can network with."
Since Cooper and Cohen are both openly gay, the definition probably applies to hooking up with the same male instead of female. Cooper and Cohen have been very clear that they've never dated (although apparently, they've both dated the same guy).
Kim Zolciak from RHOA once asked Cohen and Cooper why they never dated. To which Cohen said, "that would be weird," and Cooper found the concept as "very uncomfortable," ET reports.