Why Did 'Bachelorette' Rachel Lindsay Break Up With Dean Unglert?
We've seen love and heartbreak on this season of Bachelor in Paradise, and one of the most controversial relationships was between Dean Unglert and Caelynn Miller-Keyes. Unglert was a fan favorite when he starred in Rachel Lindsay's season of The Bachelorette, but since then, he's made a name for himself due to drama. After dating other Bachelor Nation stars and getting involved in a messy love triangle, he finally decided he was ready to give his whole heart to Caelynn Miller-Keyes in Paradise.
Rachel Lindsay has some opinions regarding Unglert's current romantic situation, and it brings us back to wondering why these two didn't work out in the first place. Here's what Lindsay said.
Dean Unglert and Caelynn Miller-Keyes are officially together
Caelynn Miller-Keyes had a rocky start in Paradise. When she arrived on the beaches of Mexico, she was still heartbroken over Blake Horstmann — but everything changed when Unglert arrived on the scene. Miller-Keyes and Unglert hit it off immediately despite their serious lifestyle differences. Unfortunately, Unglert decided their lives weren't actually compatible outside of the show. He dumped Miller-Keyes on her birthday and left Paradise altogether.
Fans thought this relationship was totally over, as Miller-Keyes then pursued Connor Saeli upon his arrival. Of course, Unglert regretted his decision and came back to Paradise to win Miller-Keyes back — and it worked. After asking her to leave the show with him, she hesitantly accepted. And given the many photos posted to Instagram that feature each other and their many locations they've both traveled to together, it's clear Unglert and Miller-Keyes are still making it work and are very happy.
Rachel Lindsay broke things off with Unglert for this reason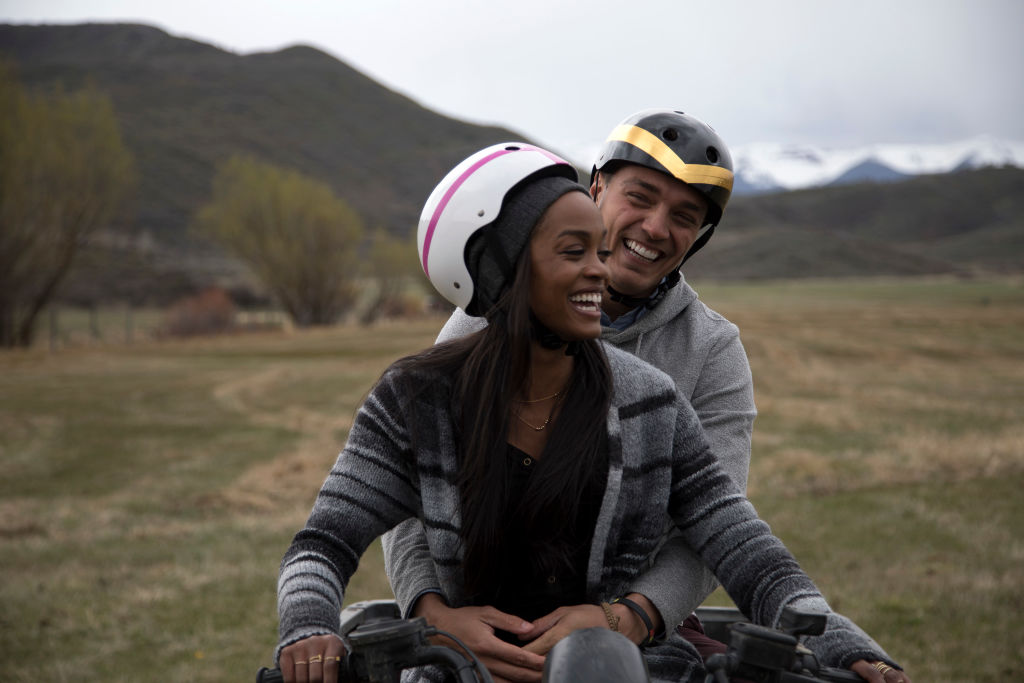 Before Unglert captured Miller-Keyes' heart, he was a fan favorite to win the love of Bachelorette star Rachel Lindsay. And it appears Unglert made it quite far, too, despite their seven-year age gap. Lindsay told The Hollywood Reporter that she didn't want any young men in their early 20s competing for her love on the show, as she didn't think they'd have the maturity to be the man she needed. But something was different with Unglert. "Dean is young but he's been through so much it makes him older; I call him 'my surprise,'" she said. Even though Lindsay could get past the age difference, it seems her visit with Unglert to his hometown is what alerted her that he was not the right man to be her husband.
During Unglert's hometown visit, he had an intense conversation with his father regarding his mother's death — and it was clear he still had a lot of family matters to work through without Lindsay. "Dean was learning a lot about himself, and I felt like some of the emotions he had with me in regards to love were wrapped up in that. I was still going through a lot of 'firsts' with him," The Hollywood Reporter notes Lindsay said on the On Air With Ryan radio program. "I felt like he was still learning so much about himself and he wasn't ready for the same things I was." For that reason
Lindsay isn't a fan of Miller-Keyes, either
While Lindsay is certainly over Unglert (she recently got married), she still doesn't necessarily approve of Miller-Keyes. Cosmopolitan reports that Lindsay told PeopleTV's Reality Check that she really doesn't like Unglert's new woman. "I don't get Caelynn and I'm not a huge fan, I'm just going to be honest. I don't get her," she said. "She was head over heels for Dean. Connor walks in, she's flipping her hair and she's like, 'Connor is who I wanted to meet the entire time.' She apparently was crying over Dean at the wedding but then sees Connor and completely changes — which one is it?"
Despite Lindsay not approving, we can't deny that Miller-Keyes and Unglert look very happy together. And Unglert even added this sweet photo of them in his van to his Instagram. We're not sure what the future holds, but for now, congratulations are in order for the happy couple!
Check out Showbiz Cheat Sheet on Facebook!