Why Did Brie Larson and Alex Greenwald Break Their Engagement?
There are some celebrity breakups that blindside you. The broken engagement between Brie Larson and Alex Greenwald is one of them. Sources report that the pair has "taken a step back from their engagement." But what does this mean? Is the couple over for good? If so, what happened?
The pair began dating in 2013
Larson and Greenwald began being seen together in late 2013. Larson an up and coming movie star and Greenwald, the lead singer of Phantom Planet. Don't recognize the name Phantom Planet? Surely you'll recognize their hit song, "California," the opening song for the teen drama, The O.C. Though they have never officially said how they met, E! speculates it was through Phantom Planet guitarist and Larson's former co-star, Jason Schwartzman. Larson had just ended a relationship with actor John Patrick Amedori the year prior and Greenwald was last connected to model Agyness Deyn.
Music was a mutual interest
Obviously, Greenwald's interest in music is apparent as the lead singer of Phantom Planet, but many fans may have forgotten that Larson has dabbled in music as well. In 2005 she released the album "Finally Out of P.E.". She also provided music for her film Scott Pilgrim vs the World.
Phantom Menace began performing in 1994. Their biggest hit was 2003's "California." After a brief hiatus, the band reunited in 2011, just a few years before Larson and Greenwald met.
They gushed over each other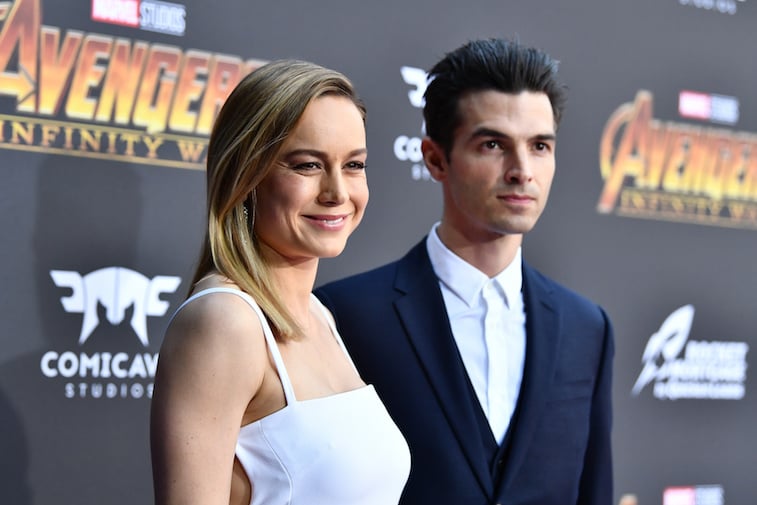 There was no hiding the way Larson and Greenwald felt about each other. Larson has always been open about the way she felt about her man. At the 2016 SAG awards (where she would later walk away with a win), Larson told an interviewer, "Oh man, I mean, he's the other half of the equation — how can you explain support? I mean, it goes beyond anything. He's just my person, he's my best friend."
Later that year, while accepting her Oscar for Best Leading Actress for her role in Room, Larson thanked her boyfriend, with a simple, "My real partner, Alex Greenwald, I love you." Larson has made sure to always include Greenwald in her speeches. In 2013 the Captain Marvel star thanked Greenwald for making her pasta and taking care of her puppy while accepting a Gotham Film Award.
While Greenwald didn't talk a lot about his relationship, he did show his love in more subtle ways. Last year he posted a picture of himself in a Captain Marvel baseball cap, giving a shout out to his fiance for taking the photo.
Greenwald popped the question in Japan
After three years of dating, Greenwald asked Larson to marry him. The engagement happened during a romantic trip to Tokyo, Japan. Vanity Fair confirmed the couple's engagement in May 2016 and speculates that the engagement happened during the pair's March 2016 trip. Larson, who was usually quiet about her relationship was seen showing off her engagement ring at a Saturday Night Live after party.
The couple never announced a wedding date and kept plans under wraps. Now, after three years, the couple has ended their engagement.
Are they over?
For now, sources are saying that the couple has "taken a step back from their engagement for the time being" The statement is a bit ambiguous and leaves to question whether they are officially done. There is no word as to why the couple called things off, but Elle points out that they have each been noticeably absent from each other's Instagram accounts recently. Greenwald last made an appearance on Larson's account in 2018 and Larson's last appearance on Greenwald's page was in April of last year.
Whatever the status of their relationship, they appear to be keeping things cordial. People's source says though they have ended their engagement, "they remain close."