Why Is Detective Elliot Stabler No Longer On 'Law & Order: SVU'?
For the first 12 season of Law & Order: Special Victims Unit, Elliot Stabler and Olivia Benson were a tag team like no other. They were partners at their New York City precinct, and the two solved crimes involving sexual assault and abuse. However, shortly after season 12 ended, it was announced that Chris Meloni, who played Elliot Stabler, would not return to the show. Here's what happened.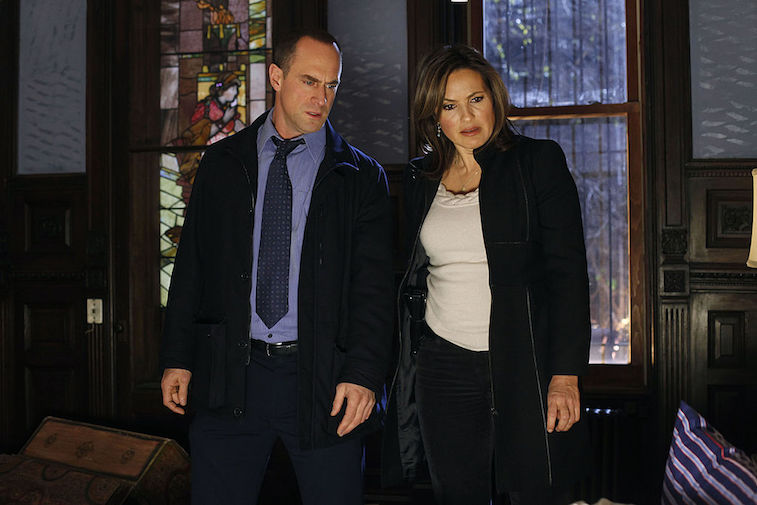 Benson and Stabler became television's favorite duo
When SVU premiered back in 1999, it didn't take long for fans to appreciate the iconic detective duo known as Benson and Stabler. Benson, played by Mariska Hargitay, was able to connect with the victims in a way that no other detective could, since she was a child of sexual assault. And Stabler was almost always able to wring a confession out of even the most hardened criminals. Together, the two consistently solved crimes that at first looked to have no leads at all. And over the course of 12 seasons, they became viewers' favorite duo. Although the two never dated (on the show or in real life), fans couldn't help but think there was an unspoken chemistry between them that stretched beyond friendship.
Meloni couldn't reach a contract agreement with producers, forcing him to pull out of the show
Meloni starred in more than 270 episodes on the show before his time came to a close. After season 12, Meloni and NBC executives were trying to rework his contract. Unfortunately, the two sides couldn't come to an agreement. While the specifics weren't stated, it likely revolved around salary. According to The Richest, he was making up to $395,000 per episode when he left the show. It's unclear exactly what happened, but Meloni most likely wanted more money that the executives refused to give him. Either that, or they wanted him to commit to a certain number of additional seasons and he didn't want to do so. Regardless, it came out shortly before season 13 started filming that Meloni would not return to the show.
Meloni and Hargitay built an extremely close friendship during filming
Although Meloni bowed out long before the show was over (it's currently filming its 21st season), he and Hargitay grew extremely close during filming and have remained close though he isn't on the show. They occasionally make appearances on each other's Instagrams, most recently when they got together on March 31 for some quality time. Hargitay captioned the photo, "Every picture tells a story #timewellspent." Hargitay also once joked that Meloni was her Valentine when she posted a photo of him kissing her on the cheek on Valentine's Day a couple of years ago. Fans always wished the two would get together, but in reality, they're both happily married.
Since then, Meloni has gone on to star in several other television shows
Since Meloni left SVU, he's starred in several shows including Surviving Jack, which only aired for one season, and Happy, a Syfy show that Meloni currently leads in. He also recently joined the cast of The Handmaid's Tale for the show's third season. Although he hasn't seen a show with the same success as SVU, he appears happy with where his career has taken him and doesn't seem to regret leaving. Although fans all wish Stabler and Benson could remain a duo, we still love Meloni nonetheless.
Check out The Cheat Sheet on Facebook!