Why Did Kailyn Lowry Claim She'll "Say No" to Another 'Teen Mom 2' Reunion?
MTV's Teen Mom 2 reunion taping this weekend was, by all accounts, more than eventful.
Teen Mom 2 stars Chelsea Houska DeBoer, Kailyn Lowry, Jade Cline (formerly of Young and Pregnant), Briana DeJesus (formerly of 16 and Pregnant and Teen Mom 3), and Leah Messer were all present for the reunion. Catelynn Lowell Baltierra of Teen Mom OG made a special appearance to talk about panic disorder with DeBoer.
Teen Mom: Young and Pregnant stars Brianna Jaramillo, Kayla Sessler, Rachel Beaver, and Kiaya Elliott were all also on hand for the reunion.
But the biggest drama seemed to be between Ashley Jones of Young and Pregnant and…well, everyone else. Read on to learn more about what allegedly happened at the reunion taping and what Teen Mom 2 cast members like Lowry and Cline had to say about it.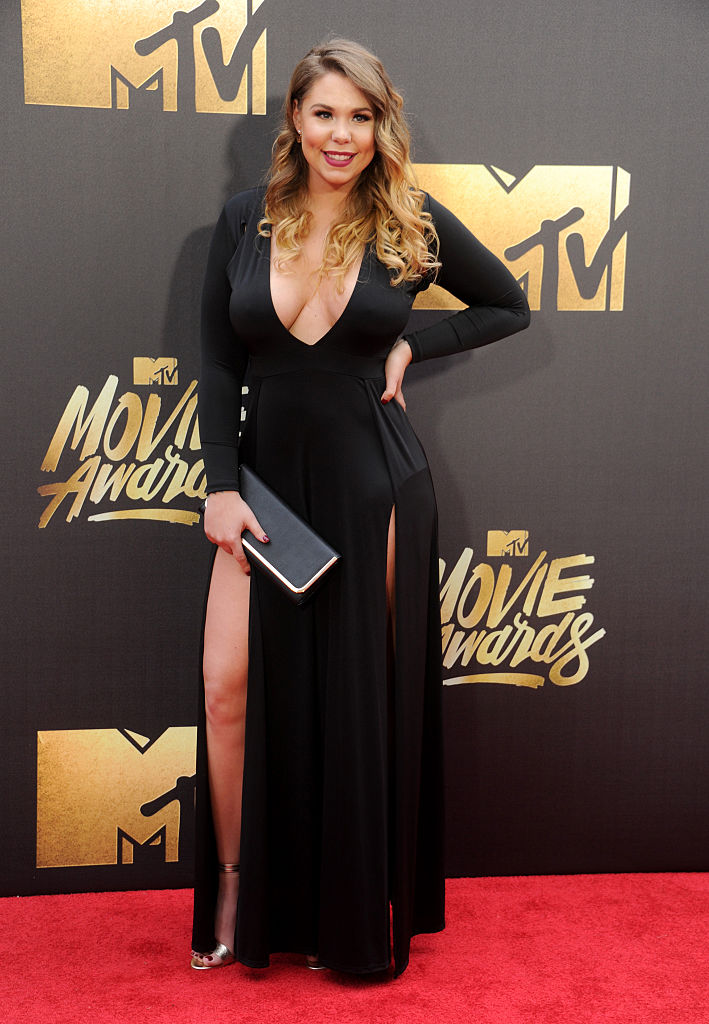 'Teen Mom 2' cast members shared their experiences at the reunion
Before the Teen Mom 2 reunion taping in New York City on Saturday, many of the MTV cast members seemed to be all smiles.
Leah Messer and Kailyn Lowry posted photos together, joking about rumors that the good friends are "dating" by calling themselves "girlfriends" in captions.
Chelsea Houska DeBoer also posted snapshots on Instagram stories, including a close-up of her slinky red bodysuit, videos of her kids playing in the hotel room, and pictures of herself and husband Cole DeBoer on the reunion couch.
Meanwhile, Briana DeJesus, who's been feuding with Lowry since her four-month relationship with Lowry's ex-husband Javi Marroquin, didn't join the other Teen Mom 2 girls for pictures. Instead, she shared photos with sister Brittany DeJesus and Jade Cline.
'Young and Pregnant' star Ashley Jones apparently sparked conflict throughout the cast
It was previously rumored that Cline would be avoiding the reunion taping because of ongoing conflicts with former Young and Pregnant castmate Ashley Jones. While Cline ended up heading to the reunion, she might regret it now.
Kailyn Lowry and several other cast members shared an exclusive link from Champion Daily that explained what allegedly went down at the Teen Mom 2 reunion. As reported by the outlet, Jones made comments about Cline and other cast members that nearly started a physical fight between the girls.
Things apparently got heated from there, resulting in several of the cast members taking off their shoes as if they were about to fight Jones. Jones' behavior apparently became so erratic that she and her baby's father, Bariki Smith, had to be removed by MTV security.
Jones continued to call out fellow cast members on Instagram
Outside the studios, however, Jones continued the drama. She posted Instagram live videos of herself calling out the other cast members for hours, even sitting for photos in their hotel lobby and tagging both Kayla Sesser and Vanessa Jaramillo (Brianna Jaramillo's sister).
In most of the videos, Jones demanded that the other girls come outside and continue the fight. "B*tches wanna be hard at the reunion," she wrote in one post. "I will beat you the f*ck up. Period. You know my hotel number."
Cline, Lowry, and DeJesus all mentioned the drama on social media
DeJesus addressed the drama on Instagram, writing simply, "sorry to say another insane fight went down at this year's reunion."
Meanwhile, Cline took to Twitter to call out Jones for her alleged behavior.
The new Teen Mom 2 cast member wrote: "Just to set the record straight, no one was 'jumped' at the reunion. There was no physical altercation. Ashley is in her feelings and wanted to start drama with everyone and basically looked like a fool. Now she's online "spilling tea" when in all reality everything she says is a COMPLETE AND UTTER LIE."
Lowry claims that she won't be filming any future 'Teen Mom 2' reunions
On Sunday, Lowry also expressed her frustration with how things had gone down among the cast members in a series of tweets. "Say no to things that are not good for your mental health. i.e. teen mom reunions," she wrote first.
Lowry continued, possibly referencing her fight with DeJesus at a prior Teen Mom 2 reunion, "Every year I say I'm not going. Every year I give in. Every year I am apart of bullsh*t. This time I've reflected, accepted responsibility & wanted to do better. This year, I get dragged into bullshit that had NOTHING to do with me."
She concluded by calling out MTV and claiming she'd never go to another Teen Mom 2 reunion in the future: "@MTV stop putting girls who do not like each other on the same stage. Stop putting girls in a situation where they feel like they need to prove themselves. I promise y'all, nobody better even think about asking me to attend another reunion," Lowry wrote.