Why Did the Most Boring Character on OITNB Get the Biggest Emmy Nod?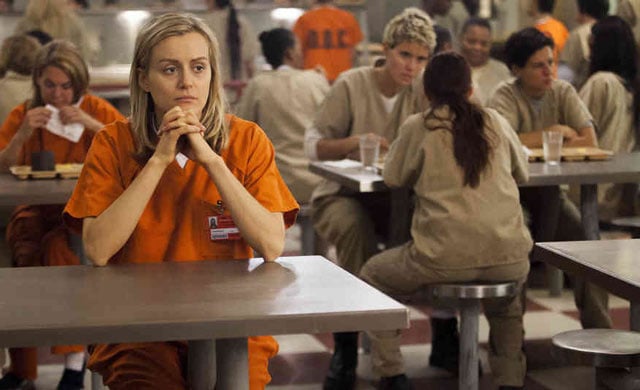 The Netflix original series Orange Is the New Black racked up a bevy of Emmy nominations this week, including a nod for star Taylor Schilling for Outstanding Actress in a Comedy. While the second season premiered on Netflix last month, these nominations are for the series' first season, which debuted and became a surprise hit last year. The series was created by Jenji Kohan (Weeds) and tells the story of an upper-middle class woman who's sent to prison for a crime she committed ten years prior.
While the large and diverse cast makes for what is mostly an ensemble series, the lens through which the audience experiences much of Litchfield Correctional Facility is Piper Chapman, Schilling's character based on the author of the memoir from which the show is loosely adapted. During the first season, Piper is forced to leave her idyllic life in Manhattan with her fiancée, Larry, to serve her time at Litchfield. Once she gets to prison, many of Piper's ideas about herself and the world are put to the test by her interactions with the other inmates, including her ex-girlfriend Alex (Laura Prepon), who was responsible for landing Piper in prison in the first place.
Schilling's portrayal of such a dynamic and often unlikable character earned her the Emmy nod. Piper has always been a controversial character among fans of the show, who frequently say that she's the least interesting of all the inmates. Self-entitled, whiny, and ignorant, Piper makes a lot of blunders that could have been easily avoided,  and then overreacts when she has to pay for her mistakes. But, Piper is the most dynamic character on the series, going through enormous changes during both seasons as she comes to realize that prison is going to fundamentally change her, and she won't leave being the same person she was when she started her sentence.
"Being so confined actually really forces you to turn inward. A person starts to emerge that isn't distracted by the outside world or maintaining the status-quo. These people are being given, in a way, this gift. But it's also terrifying. They're forced to really reckon with themselves. That's what's happening with Piper. It's very slow and it's very fundamental. Clearing away these old ideas," Schilling told The Wall Street Journal's blog Speakeasy about the character's development over the course of two seasons.
Kohan said after the first season wrapped that she wanted the next one to focus less on the Piper-Alex-Larry love triangle and more on the ensemble as a whole, which is exactly what viewers got. The characters of all the inmates were fleshed out, including Piper, even though she spends less time at the center of attention.
Several other actresses from the superb cast were also nominated for television's highest honors. Kate Mulgrew, who plays the Russian cook, Red, was nominated for outstanding supporting actress on a comedy. Natasha Lyonne, Uzo Aduba, and Laverne Cox all received nominations for outstanding guest actress in a comedy, with Cox making history for being the first transgender actress to be nominated for an Emmy award. The show was also nominated for outstanding writing and outstanding directing.
"A single episode follows more female performers in a wider variety of roles than could be seen a decade ago in all the Emmy nominated shows put together," reads an article from the Los Angeles Times, explaining why the show's multiple nominations are marking a shift for women in television.
Schilling herself was little known before becoming the star of the Netflix series that is being credited with providing some of the best representations of women, minorities, and LGBTQ issues on television. She made her debut playing a supporting role in the 2007 independent film Dark Matter, which starred Meryl Streep, and then played the lead role on the NBC medical drama Mercy, which ran for just one season between 2009 and 2010. Coming up from the actress is the indie comedy The Overnight, which co-stars Jason Schwartzman and Adam Scott. That movie is currently in post-production and a release date is not yet known.
"I'm really grateful. Things really feel like they're moving in a pretty spectacular direction. I feel really creatively plugged in on this job," Schilling told Entertainment Weekly when asked how she felt about receiving the recognition.
More From Wall St. Cheat Sheet:
Follow Jacqueline on Twitter @Jacqui_WSCS
Want more great content like this? Sign up here to receive the best of Cheat Sheet delivered daily. No spam; just tailored content straight to your inbox.