Why Do Fans Respect Whoopi Goldberg More Than Any Other 'The View' Host?
When it comes to ABC's popular talk show The View, fans love to hate on various co-hosts. For the most part, political opinions constitute how fans feel about the different hosts on the show, but personality and attitude also affect viewers' tastes. However, there is one co-host who always seems to win everyone over, regardless of where they land on the political spectrum: Whoopi Goldberg. But why does everyone respect Goldberg more than any other co-host?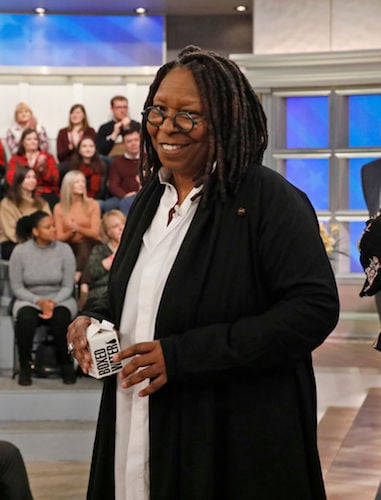 Viewers tend to pick a side between liberal and conservative
People watch the view because it gives differing political viewpoints, which allows it to appeal to a liberal, conservative, and moderate audience. The show sees Joy Behar, Sonny Hostin, and Whoopi Goldberg all lean liberally, while Abby Huntsman and Meghan McCain lean more conservatively. The women on the show often spend a large portion of their one-hour time slot discussing politics, and viewers tend to favor one group of women over the other. But hearing different points of view gives the show a well-rounded nature that many other politically-focused shows don't have.
Some feel that certain co-hosts, such as Behar and McCain, are too much
When it comes to politics, some people are more vocal and passionate than others. And on The View, Behar and McCain tend to stand out during arguments. McCain, whose father was late senator John McCain, tends to get extremely riled up about issues she feels strongly about, as does Behar. But since the two women often don't see eye to eye politically, they often get into stalemate arguments that can boil over if they aren't brought back down a notch. Huntsman and Hostin are always a part of the conversation as well, but they usually keep things more low key and are a bit more forgettable than Behar and McCain. And Goldberg sits at the end of the table and is essentially the head honcho — and for good reason; she keeps everyone at bay.
People value Goldberg's level-headed attitude
When things get too heated among the hosts, Goldberg is the first one to realize people need to take a step back. She'll typically insert herself into conversations to try and appease both parties and keep the women from going overboard. Anyone who pays attention to politics knows that differing political opinions can escalate quickly, but Goldberg has essentially served as the show's moderator since she joined back in 2007. She never gets too heated up, despite how she feels about a discussion, and fans have grown to greatly respect her for her level-headedness.  
The show needs one host that everyone roots for
Goldberg is that host that no matter what she says or does, people respect her and root for her. When she was gravely ill after battling a tough case of pneumonia, fans wanted constant updates from the show's other hosts about when Goldberg would return. The other women brought special guests on and gave Ana Navarro a recurring role while Goldberg was out, but it wasn't the same as having their main moderator there. However, Goldberg's illness seemed to bring the ladies closer, and they didn't argue nearly as much while Goldberg was gone. Without a doubt, The View can bring out some feisty attitudes when it comes to controversial political opinions, but as long as Goldberg continues to keep things calm, all the women will continue to respect each other.
Check out The Cheat Sheet on Facebook!