Why Does Portia de Rossi Want Ellen DeGeneres to Quit Her Daytime Talk Show?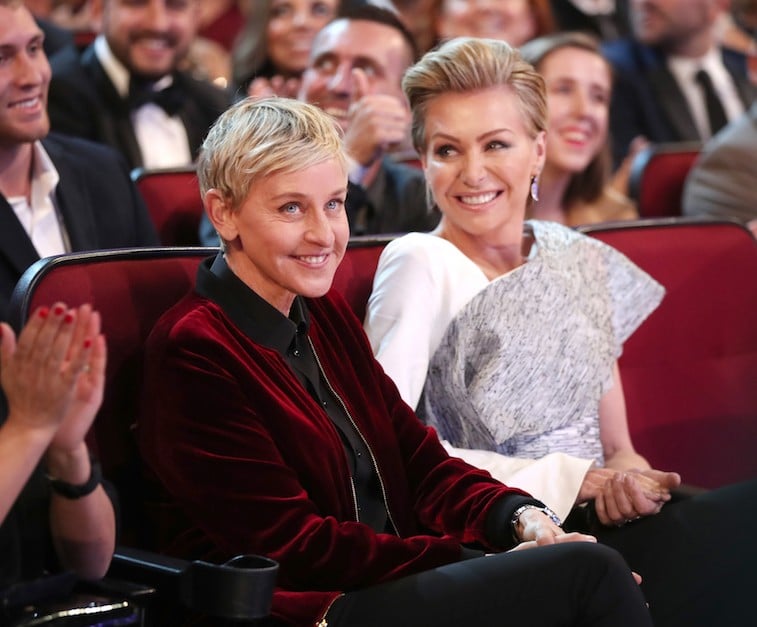 People know her as an affable TV personality who bursts into dance at the slightest provocation, but Ellen DeGeneres is so much more than that. Ellen portrayed the first openly gay character on television and provided the voice of Dory in Finding Nemo. Right now, the 60-year old Louisiana native is at the top of her talk show game. Nonetheless, Ellen's wife, actress Portia de Rossi, wants her to quit her gig as one of America's most beloved daytime stars.
Spousal advice
As she engaged in a December 2018 interview with the New York Times, DeGeneres explained that her wife of eight years wants her to quit her talk show, branch out into other creative directions, and shed her friendly albeit naive Pollyanna image. Portia also reminded Ellen that the nicer she (Ellen) was, the more she would eventually be "screwed" by the public.
At home with de Rossi and DeGeneres
Portia and Ellen were married in a candlelight ceremony on August 16, 2008. Both brides wore white Zac Posen custom creations as they exchanged vows and rings in front of 19 of their closest relatives and friends. After tying the proverbial knot, the happy newlyweds shared a red velvet, vegan wedding cake.
Ellen and Portia feel most at home at their beach house in Carpinteria on the outskirts of Los Angeles. Mila Kunis and Ashton Kutcher are nearby neighbors, as are rival talk show host, Conan O'Brien, and Star Wars director George Lucas.
DeGeneres eschews most forms of social media and stays away from broadcast news entirely. She's admitted to more than one interviewer that she finds Donald Trump "upsetting and dangerous," explaining "I don't want to put that in me."
Ellen's brother wants her to stay
Vance DeGeneres, erstwhile correspondent for The Daily Show, co-created the wacky claymation "Mr. Bill" shorts for Saturday Night Live. Vance is also Ellen's older brother. DeGeneres told the New York Times that his sister's recent return to stand-up bodes well, because she's been wanting to break out of the oh-so nice, good girl mold for some time.
All the same, Vance thinks Ellen should renew her talk show contract, at least for a few more years.
Is the popular TV show doomed?
Few television talk shows have been more celebrated than The Ellen DeGeneres Show. Ellen's taken home a slew of awards thus far, not the least of which are the coveted Mark Twain Prize for American Humor and the Presidential Medal of Freedom.
If Ellen renews her contract after 2020, it won't be because she needs the cash. USA Today called DeGeneres the world's second-highest paid TV host with 2018 show income of more than $87.5 million. The energetic hostess also raked in a healthy $2 million for her brand new Netflix special, Relatable. By comparison, Live With Kelly and Ryan and American Idol host, Ryan Seacrest, brought home a modest $74 million, and America's Got Talent host, Simon Cowell, didn't event make the top five. In case you're wondering, Judge Judy ranks as the highest-paid TV talk host with an annual income of around $147 million.
In addition to paychecks from her talk show, DeGeneres enjoys income and prestige from her associations with Cover Girl, American Express, and JC Penny. According to GOBankingRates, Ellen's wife, Portia de Rossi, brought at least $20 million to the couple's happy marriage.
If Ellen calls it quits when her freshly-signed contract runs out, likely reasons are that she wants to keep her pretty wife happy while exploring other creative outlets. As reported in HollywoodLife, the popular talk show is a daily grind, and Ellen would prefer to focus on her game show and occasional comedy specials.
Whether or not The Ellen DeGeneres Show continues, the multi-talented actress is sure to remain in the public eye. On December 18, Relatable, Ellen's first comedy special in more than a decade started streaming on Netflix.