Why Does Queen Elizabeth Have Custody Of the Royal Great-Grandchildren?
The royal family's life is complicated. There are tons of royal rules and traditions the family members must follow. Although most of them go back hundreds of years, there are plenty that are still followed and acknowledged today. One of those rules has to do with custody of royal children. Here's why Queen Elizabeth II technically has custody over her great-grandchildren — all of Kate and Will's little ones. (The same rule applies for Meghan and Harry's future baby.)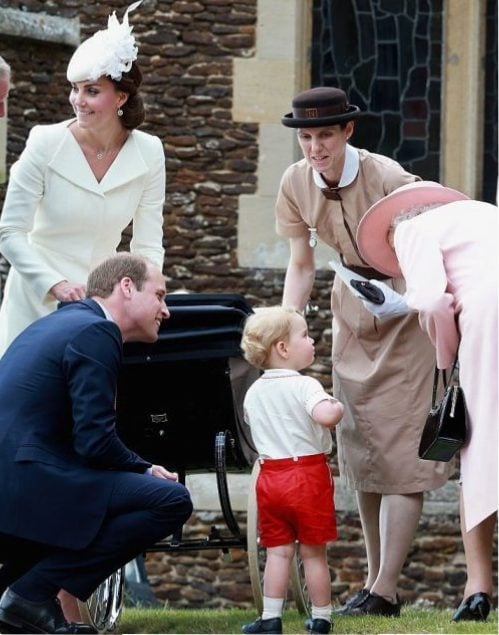 The royal family is very different from commoner families  
Although the royals connect with commoners on a personal level when they make appearances, at the end of the day, they're far from being like everyone else. Yes, they raise families, attend university, and socialize with friends now and then, but there are plenty of royal rules they must follow that most of us can't even wrap our heads around. For example, they must always dress appropriately in public, which includes hairstyles and nail colors (while these aren't technically punishable rules, they're typically followed). They also work to represent the royal family, which means they can't hold regular jobs. Their lives are very different from those around them.  
An old royal rule says that Her Majesty has custody over all the minor grandchildren
Perhaps one of the strangest rules in the royal rulebook has to do with the royal grandchildren. Technically, the queen has custody over Prince George, Princess Charlotte, and Prince Louis. Plus, when Meghan and Harry have their baby, the queen will have custody over that little one, too. According to Marie Claire, the royal rule dates all the way back to King George in the 1700s. Supposedly, King George had a bad relationship with his son, so he passed the custody law to make sure that he had control of his son's children. The royal family never got rid of the law, which explains why the queen technically has custody today.
Despite having custody, Will and Kate are raising the children
Although the official royal law states the queen is in control, she doesn't appear to be taking on any kind of role other than great-grandmother in George, Charlotte, and Louis' lives. Will and Kate are raising their own children, and both parents have had to master the roles of mother and father the same way any commoner would. The royal children reportedly don't even know they're actually royalty; they'll likely be told once they're old enough to understand the concept.  
The queen probably won't interfere with any parenting styles — but she can if she wants
The queen appears to be letting Will and Kate navigate parenthood on their own. However, if she wanted, she could step in. For example, if she wasn't pleased with their school choice or truly disliked a decision Will and Kate had made for their children, she could interfere. And the same thing goes for Meghan and Harry when they have their baby. When these royal children were born, the queen had to be the first one to find out the gender; that will likely be the case when Meghan gives birth, too. The odd custody law is just another thing that makes royal life difficult to understand.
Check out The Cheat Sheet on Facebook!