You Won't Believe Why Donald Trump Won't Take the Bait on Eminem's Rap Diss
Eminem joined a cadre of rappers bashing Donald Trump, when he released his new cypher, "The Storm," this week. The song already hit almost 9 million views on YouTube, and celebrities from Ellen DeGeneres to LeBron James have tweeted their praise. The white rapper, whose real name is Marshall Mathers, is not the first to bash Trump in song. But he is the first who speaks directly to Trump's rural, mostly white base, The New York Times pointed out. Trump, in a shocking departure from his usual MO, has remained radio silent.
Eminem's previous songs have expressed his anti-Trump sentiments, as well. Here's a few of his best lines against the Oval tangerine.
'The Storm' revisits familiar themes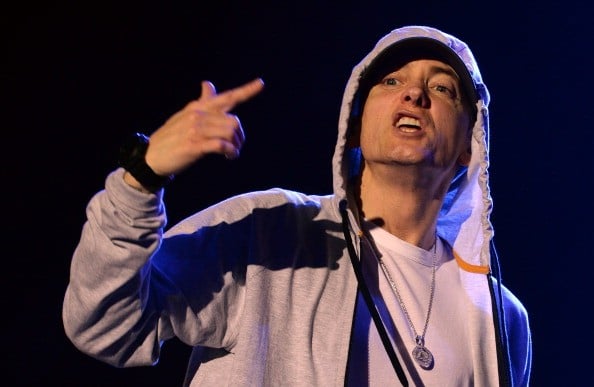 In August, Eminem blasted Trump on "No Favors," a song that appeared on Big Sean's "I Decided." "I'm anti, can't no government handle a commando/ Your man don't want it, Trump's a b**** I'll make his whole brand go under," Eminem raps. That track covers issues like police brutality, the Flint water crisis, and racism.
Previously, Eminem slammed Trump in "Campaign Speech," an eight-minute freestyle that spouts political commentary, and slams Trump supporters. "But you should be afraid of this dang candidate/ You say Trump don't kiss a** like a puppet/ 'Cause he runs his campaign with his own cash for the fundin' and that's what you wanted / A f***** loose cannon who's blunt with his hand on the button/ Who doesn't have to answer to no one."
His previous statements have not done much damage to his base, which falls pretty solidly in Trump country. The Times looked at music fandom nationwide, and noted that his popularity remains strongest in whiter and more rural places. For reference, West Virginia, southern Ohio, eastern Kentucky, deep north Maine, the Ozarks in Missouri, and the Great Plains all listen to Eminem.
That positions the rapper uniquely, even among vocal musicians.
Eminem is the perfect person to deliver this cypher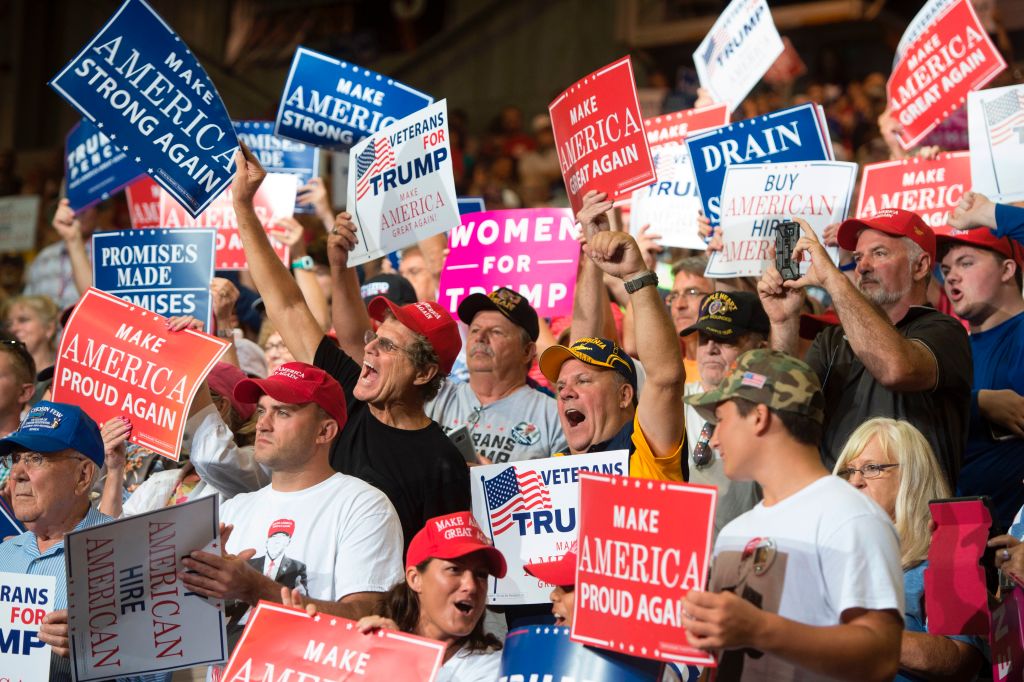 As The Atlantic pointed out, " if there's a more apt foil for Trump, or any celebrity of comparable stature who could seem half as authentic calling him 'Trump the bitch' on national TV (while insisting that the president doesn't have the balls to respond), I don't know who it is."
Eminem, by speaking directly to the same people who love Trump's brutally honest style, might actually hit his mark. The rapper fights fire with fire, even saying, "cause like [Trump] in politics, I'm using all of his tricks." The people who like Eminem's stripped-down, oft-offensive music already proved they don't mind his insults. Much of that base reacted predictably to the cypher, according to Complex. Whether that translates into actual, self-reflection, remains unclear.
That said, the people roundly praising "The Storm" come from an equally predictable corner. 
White liberals love Eminem's new song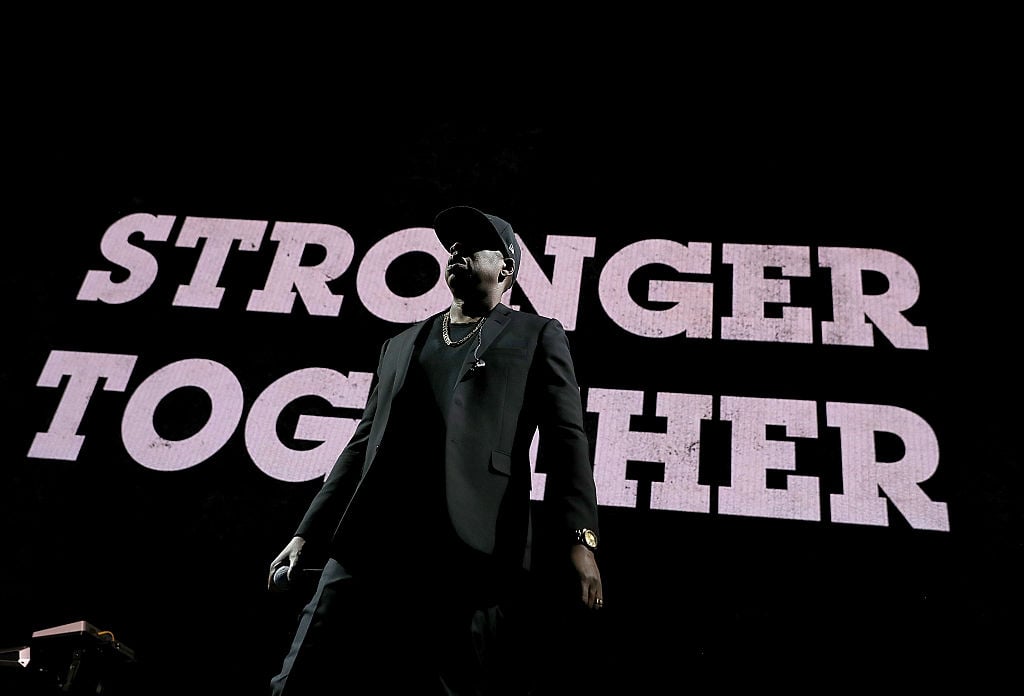 As another Atlantic article noted, pundit Keith Olbermann tweeted the freestyle with high praise. "After 27 years of doubts about rap I am now an @Eminem fan. Best political writing of the year, period." Analyst Bob Lefsetz also sent out an email gushing about the rap. "This is everything today's 'musicians' are against. They don't want to alienate a single potential audience member … The only person with a voice as big as Trump's is a rapper. And tonight the king of rappers called him out."
Those statements come off oddly, especially given the hosts of black rappers and musicians doing just that. The protest song, "FDT" by YG and Nipsey Hussle, doesn't take a linguistic genius to decipher. Kendrick Lamar called Trump "a chump" in his lyrics. Jay-Z sent the president "all disrespect" in an interview. Snoop Dogg sparked a presidential tweetstorm by holding a toy gun up to a Trump lookalike. Vince Staples got audiences chanting, "Tell the president to suck a d*ck."
The BET Hip-Hop Awards Cypher also saw other rappers following similar themes. "KKK / that's just Trump in disguise," Fat Joe rapped in his segment. That followed equally political performances from Belly and Cyhi the Prynce. So what's the biggest difference between Eminem and the others? The answer is simple: His skin color. 
Eminem's rap sounded awfully familiar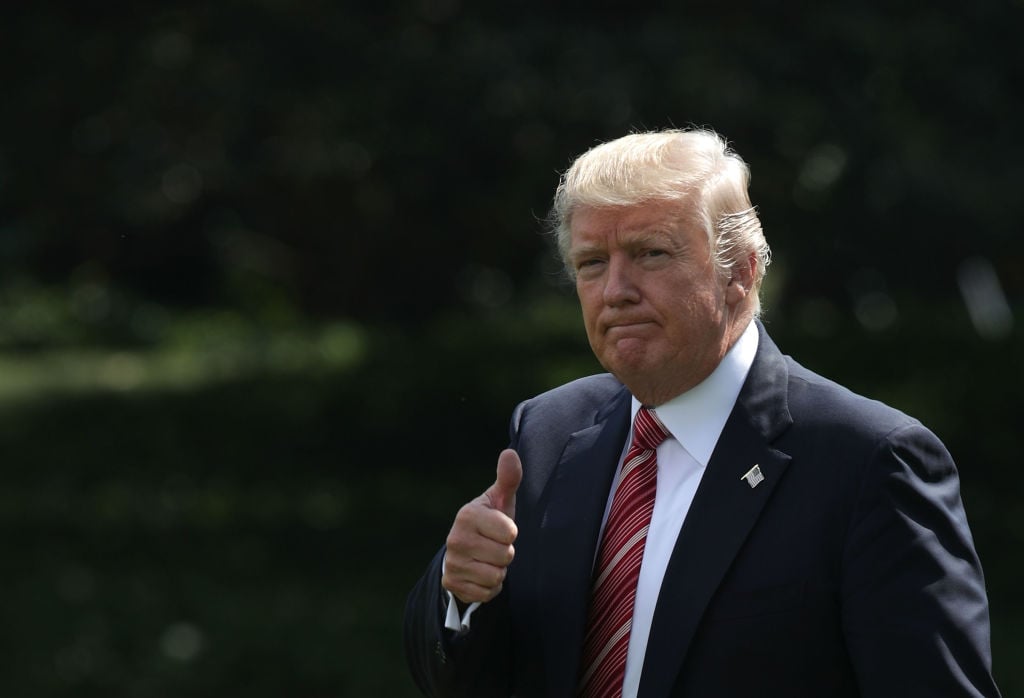 While white liberals bowed down at Eminem's performance, not everyone offered up such complimentary responses. As Vice's Noisey put it, "by most followers of rap, he's lauded as one of the all-time greats for his lyrical prowess and serving as a pioneering lens into the poor, white American story." Eminem's rap drew some criticism from black audiences, pointing out that as a white man, he already raps from a place of privilege.
Noisey continued, "Eminem's Trump takedown had no real risk. He won't lose any money. His employer will not drop him. He won't be pressured into apologizing. He won't be labeled as a 'black identity extremist.' And without any of those real risks being plausible results of last night's cypher, how radical is it really?" Noisey criticized Eminem for sticking to Trump-related issues that threaten both black and white America. The author claimed that Eminem missed the mark, in sticking to Trump himself. For that, he said Eminem deserves only measured praise.
"We should not be parading, thanking, or granting blackness to someone for being a decent human being, even if we're not used to being treated with decency," he wrote. "In the current struggle against racial injustice in this country, we do need as many voices as possible from as many supportive communities as possible. But we don't need a white savior."
Taken from another angle though, Eminem's rap hits one important mark. 
Check these lyrics to get Eminem's most important message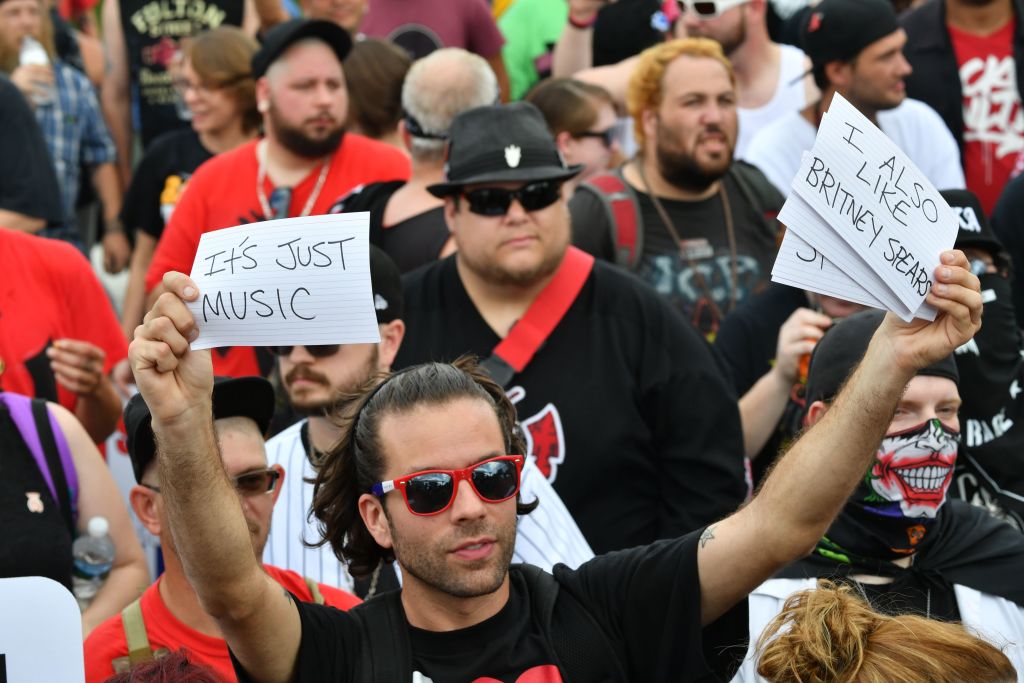 In the Trump era, Nazis and the KKK don't stand alone in rising to newly mainstream popularity. As a Detroit Free Press music critic noted, Kid Rock, Eminem, and Insane Clown Posse have all found new relevance in 2017.
In September, ICP and its Juggalo fan base, a "family" of social outcasts, marched on Washington, D.C., protesting the federal designation of Juggalos as a gang. They won support from the ACLU, the Democratic Socialists of America, and the libertarian Reason magazine. Meanwhile, Kid Rock dined at the White House with Trump, Sarah Palin, and Ted Nugent. His new concert includes a populist, politically incorrect "stump speech" laying out his views, as he inches more directly into politics.
The three acts represent "three archetypes for whiteness in the 21st Century," Dan Charnas, an associate arts professor at New York University's Clive Davis Institute, explained. "They represent the (different) ways white America will deal with this new era."
Eminem, of course, represents a unique position on the hypocrisy of the political establishment. He spat epithets at "the Klansmen / Tiki torches in hand for the soldier that's black / And comes home from Iraq / And is still told to go back to Africa." As a white man from the Rust Belt, he gets ears other rappers might not. Here's why that matters. 
White male musicians hold a particular power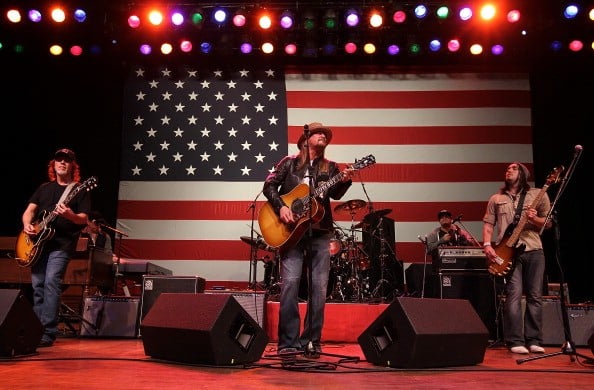 Whether or not Eminem's conservative Trump fanbase will listen, he stands relatively alone in calling them out. As Pitchfork noted, "fewer than you'd think have spoken out so publicly against the horrors of this administration, let alone called out their Trump-supporting fans on record. At the very least, Eminem should make a few of his Trump-voting listeners consider their choices, as liberal America has been trying to do since the election."
It's no accident Trump himself continues to demonize NFL players for kneeling in protest but remains silent on Eminem's insults. He went after ESPN's Jemelle Hill after she called him a "white supremacist" and a bigot" on Twitter. According to The Hill, The White House called for Hill's firing after that incident, calling her tweets "outrageous.
"That is one of the more outrageous comments that anybody could make and certainly is something that is a fireable offense by ESPN," White House press secretary Sarah Huckabee Sanders said.
The president went after Hill in his medium of choice, tweeting, "with Jemele Hill at the mike[sic], it is no wonder ESPN ratings have 'tanked,' in fact, tanked so badly it is the talk of the industry!" he said.
It's no accident Trump attacked the NFL, whose players are 70% nonwhite, as well as Hill. Even the trigger-happy president knows not to attack his own side, and many of Eminem's fans — despite his "line in the sand" comments — are on it. 
As a freestyle rap, 'The Storm' still ranks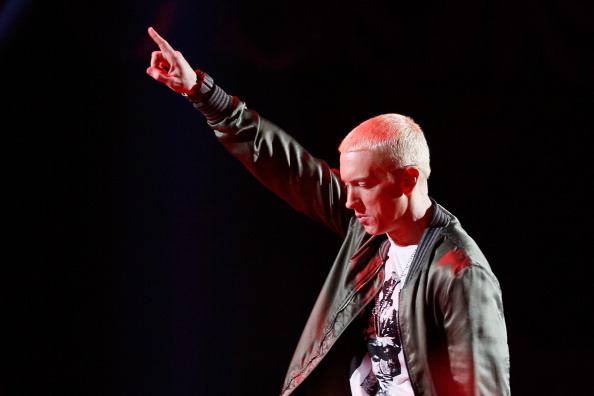 Pitchfork called the rap "a liberal's Twitter feed in freestyle form, coming from a guy better known for rape raps than political rhetoric." That said, it does succeed both as a form and a cypher, that publication posited.
The author noted that Eminem does appear to actually freestyle, in which an artist makes up lyrics as he goes. The art of freestyle appears only rarely in mainstream rap, so that itself marks a triumph of sorts. Eminem proved his freestyle prowess long ago, so he has some room to risk. And while a freestyle rap battle features two rappers trying to take down the other, Eminem goes after the commander in chief directly.
"More than anything, the near-complete dismantling that Em dishes out in this verse serves to highlight just how many things about the president are worth mocking," Pitchfork noted. "With his spray tan, combover, and limited grasp of literacy, Drumpf is such an easy target that a written diss record almost seems unfair."
Unfair or not, Eminem is hardly the first or the only to take the president to task in music. He may, however, stand alone as one Trump won't tweet-challenge. Whether that changes in the future remains uncertain, but Eminem continues to demonstrate one thing loud and clear. Trump's white male base remains untouchable, right from the top down.