Why Fans Probably Won't See This Popular Actor in 'Guardians of the Galaxy Vol. 3'
The status of Guardians of the Galaxy Vol. 3 seems to change all the in some way or other. First, James Gunn wasn't directing it, then he was. Marvel fans expected it to be in Phase 4 and it wasn't. Now there seems to be some confusion over whether a Star Wars actor will join the gang or not. 
Earlier there had been some buzz that Mark Hamill might hop the fence of massive Disney franchises. Now that he's (presumably) done with Star Wars, he could be part of the motley crew over at Guardians. However, that's far from certain.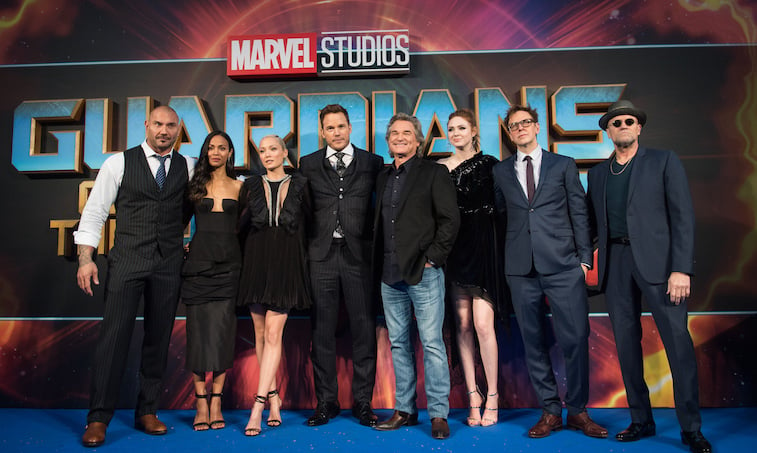 Will Mark Hamill be in 'Guardians 3' or not?
Hamill would seem to be an ideal fit for this particular Marvel franchise. Given his particular skill at doing voices, he could pull a Bradley Cooper and be heard but not seen, voicing a CGI character. It might be even more fun to see him in a live-action role so fans can literally see him as something other than Luke Skywalker for once. 
However, to hear Screen Rant tell it, that possibility ranges from "maybe" at best to 'forget it" at worst. Gunn, who wrote and directed both prior Guardians movies, addressed the matter during a recent Q&A on his Instagram. Gunn has met with the actor, but any idea that Hamill would be in Guardians 3 seems like wishful thinking.
While there is proof via Twitter that Gunn and Hamill did meet, during the Q&A, Gunn said, "Mark is my friend. We have never had these talks you speak of."
That doesn't necessarily mean that Gunn won't eventually find a role for Hamill. Given the perpetual state of flux the third Guardians has been in for years, it seems like anything could happen.
What's holding up the third 'Guardians?'
Marvel fans remember only too well the controversy that erupted when it was revealed that years ago Gunn had posted a number of distasteful tweets joking about child sex acts. Although Gunn and his colleagues admitted those tweets were a serious mistake, they insisted that Gunn had become a different person in the years since. Nevertheless, Disney felt compelled to fire Gunn.
Fans and colleagues, Dave Bautista in particular, protested that the revelation of the tweets was an unfair hit job and demanded that Gunn be reinstated. Disney eventually relented and rehired Gunn, but Gunn agreed to play for the other superhero guys and direct the sequel to Suicide Squad.
That's largely why Guardians of the Galaxy Vol. 3 did not appear in the upcoming Phase 4, because that phase runs through 2021, and The Suicide Squad is due for release in August of 2021.
So the very earliest that Guardians 3 could come out would be 2022, and even that seems too soon after The Suicide Squad's release to give Gunn breathing room. 
What else might Mark Hamill do now?
Even if Guardians 3 and Hamill don't work out, Hamill always finds ways to stay busy. Once the whirlwind for The Rise of Skywalker subsides, Hamill has a TV movie called Relatively Super, about – what else – the lives of the relatives to the world's greatest superheroes. He'll also do a voice on episodes of a TV Series called Invincible.
Should Hamill be able to act in Guardians of the Galaxy Vol. 3 after all, Screen Rant suggests he could play Pip the Troll, the Living Tribunal, and/or an Elder of the Universe. And if that still doesn't come to pass, who's to say Marvel couldn't use him somewhere else?
If Marvel actually goes through with Asgardians of the Galaxy, Hamill could fit in with either the Guardians or Thor worlds.