Why Fans Think Ariana Grande And Ricky Alvarez Are Back Together
Grammy-winner Ariana Grande is having a pretty incredible year, music-wise. As for her love life, she's been keeping mum on the subject. So why do some fans think she's dating an ex-boyfriend? Let's find out.
Who is Ricky Alvarez?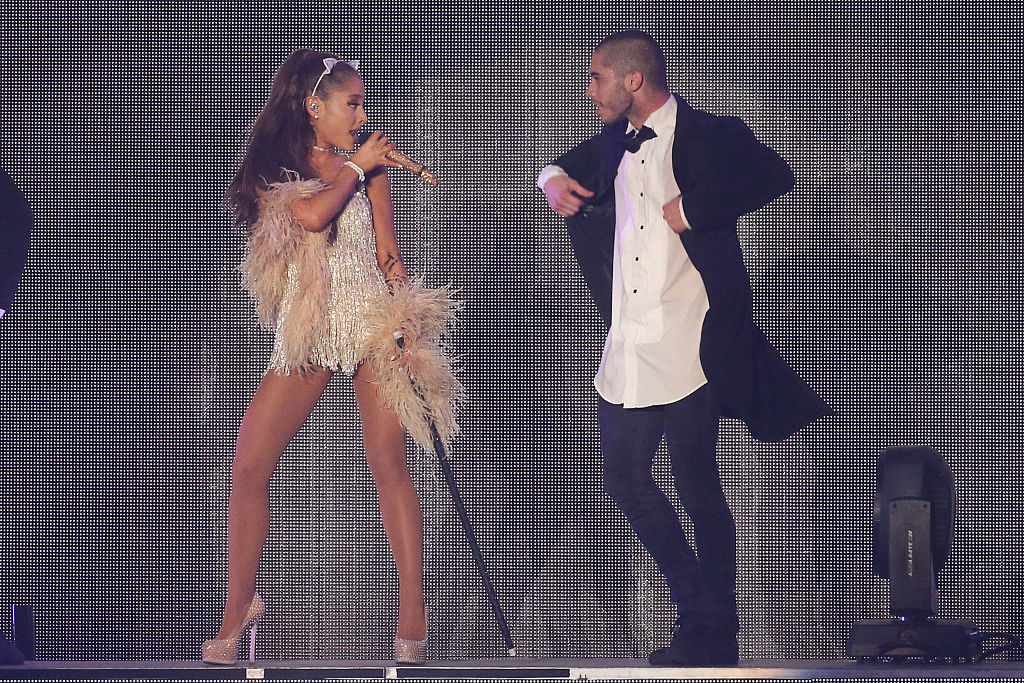 If you're not familiar with this particular ex of Grande's, you're forgiven. Their relationship allegedly began sometime in the summer of 2015, when he was a backup dancer on her Honeymoon tour. See the above photo.
Grande and Alvarez apparently dated for approximately a year. (He was the one she was with in the Donutgate scandal of 2015.) After him, Grande went on to date the late Mac Miller and Pete Davidson in two of her most-publicized relationships. But now, there are rumors circulating once again.
Grande mentions him in 'Thank U, Next'
Grande mentions four of her ex-boyfriends in her 2018 hit single "Thank U, Next." She sings of Alvarez: "Wrote some songs about Ricky / Now I listen and laugh." According to many, she's talking about the Dangerous Woman track "Moonlight," among others.
When the song was released, most were focused on the lyrics about Davidson (whom she had ended things with just months prior) and Miller, given his recent passing. However, a year later, some are curious as to what she was saying about Alvarez.
Why fans think they're back together
The internet is currently abuzz with conversation about Grande and Alvarez. While some are simply stating their opinions, others appear to have actual evidence that the couple is back on.
Twitter user Jaiden wrote that a Disney World employee told them at Grande's recent Jacksonville concert that Grande and Alvarez "were making out the whole time" they were at the park recently. (Grande shared in her Instagram Story that she and her team went to Disney after her Orlando show on Nov. 25, 2019.)
However, other fans aren't quite as convinced. Twitter user Becca wrote that Grande's 2016 track "Knew Better Part Two" is about Ricky. So some are doubtful that the singer would get back with this particular ex.
They've been interacting a lot on social media
Grande and Alvarez may or may not be together. However, the two have been interacting quite a bit, both on social media and in real life. Alvarez, who is a photographer in addition to his dancing career, co-directed Grande and Victoria Monét's video for "Monopoly."
More recent interactions have been what fans are really focused on. With Alvarez on Grande's Sweetener Tour, they're bound to be spending time together, but photos like this one of him with one of her dogs are raising some eyebrows.
Grande was previously rumored to be dating Mikey from Social House
Grande's love life has been a major topic of conversation in 2019. She began the year by proclaiming that she wouldn't be dating anyone for a while, but some fans began to suspect that she was involved with Mikey Foster from the duo Social House, with whom she was on tour.
Frankie Grande, the pop star's brother, later both seemingly confirmed and denied this rumor. But it's been a few months since, and for all we know, Grande and Alvarez are rekindling what they once had.