Why Fans Think Kourtney Kardashian Is Back Together With Younes Bendjima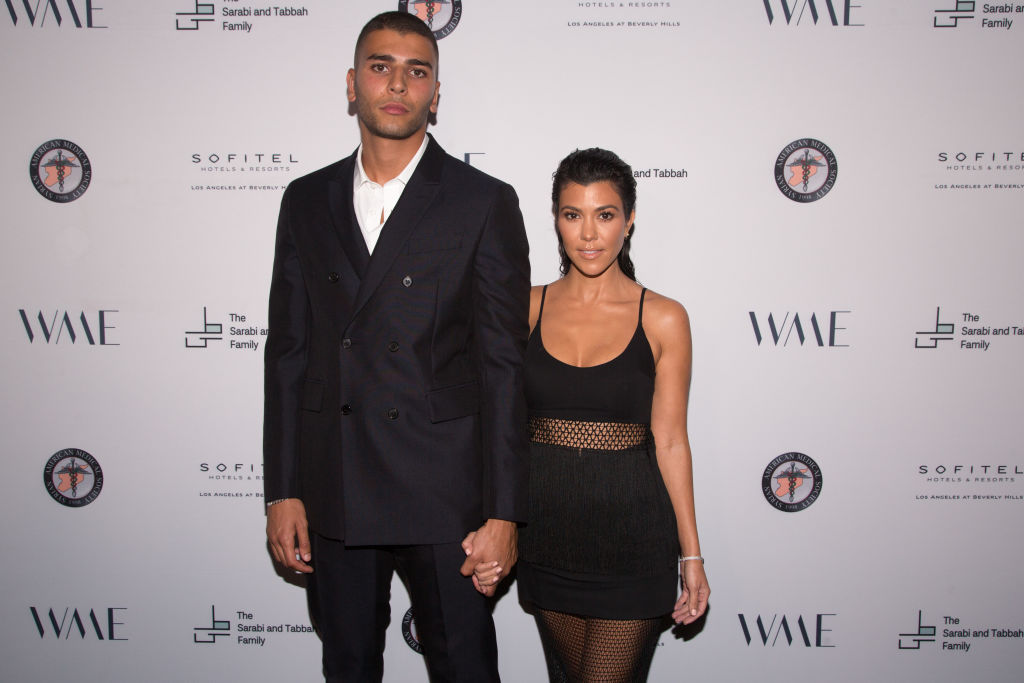 After Kourtney Kardashian got out of a long and pretty toxic 10-year relationship with the father of her three children, Scott Disick, fans were happy to see that the eldest Kardashian sister was finally moving on. In May of 2017, it was reported that Kourt was dating an Algerian model named Younes Bendjima. At the time, Bendjima was only 24 years old and fans were ecstatic to see that Kardashian was finally happy again.
However, the happiness didn't seem to last too long for the cute couple. After they had been dating for a few months, there were rumors that the two were dealing with infidelity and jealousy problems in their relationship.
Recently, Kardashian and Bendjima have been spotted out together again. Everyone is now wondering if the two were able to reconcile their differences. So, did Kardashian get back together with Bendjima? Here is what we know.
Kourtney Kardashian's complicated dating history
Scott Disick and Kourtney Kardashian met at a party in 2006 and immediately started dating. The volatile couple had a kid, broke up, got back together, had a couple more kids, and broke up again. By 2017, Kardashian and Disick's relationship was completely over, but the Kardashian clan still considered Disick to be a part of the family, so he was still around quite a bit.
In 2017, the Kardashians had invited Disick on a family vacation to Dubai. During the four-day vacation, it was revealed that Disick had secretly brought another woman on the vacation with him and was hiding her in his hotel room. When the Kardashian family found out about Disick's secret roommate, they were furious. Kourtney, however, didn't seem to be that mad about it. She was slightly angry, but she wasn't nearly as furious as many fans thought she should have been.
Not long after the episode aired, fans found out why Kourtney wasn't too bothered by the revelation. It was because she was also dating someone else — Younes Bendjima.
It is not exactly clear when the two started officially dating, however, It has been reported that Kourtney met Bendjima in Paris the night before Kim's infamous Paris robbery.
Kourtney Kardashian and Younes Bendjima go public
Once Kourtney and Bendjima's relationship was made public, they were not shy about flaunting it on social media. Many fans had thought that the couple's constant PDA was just a way for Kourtney to send a message to Disick and let him know that she was over him. While no one can say for sure if that was Kourtney's intention, she definitely looked happier than she had in years, and it seemed like everyone in the world was happy for her.
Things seemed to be going pretty good until Kourtney posted a picture of herself wearing a thong bikini on Instagram. While many fans loved the picture, Bendjima was not too happy about it.
"That's what you need to show to get likes," Bendjima commented. He immediately deleted his comment, but the damage had already been done, and it was speculated that Kourtney did not appreciate being publicly called out like that.
Then in the summer of 2018, the couple called it quits for good after Bendjima was caught vacationing with another woman named Jordan Ozuna.
Why fans think Younes Bendjima and Kourtney Kardashian are back together
Recently Kardashian and Bendjima were spotted on an outing together. Photos of the two showed the couple holding hands. They certainly appeared to be back together and US Weekly reports that they are on good terms, but are taking their relationship slow.
"They are seeing where things go with their relationship," a source told US Weekly. "They aren't necessarily 'back together' and Kourtney hasn't put a label on it or made it official with him yet, but they are hanging out and talking."
During their outing, the pair reportedly went to an Italian restaurant to eat before heading to an art gallery. 
Although they may not be officially back together as of now, we wouldn't be surprised if they make an announcement about their reconciliation very soon.