Why Fans Think Travis Scott Will Propose To Kylie Jenner At the Super Bowl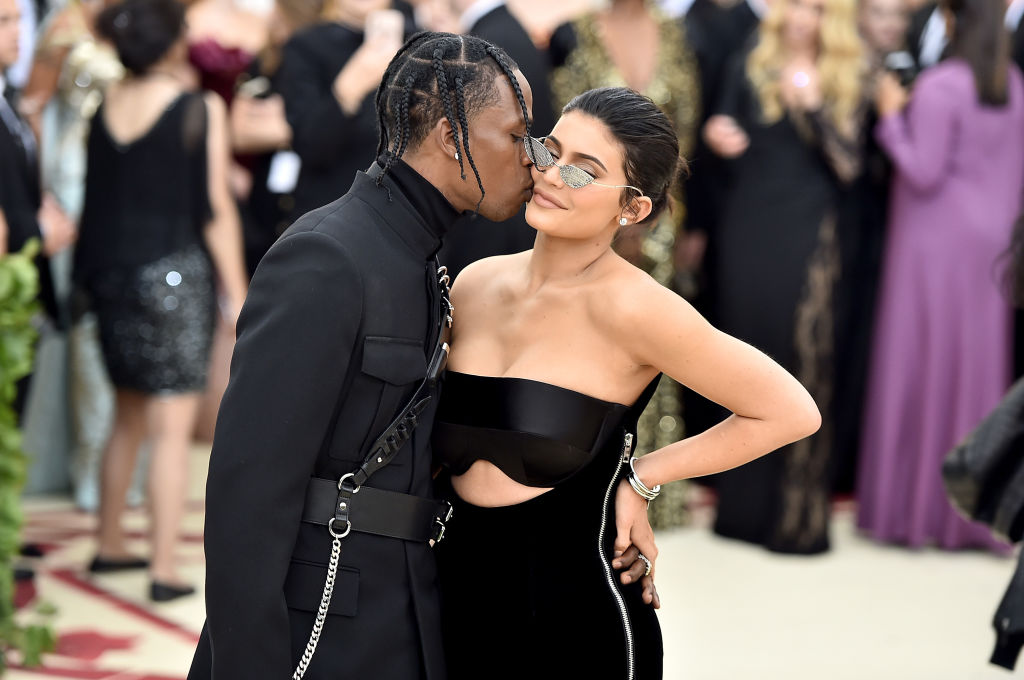 Travis Scott and Kylie Jenner keep throwing us in a loop when it comes to marriage rumors.
The couple has openly displayed their love for the past year and referring to each other as husband and wife, fans are certain Scott will pop the question any day now (if he hadn't already).
Are they already married?
A question many fans have been wondering over the past few months.
Travis Scott and Kylie Jenner have openly discussed their plans to get married in the near future but have yet to confirm anything.
Over the past few months, the couple has been putting social media into a frenzy with their subtle hints that they could be engaged or even married.
Earlier this month, Kylie Jenner showcased a sparkling diamond ring on her left hand, shortly after Travis Scott stated he wanted to propose to the reality star.
Multiple sources revealed that Jenner and Scott were not engaged. Even Kim Kardashian and Kris Jenner somewhat confirmed that a wedding has yet to happen but plans were definitely in effect.
In a recent Instagram post, Kylie Jenner posted a photo that many fans thought finally confirmed she secretly married Travis Scott.
Jenner, in a sultry stance, wrote the caption, "Extraño a mi esposo" which translates from Spanish into "I miss my husband" in English.
https://www.instagram.com/p/Bs9OBWwnGtW/
Fans began going crazy but there were a few fans who still think Kylie Jenner and Travis Scott are giving us a run for our money with these rumors.
Travis Scott might be planning a huge proposal
Many fans are certain Travis Scott will soon get down on one knee publically.
Just last month, the rapper confirmed that he would like to propose to Kylie Jenner in a "fire" way and some fans are starting to believe that it will take place during this year's Super Bowl Halftime Show.
With Scott performing alongside Maroon 5 at the LIII Super Bowl Halftime Show and this being the biggest event of the year, many are convinced that the rapper will somehow pop the question to Jenner during his performance.
If he does, this wouldn't be the first time Scott has brought his girlfriend on stage. While performing at Madison Square Garden for the Astroworld Tour, Scott surprised the audience by bringing Jenner onstage with him.
Another reason why many think a proposal will happen is that Kylie Jenner enjoys breaking the internet with unexpected reveals.
Just a few short hours before the Super Bowl LII aired, Kylie Jenner revealed that she had given birth to her first child after keeping her pregnancy a secret. Hands down the best surprise 2018 had graced us with!
Fans took to Twitter to share their predictions and many are certain a proposal is taking place.
if travis really does propose to kylie during his super bowl performance, my heart goes out to all the men who'd have just been set a bar they'll never reach

— d ?? (@DR3SZN) January 14, 2019
If Travis Scott proposes to Kylie during the Super Bowl halftime show, she's def stealing the thunder AGAIN.

— Joy LaRue ? (@joyylarue) January 26, 2019
https://twitter.com/MartineMW/status/1089261391591002112
https://twitter.com/dani_mayy7/status/1089251585203597312
Given Kylie Jenner's history of making over the top and extremely unexpected reveals, we are ready to be blown away if this rumor turns out to actually be true.
Travis Scott did say he wants to propose in a "fire" way, and popping the question during his Halftime Show performance will definitely live up to his expectations!